Kissing the Sky and Breaking Ground at GRIT Gravel Grinder
This brutally beautiful mixed terrain event in central PA boasts 50 percent women in the field and a whole lot of bragging rights when you're done.
At first glance the inaugural Rothrock GRIT Gravel Grinder looked and felt like your typical gravel event. It had all the usual trappings: the giant bright red inflatable start/finish arch; riders whizzing by, buzzing with nervous energy, and strains of hype music floating through the air.
There was just one big difference. Women. So. Many. Women. And not just your usual pointy end of the pack racer types (not that there's anything wrong with them…yours truly has been one herself), but all sorts of women, ranging in age from preteens (the youngest rider was 11!) to sixty-somethings, and representing all walks of life and cycling experience—something rarely seen at bike race events.
That was by design. Race organizer Tanya Campbell got into cycling about nine years ago, exploring the Rothrock State Forest and surrounding areas by her home. She was hooked on the cycling lifestyle and started racing for Happy Valley Women's Cycling Bicycle Shop Team, but was disappointed to show up at so many races and have so little competition. It's not uncommon for off-road races to have just 10 to 20 percent female participation.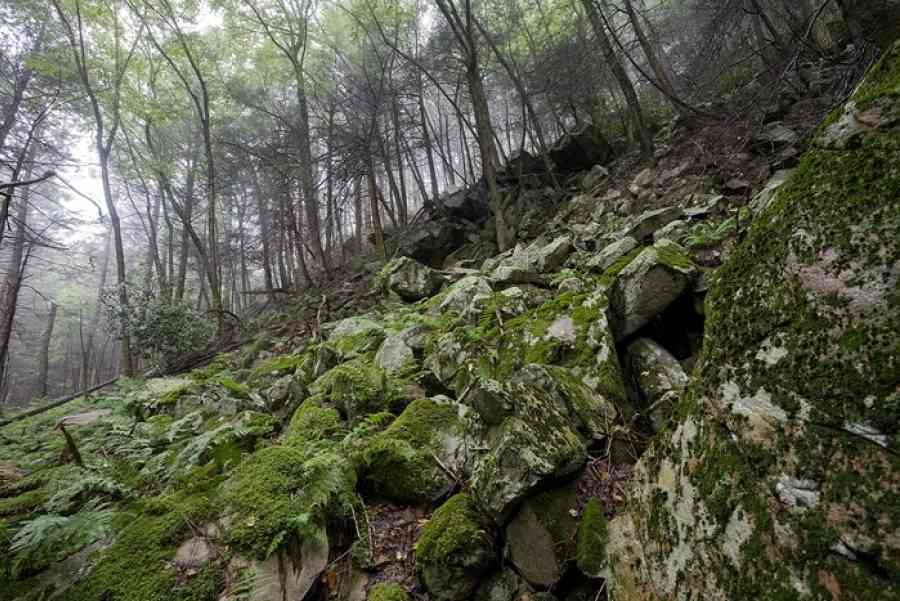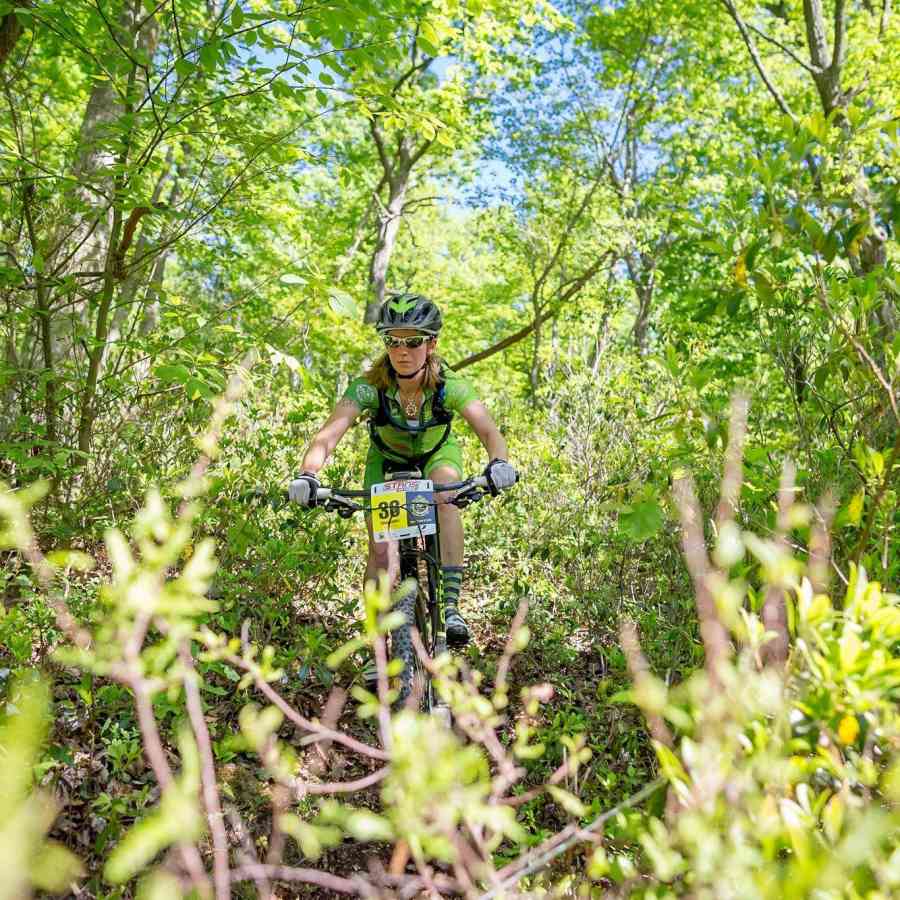 She decided to change that by joining forces with her friend and co-director, Mary Ann Hanlon, and holding their own race with their own rules: A 300 racer field, 50% spots open for women and 50% spots open for men.
"No one thought we could do it. And we got a ton of push back from men who couldn't get in because we were holding spots for women," she says. But Campbell held firm—and firmly held that door open for women who might otherwise be intimidated to show up, especially as new riders, in a field dominated by mostly men.
"I wanted more women to experience the forest and have the fun of competition and see how empowering it can be to take on these big challenges on your bike," Campbell says.
And boy did they. The women's field filled. And there were more than 160 first time riders (women and men), tackling one of the three courses offered—the Grit 25 miler; the Grittier 49 miler, and the Grittiest 65 miler.
Up, Up & Away…
The Rothrock State Forest sits on the edge of State College, PA. This 100,000-acre leafy, rugged gem houses seemingly endless forested Appalachian ridges, rhododendron-flanked streams, over a hundred miles of trails, and a rich network of more than 200 miles of quiet, dirt and gravel roads.
It is never flat. The Rothrock GRIT course profile looks like a great white coming up for a bite with layers of jagged peaks and drops. The course starts with a steady three-mile climb up Laurel Run Road to fire up your engine and then rewards you with a 7 ½ mile exhilarating descent that is a joyous, no brakes affair.
And that pretty much sets the tone for the day—especially on the long, Grittiest course, which is quite literally never flat. Riders pedal over six major peaks, with plenty of little lumps tossed in along the way.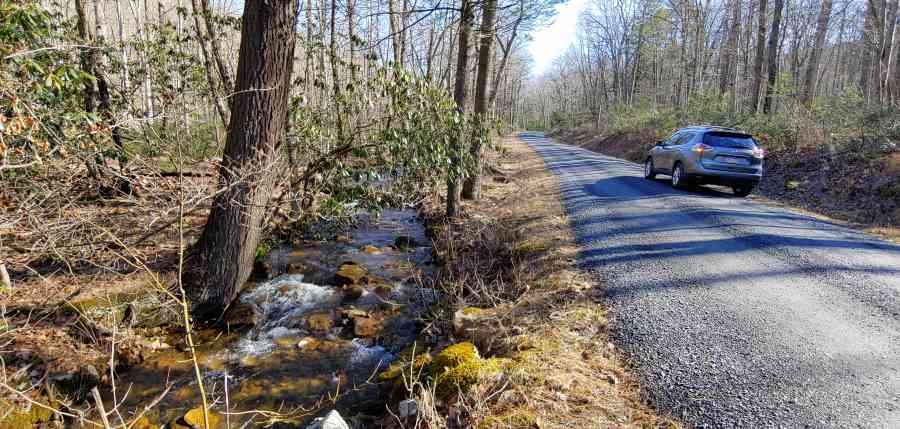 Beauty & the Beast
"This is soooo beautiful," I shouted out loud to no one in particular as I ducked to miss yellow and blue swallowtails fluttering right toward me while I screamed down North Meadows Descent, which, as it sounds, is a kaleidoscope of ferns, pines, bright green grasses, wildflowers, and, on this day, butterflies.
The beauty is the perfect juxtaposition—and healing anecdote—to the brutal-nature of the Rothrock Grit terrain. Back at the venue over hard-earned cold beers, many riders described the event as "soul crushing," which sounds bad, but as gravel veterans can attest, events that crush your soul are really just making room for your heart as it swells with pride over what your mind and body is accomplishing.
It's not just the hills that make it hard—though they're the star of the show, with ones like Thickhead Mountain that reach a leg-breaking 35 percent incline—it's also the terrain. Campbell's inspiration for Rothrock Grit was Iron Cross, North America's Original Ultracross race, which is notorious for sending its dropbar contenders into insane terrain, including steep, rocky singletrack, vertical hike-a-bikes, and rock gardens galore.
"I loved that kind of adventure riding, where you really see what you can do and where your bike can go," Campbell says. "That's what made me catch the gravel racing bug. "
To be clear, Grit is not Iron Cross-level technical, but it's well spiced with gnarly jeep roads, chunky doubletrack trails, stream crossings, and even some sweet, swoopy singletrack around Colyer Lake Dam towards the end, before you roll back to the start at Tussey Mountain Ski Area, where food and beverages and story swapping await.
Breaking Ground
The goal of this new event was to offer a challenge for all rider abilities and introduce people, especially women, to the joys of gravel riding and racing and exploring forests like Rothrock that they can return to with friends and family for active vacations.
Mission accomplished, Rothrock Grit. From the Friday night packet pick up at the stunning J.L. Farm and Cidery to the lakes, hiking trails, mini golf courses, skate park, and other family friendly places you pass by during this event, it's abundantly clear there are many reasons to come back.
And if all the smiles at the finish reception were any indication, there'll be plenty of people—especially women—returning for more. Next year the race is open to 500 riders, meaning 250 women will toe the line, something Campbell is brimming with excitement about.
"I keep thinking about that 11 year old girl who did the event this year," Campbell says. "She's going to think this is what cycling looks like."
Indeed. And what it should have looked like all along.