Penn State Football Tailgating
There is one overriding reason Penn State consistently ranks among the best tailgating colleges in the country. And that reason is not the quality of our burgers or the winning record of our team. It's the camaraderie and spirit of our fans, the happy sea of blue and white that blankets the fields surrounding Beaver Stadium on game day with its good cheer and great food.

Luckily, anyone can contribute to that magic – all you technically need is a parking pass (or a friend with one) and a smile. But if you really want to nail tailgating in Happy Valley, read on for the inside scoop on where and how to pre-game like a pro.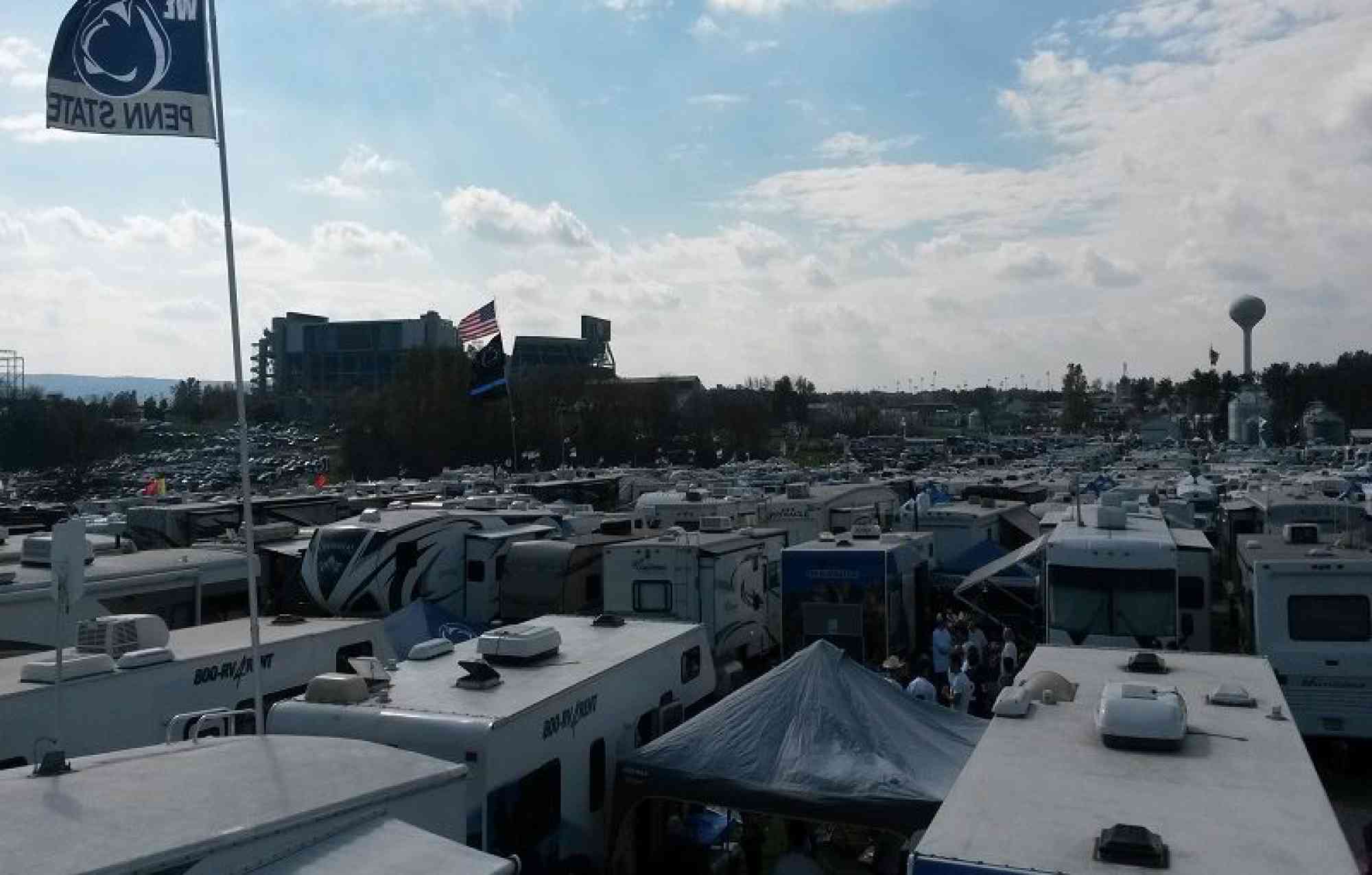 Where can I set up my tailgate?
State College swells with 107,000+ on game day, and while it's just fine to have happies in your hotel room or rental house before heading to the game, there are a few main places Penn Staters will be throwing down tailgates and putting up tents.
Overnight RV Lot (ORV): Insiders say layout changes made before the 2017 season decreased the number of spaces in this lot from 900 to 450. ORV is a premium piece of real estate on home game weekends these days. The advantage obviously is proximity to the stadium and with the lots opening early for RV's it is a great chance to stop into our visitor center just across Park Avenue.
Grange Park: RV tailgating at Grange Park in Penns Valley will be used for all home games during the 2019 season to accommodate the overflow of RVers into the valley. At about 14 miles from campus, it's less convenient than the walk-to-Beaver ORV Lot, but Grange Park offers overnight tailgaters ample parking, water and electric hookups, flush toilets, concession stands and, on some weekends, outside entertainment happening at the fairgrounds. This is definitely the choice for those that aren't looking to rough it.
Shuttle buses ($5 round-trip Friday; $10 round-trip Saturday) will take fans back and forth to downtown State College on Friday nights and to Beaver Stadium on game day, beginning three hours before kickoff.
Day-of-Game RV Lots: About 80 more game day RV spots were created before the 2017 season, but these spaces are often sold out in advance, as they give RVers a place to raise their awnings for the day to host friends and family from near and far. RV owners often spend Friday night in commercial parking lots around town (the Walmart Supercenter parking lot on Benner Pike looks like a makeshift campground on football weekends), then make their way to the line for their assigned lot in the pre-dawn hours of game day to get a prime spot.
Tailgaters who don't own their own RV can also rent an RV for the game from Nittany RV.
Preferred and Reserved Lots: Some of the closest lots to the stadium are reserved for Nittany Lion Club members (season ticket holders – who also still have to pay for a parking pass). The privilege of parking in these lots comes with NLC membership at various levels.
Family-friendly Lot: If you want your family to party in an alcohol-free zone, request a special pass to park in the small family-friendly lot near Lot 21 (close to the Arboretum). The free pass must be requested at least 14 days in advance of the game, and the regular parking lot fee still applies.
General Lots: You'll need a parking pass to park in any of the designated lots for football games; they can be bought beforehand for $20, but if you buy online leave plenty of time for shipping, because you need to have the color-coded pass in hand to enter your designated lot. (And if you wait 'til game day, you'll pay $60 cash only for a pass.) The lots open at 7 a.m. for noon games, 8 a.m. for later start times.
*For Blue-White Game the cost for parking is $20
What are the tailgating essentials?
Your tailgate, your choice! But if you want to keep old friends happy and maybe make some new ones, have plenty of food and beverages on hand. If you prefer not to mess with a grill, opt for pre-made subs, salads and other goodies to please the masses. And don't forget condiments, utensils, plenty of ice, camping chairs, plus paper towels and Wet Ones, to clean up messy fingers and spilled drinks.
What extras will take my tailgate to the next level?
A canopy or tent is nice to give your guests some shade and shelter, and a distinctive flag to fly can help friends locate your party amid the sea of cars and crowds. (Note: There will be plenty of blue and white Penn State flags already flapping in the breeze, so opt for a colorful wind catcher or something equally distinctive instead.)
Games always add to the good time as well; you'll see plenty of corn hole setups, beer pong tables and footballs flying. And if your tailgate has a TV showing other games, prepare to be everyone's new best friend. It is also smart to bring a phone charger, because with so many people in the tailgating fields connectivity can be an issue.
Are there any rules I should know about?
Glass bottles and kegs are prohibited in tailgating lots, so stick with cans or aluminum bottles. Penn State also no longer allows alcohol consumption in the tailgating lots during the game. (Coolers can come back out after the final play, when many tailgaters stay and snack some more while waiting for the heaviest traffic to disperse.)
Also against the rules: Weapons, fireworks, charcoal grills and fire pits. Propane grills are the way to go for game day grilling. And check the tank before you come, or bring an extra just in case, as there's a good chance the grill will end up being on longer – and more often – than you might have anticipated.
How do I keep my kids happy all day long?
Games like corn hole and ladder toss are kid-pleasers, as are bubble wands, kick balls and Frisbees. Bringing special snacks and drinks for little ones will brighten their moods, and a walk to Berkey Creamery for ice cream is always a good idea.
Perhaps the biggest tip from tailgating parent pros is to have electronic devices, games and portable TVs charged and ready for lulls in the action; they can give everyone some needed down time during a hectic day.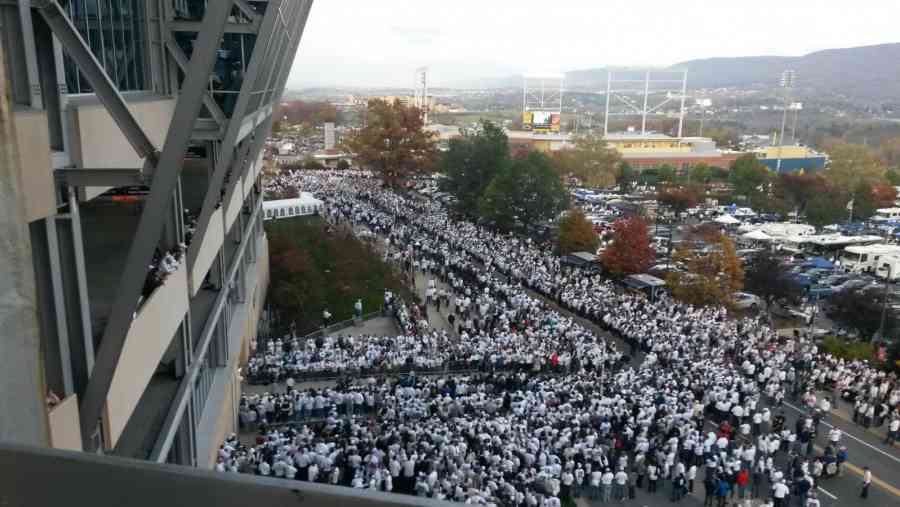 Can I leave my stuff out during the game?
While the vast majority of tailgaters are friendly and respectful, it's smart to lock away your belongings before you enter the stadium. And always take your tent down, as rain and wind could knock it loose. "There's nothing worse than coming back and your tent is gone and your neighbor is waiting for you to pay for the damage your tent did to their car," says longtime tailgater and Penn State alum Mark Krull.
Bringing all that stuff to the game sounds like a hassle. What's in it for me?
Krull's description of tailgating from an alumni's perspective makes all that planning and packing sound well worth the work: "Tailgating is how my family stays connected to all of our friends and family. As people move away or it becomes harder to get together throughout the year due to other plans and obligations, we know that nearly everyone we know will come to at least one PSU game a year," he says. "This is our chance to spend a few hours with them, catch up on life and share stories from the past. In the age of big HD-TVs at home, you can get a great experience watching the game at home. But you can't replicate how much fun it is to catch up with friends and family tailgating on fall Saturdays at Penn State."
When do the gates open?
Fans are allowed into the stadium two hours prior to kickoff (ie. 10 AM for a noon kick). It is advised to get into the stadium as early as possible to be processed through security and be in your seat prior to the game time. There are also food incentives available for those fans entering the stadium in the first 45 minutes gates are open. Another fun activity is about 2 1/2 hours prior to kick you can greet the players and coaches as they get off the bus at the intersection of Porter Road and Curtin Road.