Raes, Ritter win Mountainback 50M; Loevner, O'Connor triumph in 50K; men's trio takes relay title
State College, Pa. – Better weather could not have been ordered, as solo runners and relay teams took on the challenging 50-mile course and new 50K course at the Tussey Mountainback Relay and Ultramarathon on Sunday in Pennsylvania's Rothrock State Forest.
Vincent Raes, of Sainte-Marie-de-Ré, France, won the 50-mile ultramarathon in 7:07:38, twenty minutes ahead of Cory Golden, of Easton, PA. Raes, who currently lives in the Philadelphia area, said he was looking for a long distance run for October, "not too far from Philadelphia, and not too hard in terms of elevation/technicity of the trail. And Tussey Mountainback was just checking all the boxes, so I signed up."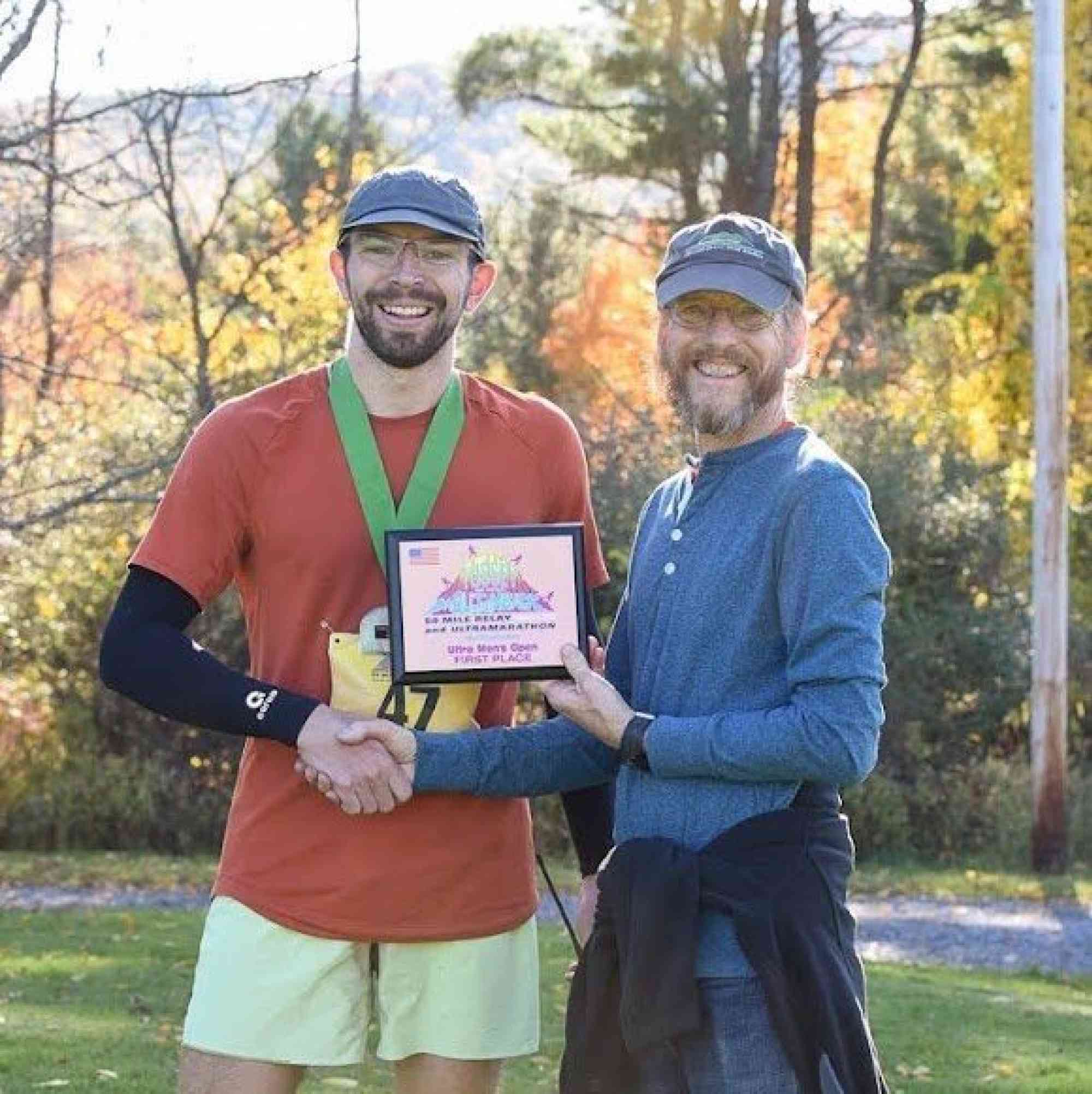 Molly Ritter, of Arlington, VA, finished third overall in the 50-mile event and was the first woman finisher, in 7:33:18. Ritter first ran this race as part of a relay team with the Penn State Triathlon Club in 2008, then ran the 50-mile ultramarathon in 2016, that year finishing in 8:27. "What motivated me to come back," said Ritter, "was a DNF (did not finish) at mile 40 of the JFK 50 miler last year and a bonus trip to Happy Valley for some Creamery ice cream." Today Ritter is a registered nurse working in intensive care and recovery.

Will Loevner, of Pittsburgh, was the overall winner of the Mountainback's inaugural 50-kilometer race, finishing the loop course in 3:27:33. Loevner, a former Penn State cross country and track runner, is better known as a competitive cyclist. Until race day, he had never raced longer than 10K, and that was in college. "For the last four years I've focused on ultra off-road cycling events, with the peak of my racing season being placing 3rd at the 24 hour MTB World Championship in Italy in May." Loevner works as a cheese maker and farm manager (goat wrangler) at Goat Rodeo Farm & Dairy in Pittsburgh. "I graduated from Penn State with a degree in animal science last year and have been working at my family's farm ever since."
Nora O'Connor, of Binghamton, NY, finished third overall in the 50K and won the women's race in 4:35:16. "I set out with the goal to finish first female," said O'Connor. "I really enjoyed the amazing foliage on the tree covered gravel roads. I enjoyed how quick and fun some of the parts of the course felt. It provided the perfect amount of challenge to pure enjoyment, allowing me to really take in the moment and beauty of the area. I did the course a bit faster than anticipated and feel proud of the effort I put in." O'Connor, whose outdoor education work has included wilderness therapy, alpine ski coach, farm hand, and camp staff, will be coaching and working for a community school this upcoming year.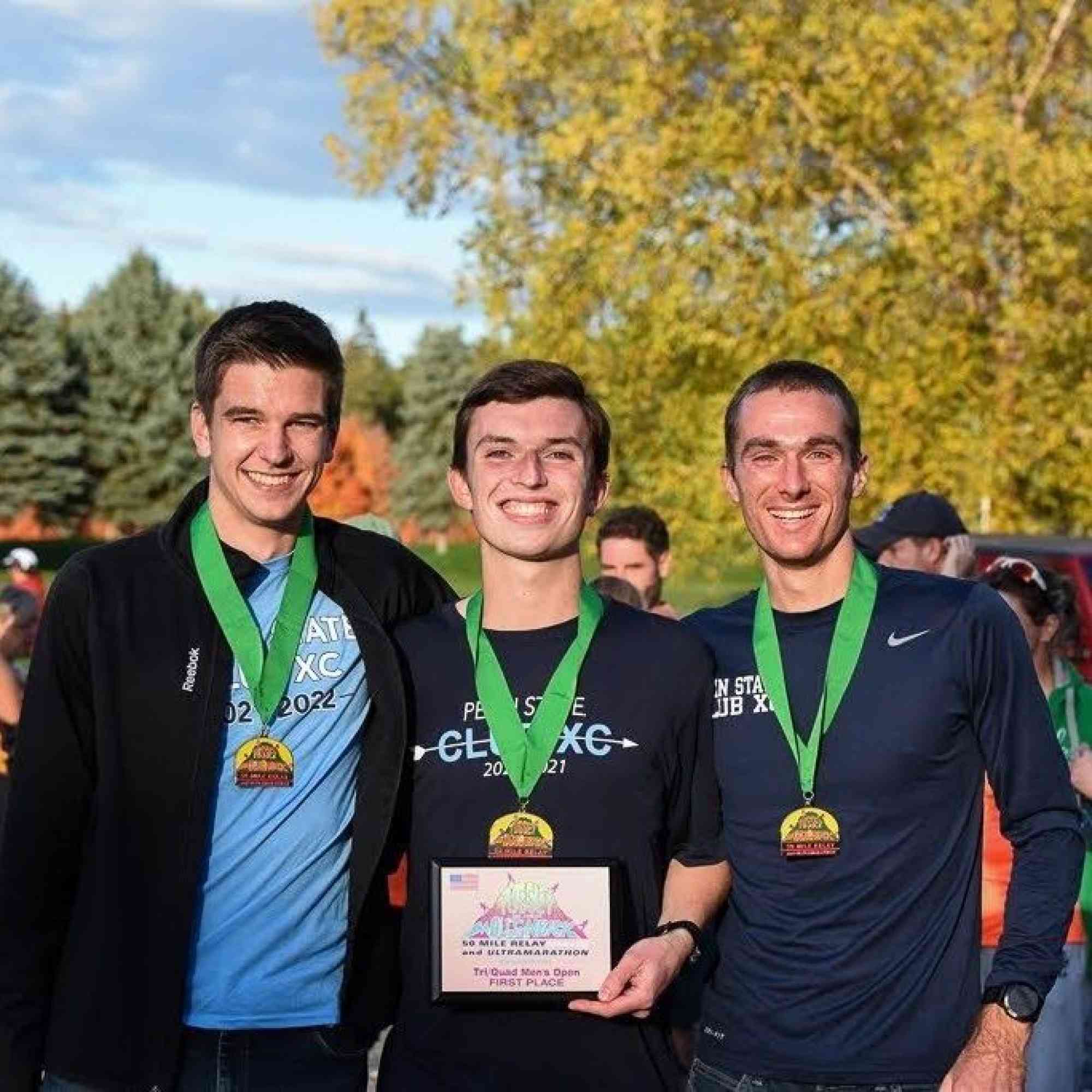 The relay event, which included teams of 2 to 8 runners, was won by a 3-person team, Josh's Holmies, in 5:19:08, 24 minutes ahead of the next team.

"Our team formed because we're all a part of the Club Cross Country team at Penn State," said Josh Holmes, a junior at Penn State and the team's captain. "I learned about this race through my teammates Caeden (Smith) and Jason (Sammut), who were both planning to do the relay, but wanted a third runner to join them to split up the mileage more. I signed up because I had heard about how fun the race was and I knew some parts of it from running a couple of the Tussey Teasers before." Smith and Sammut are graduate students at Penn State.
There were a number of team category winners in the relay division. Notable among these were a familiar team to this race, The Old Men of the Mountains, and a brand new team, The Young Chicks of the Mountain. The Old Men of the Mountains have raced this 50-mile loop course 16 years straight, recruited and led by their team's captain, George Etzweiler, of State College, PA, now 102 years young. Etzweiler ran the 3.5-mile Leg 5 of the course on Sunday, a gently downhill segment, a shift from the hill climbing segments he has run for many years during this race. The Old Men's team – which included one woman runner this year – won the mega men's masters title for teams of 8 runners. Finishing in 10:56:37, the team shaved 24 minutes off their finishing time from last year.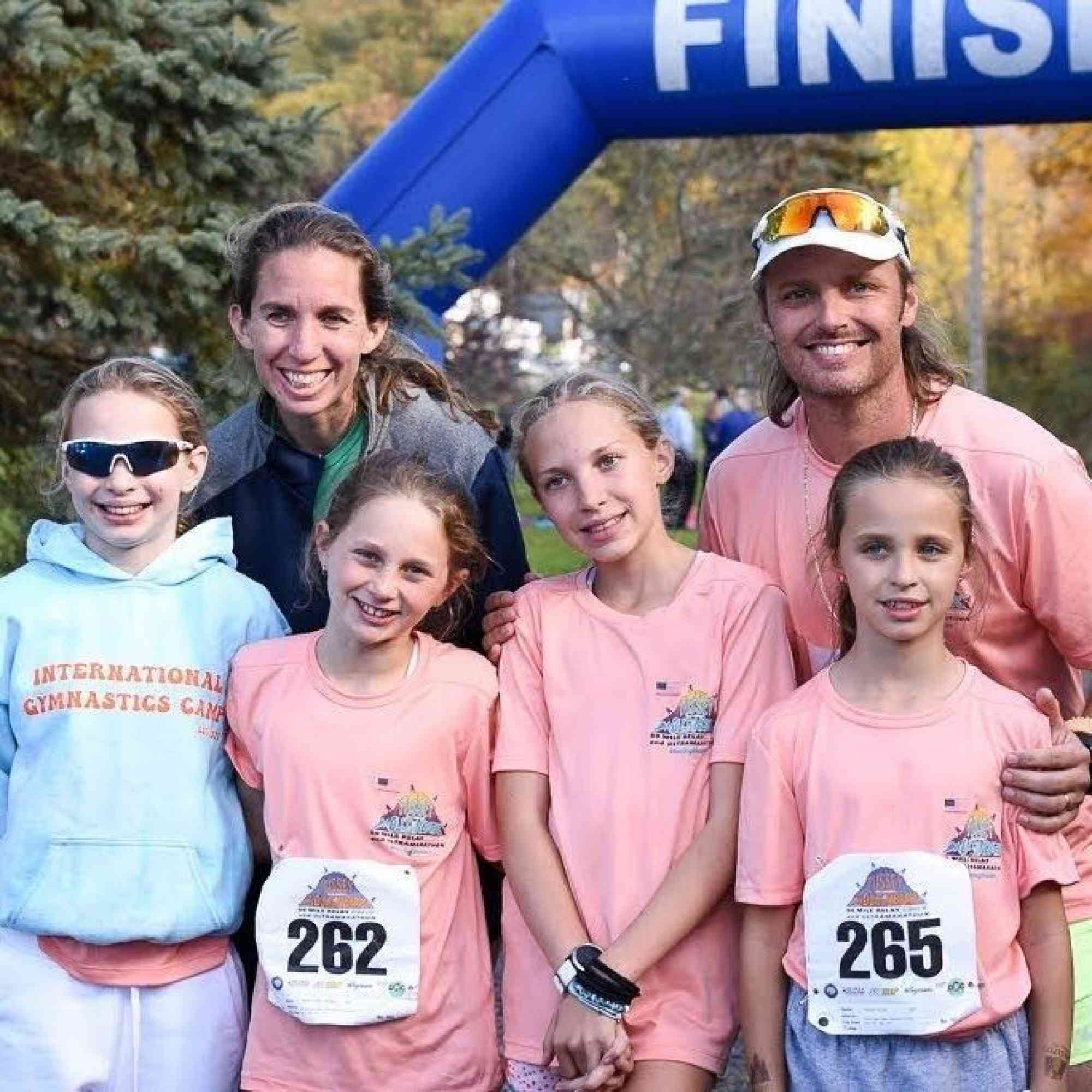 The Young Chicks of the Mountain is comprised of three sisters, Emma Raish, 13, Ella Raish, 11, and Elsa Raish, 8, their parents, Adam and Victoria Raish, of Bellefonte, PA, and the girls' friend, Norah Harpster, 10. The Young Chicks finished in 7:08:26 and won the standard mixed title for teams of 6 runners.

At the finish line, after a moment to catch his breath, George Etzweiler, always thinking ahead, startled those nearby with a surprising announcement. "I'm going to join the Young Chicks of the Mountain next year!"
Proceeds from the 2022 Mountainback event support the Dyslexia Reading Center of Central PA, which helps local youth and adult clients to triumph over this challenging disability. For more information about the Dyslexia Reading Center, visit https://dyslexiareadingcenter.....
Details about the Mountainback race are available at www.tusseymountainback.com. Next year's race is set for Oct. 22, 2023.
The Happy Valley Adventure Bureau is a major sponsor of the Mountainback event. Key sponsors also include Rapid Transit Sportswear, Steven Bodner Team of RE/MAX Centre Realty, Wegmans, Appalachian Outdoors/The North Face, Subway Restaurants, Kish Bank, The Bicycle Shop, Cathy Kennedy, Centre Elite Gymnastics, East Coast Health & Fitness, Koch Funeral Home, Woods House Historic Pub, CENTRE Markets, Cathy Kennedy, The Free Book Bus, The Phantom Pooper, RUN717 Coaching, School of Intuitive Yoga, Still Not A Hippie and TikTok & Instagram Supporters, Tussey Mountain, and The Sign Stop.