Top Spots to Picnic in Nature, in Style and in the Blue & White Spirit
From the French pique-nique, picnic originally referred to a meal in which everyone contributed something, but evolved to mean dining outdoors or al fresco, especially in scenic surroundings. Picnicking options in Happy Valley come with beautiful views and options for extra fun or a little extra pizzazz. Here are our top picnicking picks in Happy Valley:
Old Main Lawn
Visitors to Penn State, including prospective students and families, should take advantage of this location to enjoy both the beauty of campus and get a feel for the University environment. Old Main's location, just across College Ave. from Downtown State College, makes it a convenient spot for finding parking and a perfect picnic lunch or dinner. Stick to the basics with sandwiches, salads and chips from the deli at McLanahan's Downtown Market or choose a few artisan-inspired baked goods and coffee from Crust & Crumb Café. For more substantial meals, consider take-out from State College classic The Corner Room or one of downtown's many international restaurants, like Cozy Thai Bistro or Tadashi Japanese Restaurant.
Whipple Dam State Park
Just a short drive from Downtown State College on Rt. 26, Whipple Dam State Park has ample options for picnicking and enjoying a day outdoors. The park offers three large picnic pavilions and many picnic tables throughout the forested area, near the beach and lakeshore. Drinking fountains, charcoal stoves, and restrooms are located throughout the park. The three picnic pavilions may be reserved up to 11 months in advance for a fee. Unreserved picnic pavilions are free on a first-come, first-served basis. Pavilion #1 is ADA accessible. Relax and enjoy the view of the lake and surrounding forest, or, depending on the season, take a hike or swim. The lake is popular for fishing and is perfect for canoeing, kayaking, sailing and electric-powered motor boating. Boat concessions are available on weekends seasonally. Whipple Dam is a winter wonderland of activities in colder months, offering ice skating, cross-country skiing and ice fishing (ice thickness is not monitored - so please be cautious).
Happy Valley is home to several state parks that also offer excellent picnic facilities, wildlife viewing and outdoor recreation. Visit DCNR.pa.gov/stateparks for information on Bald Eagle State Park, the largest of the state parks near State College, with a 1,700-acre lake; Black Moshannon State Park, situation in a natural basin just a few miles from the Allegheny Front, boasts cooler temperatures in summer as well as a diverse habitat, including three types of carnivorous plants and other species typically found farther north; and several others.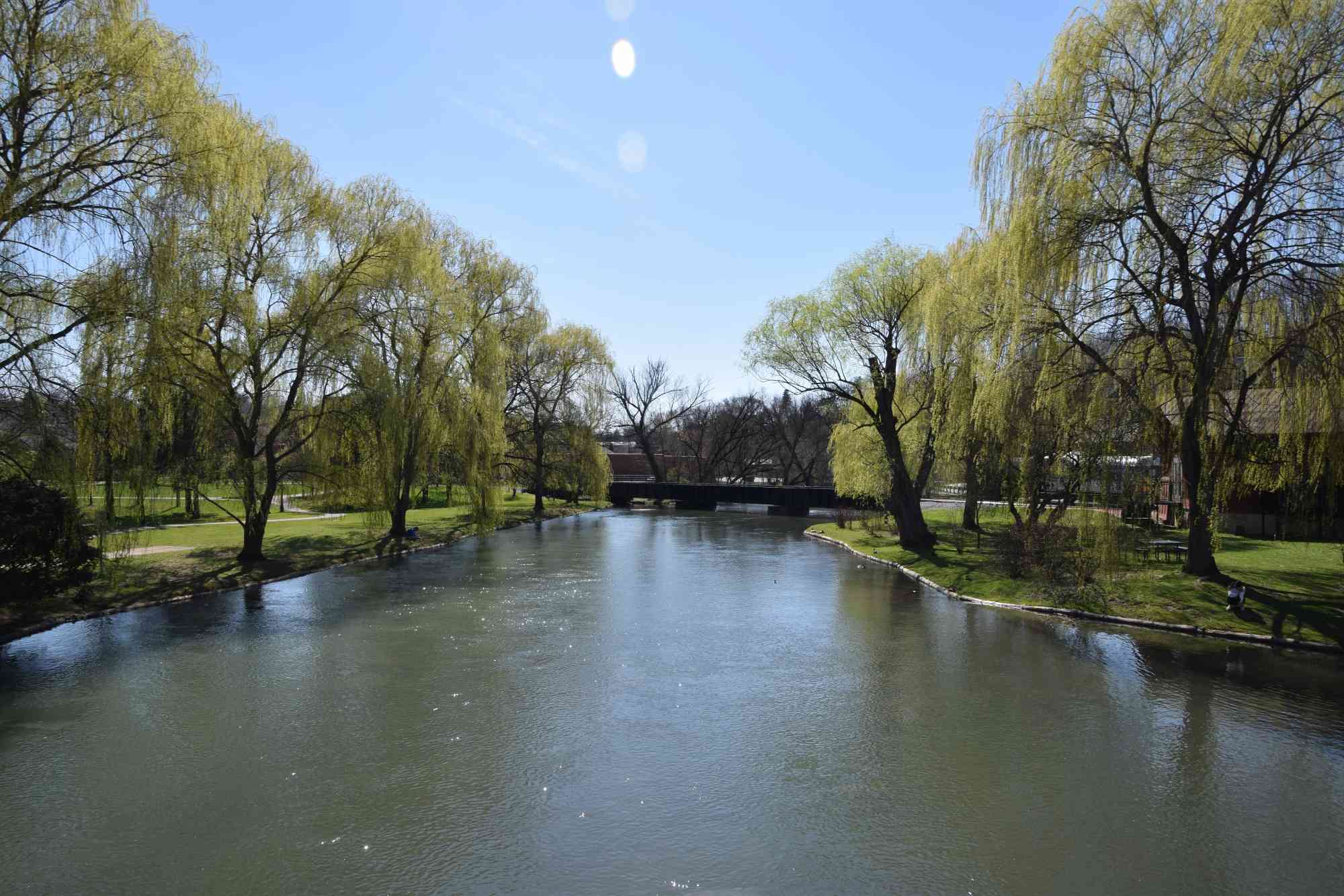 Talleyrand Park
Located in the heart of Bellefonte's charming and historic downtown, Talleyrand offers picnicking on the banks of beautiful Spring Creek. With two cafés next to the park—Bonfatto's Corner Market & Café and My Café Buzz—and restaurants and pizzerias lining the downtown streets—try The Governor's Pub on High Street or nearby Pizza Mia on Spring Street—you'll have plenty of dining options to enjoy at one of the many picnic tables throughout the park. Planning for a special occasion, like a birthday, anniversary or engagement or want to create the most romantic first date ever? Spring Creek Picnics will help you "elevate your picnic." Owner Renea Nichols Nash started the business after experiencing the "pop-up picnic" trend in California. A Bellefonte resident, she knew the idea was perfect for Talleyrand's picturesque setting. Luxury picnics, Renea says, are "about more than just eating together" and create a truly special experience. Packages are set up for 2-4 guests, but customized packages can accommodate up to 10. You bring the food and Spring Creek Picnics will create an unforgettable dining experience, complete with reclaimed, locally handmade wood tables, woven rugs, cushions, lighting, music, games and more.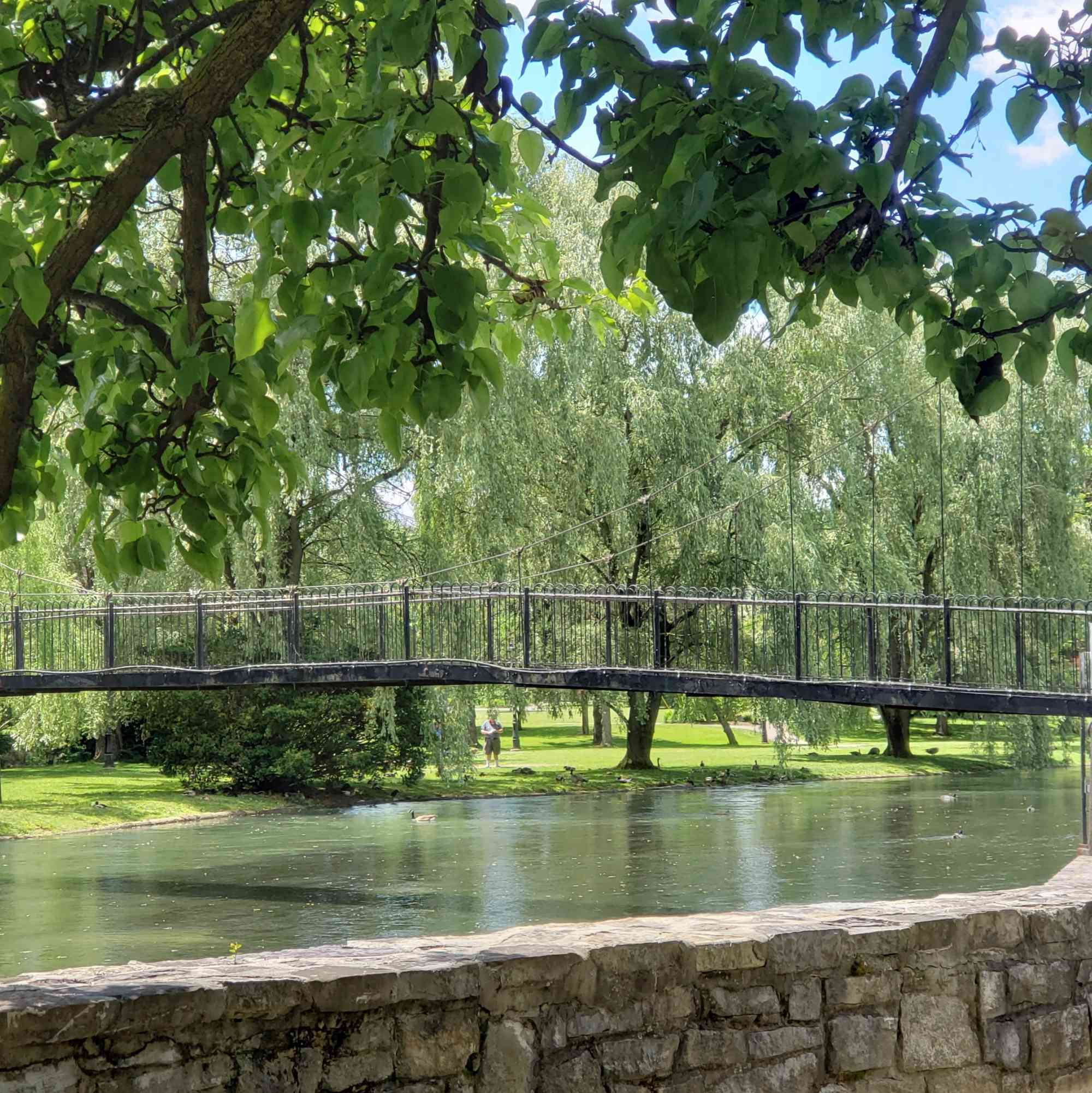 Keith Spring, Rothrock State Forest
Located along the Mid-State Trail, Keith Spring is a fresh water spring utilized primarily by through-hikers, but the surrounding forest and viewing areas make it a lovely spot for a picnic off the beaten path. At an elevation of 2,323 feet, Keith Spring is situated near Big Flat Natural Area and Indian Wells Vista. Load your daypack and hit the trails starting at the trailhead at https://bit.ly/BigFlatParkingArea. Keith Spring is not too far from the historic village of Boalsburg, the birthplace of Memorial Day, and a little over 2 miles from the Alan Seeger Picnic Area and Bear Meadows Natural Area.