Four stops for fall Agventures
The changing colors of the leaves, the crisp fall air and Penn State football are just a few of the many reasons that there is nothing like fall in Happy Valley, PA. Across the region, many local establishments make the most of local agriculture to create harvest-time menus, featuring one-of-a-kind entrees and seasonal craft cocktails.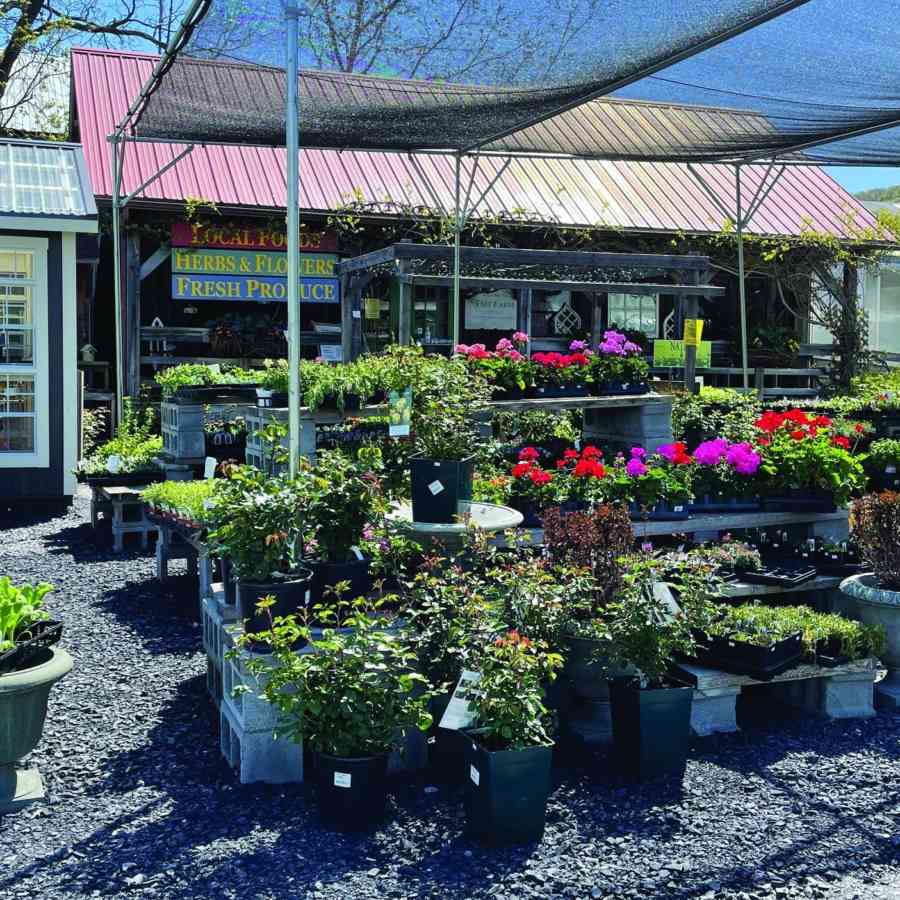 Here is a look at four Agventures to try out this fall in Happy Valley:
Tait Farm Harvest Shop and Greenhouse
179 Tait Rd., Centre Hall
www.taitfarmfoodslocal.com/
Tait Farm is located seven miles east of State College and Penn State University. The farm has been in the Tait family since 1950 and now boasts more than 60 artisan products. Tait Farm Foods has something for every occasion. All products are made in small batches by hand right in Happy Valley and with all natural ingredients – no preservatives.
The Harvest Shop at Tait Farm is the perfect destination for an Agventure shopping trip any time of year – but it's even better in the fall. Spruce up your house with some amazing hand-crafted decor or add some fall spice and ingredients to your own kitchen. In addition to being the showcase for Tait Farm's specialty foods, the Harvest Shop also features a great selection of other Pennsylvania-made food products. Also on the farm, Tait Farm's Greenhouse has been dubbed the "secret garden" for our region and has a great selection of seeds, herbs, vegetable seedlings and a beautiful selection of annuals and perennials.
Tait Farm Foods was recently included in best-selling author Brenda Novak's Book Boxes – Tait Farm's amazing Pumpkin Butter and Salted Caramel Apple Conserve are both featured in boxes this fall.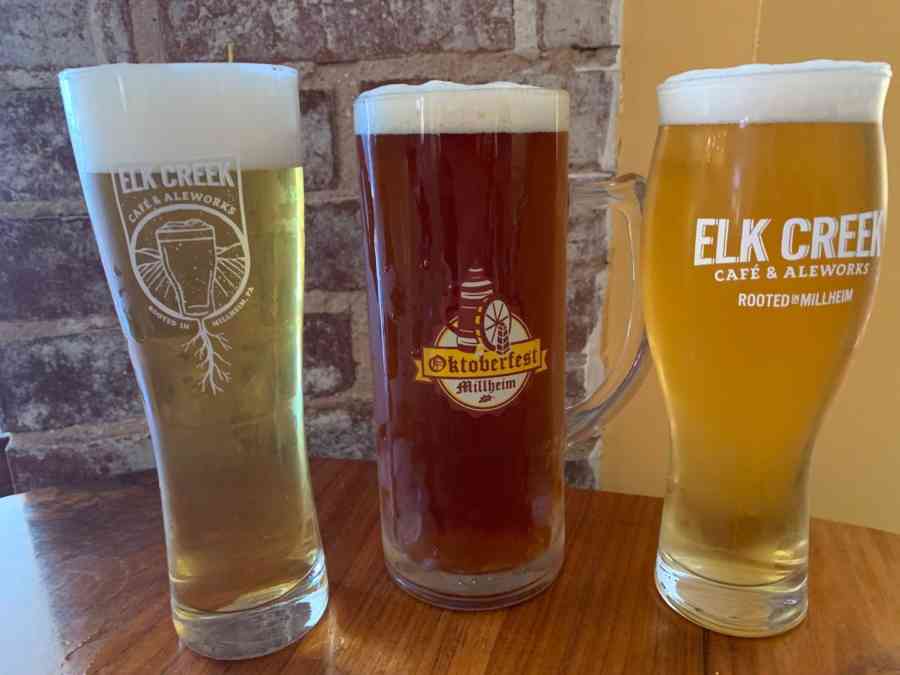 Elk Creek Café + Aleworks
100 W. Main St., Millheim
https://elkcreekcafe.com/
Elk Creek Café + Aleworks is one of the most versatile establishments in all of Happy Valley – a combination restaurant/brew pub/music venue that focuses on fresh, flavorful, authentic and local. Since 2007, Elk Creek has become a go-to spot for dinner, drinks and music. Every Wednesday at 6:30 p.m., Elk Creek hosts a Taproom Trivia night with $4 IPA pints and food specials.
Looking to create your own Happy Valley Oktoberfest? Elk Creek Café + Aleworks has many delicious seasonal beers on tap and for purchase on site, including, Gooseneck IPA, Mills' Pils, Kolscial Distance, and My Oh Maibock.
In walking distance from the Elk Creek Café is Elk Creekside, an outdoor space that allows you to bring your own chairs and blankets to listen to some of the best local live music while enjoying the fall weather, a craft beer and a bite to eat. (Check their facebook for current events)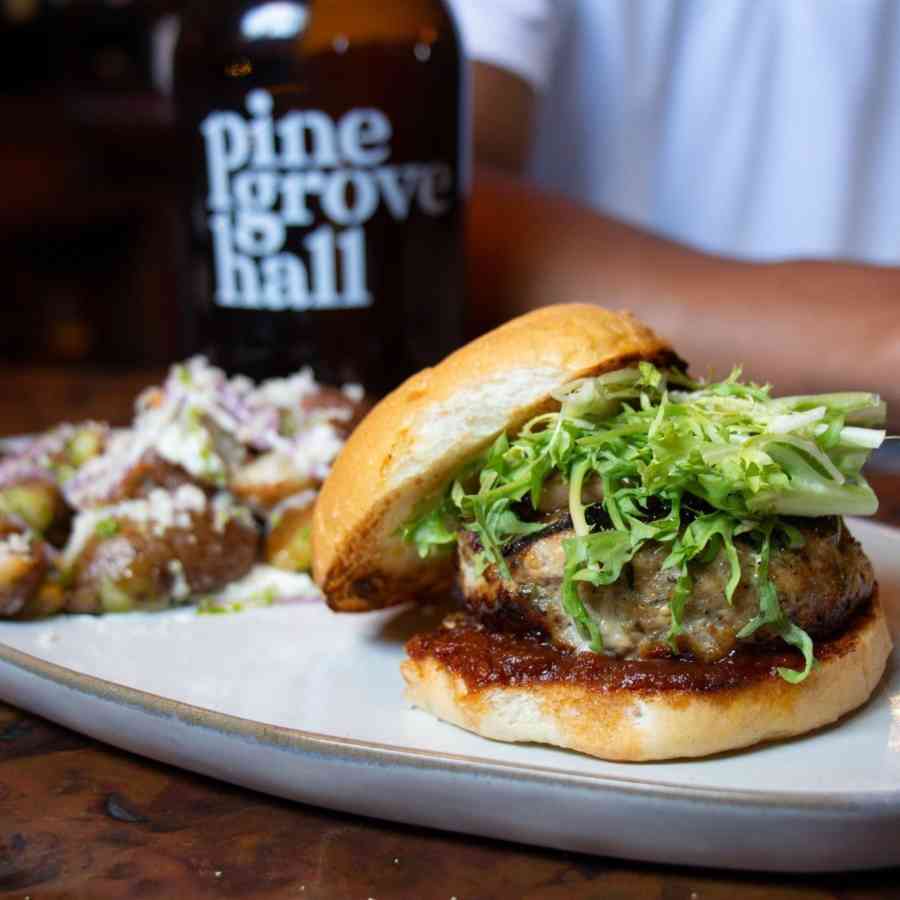 Pine Grove Hall
101 E. Pine Grove Rd., State College
www.pinegrovehall.com
Voted "Best New Restaurant" last year by State College Magazine, Pine Grove Hall continues to impress as much more than just a restaurant. Opened in June 2020 at the location of the former Old Oak Tavern, Pine Grove Hall has quickly become a favorite stop for locals and visitors alike. The ever-changing menu features locally sourced food – about 90 percent of the food is grown, raised or produced within 50 miles of State College. Pine Grove's Sunday Brunch (from 10 a.m. to 1:45 p.m.) is the perfect end to a weekend – who can say no to a Mimosa Flight or a homemade Bloody Mary paired with Pumpkin French Toast?
Pine Grove Hall has live music weekly and many other special events. Pine Grove Hall also hosts monthly "Writers' Round" events where four local singer-songwriters share the stage and take turns playing their songs.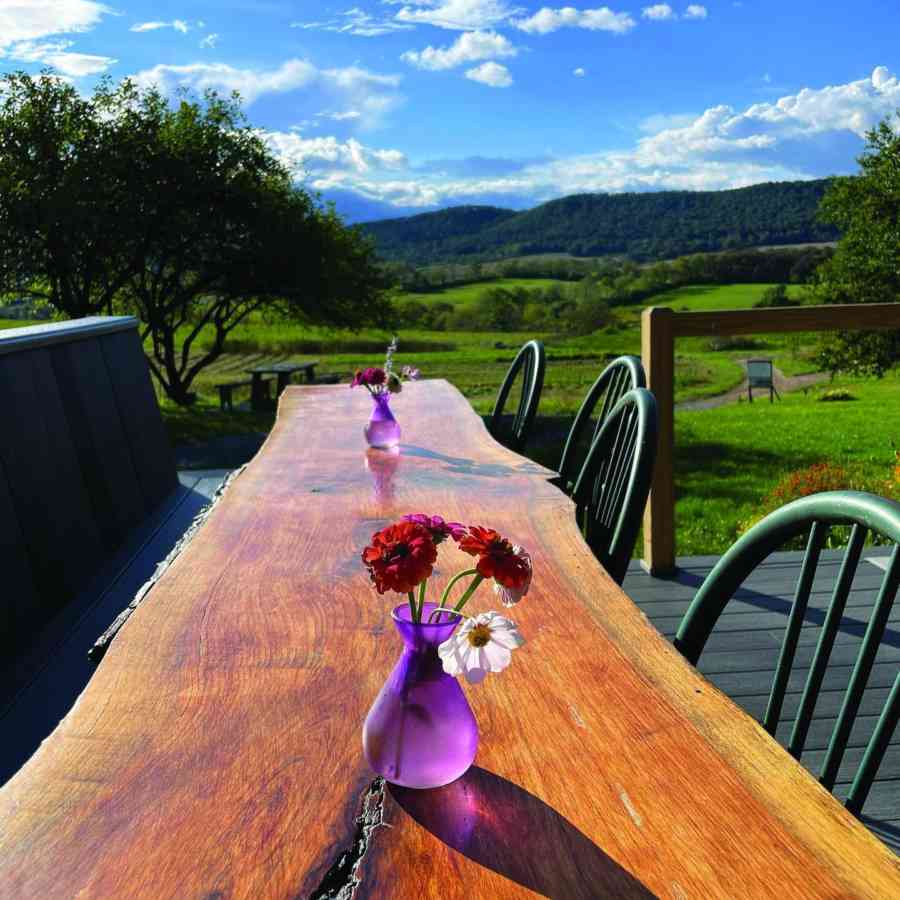 RE Farm Café at Windswept
1000 Fillmore Rd., State College
www.refarmcafe.com
RE Farm Café offers a unique dining experience that focuses on sustainability and local sourcing. The food offered at the RE Farm Café is fresh, delicious, and right from the farm to your table. RE Farm Café offers its three- and five-course meals on Friday and Saturday nights. Ticketed reservations, which include your entire meal and gratuity, are always available on the website. And when you are looking for somewhere to stop for a drink with a friend, the cafe has a full bar with local beers, spirits, specialty drinks, and wine.
Every Thursday this fall, RE Farm features Picnic Tapas and Live Music. From 5:00 p.m.-8:00 p.m. local musicians entertain – either outside on the lawn or in the Café depending on the weather – while guests enjoy deliciously creative tapas and cocktails. A welcome plate of hummus and Windswept just-harvested vegetables is included with your $10 ticket.