Happy Valley offers some of the most beautiful golf courses anywhere in the country. With challenging holes and breathtaking views of our natural scenery, there is no better place to golf than Central Pennsylvania. From public courses to country club memberships, there is something for every level of golfer right in our backyard.
Here is a look at a few golf courses in Happy Valley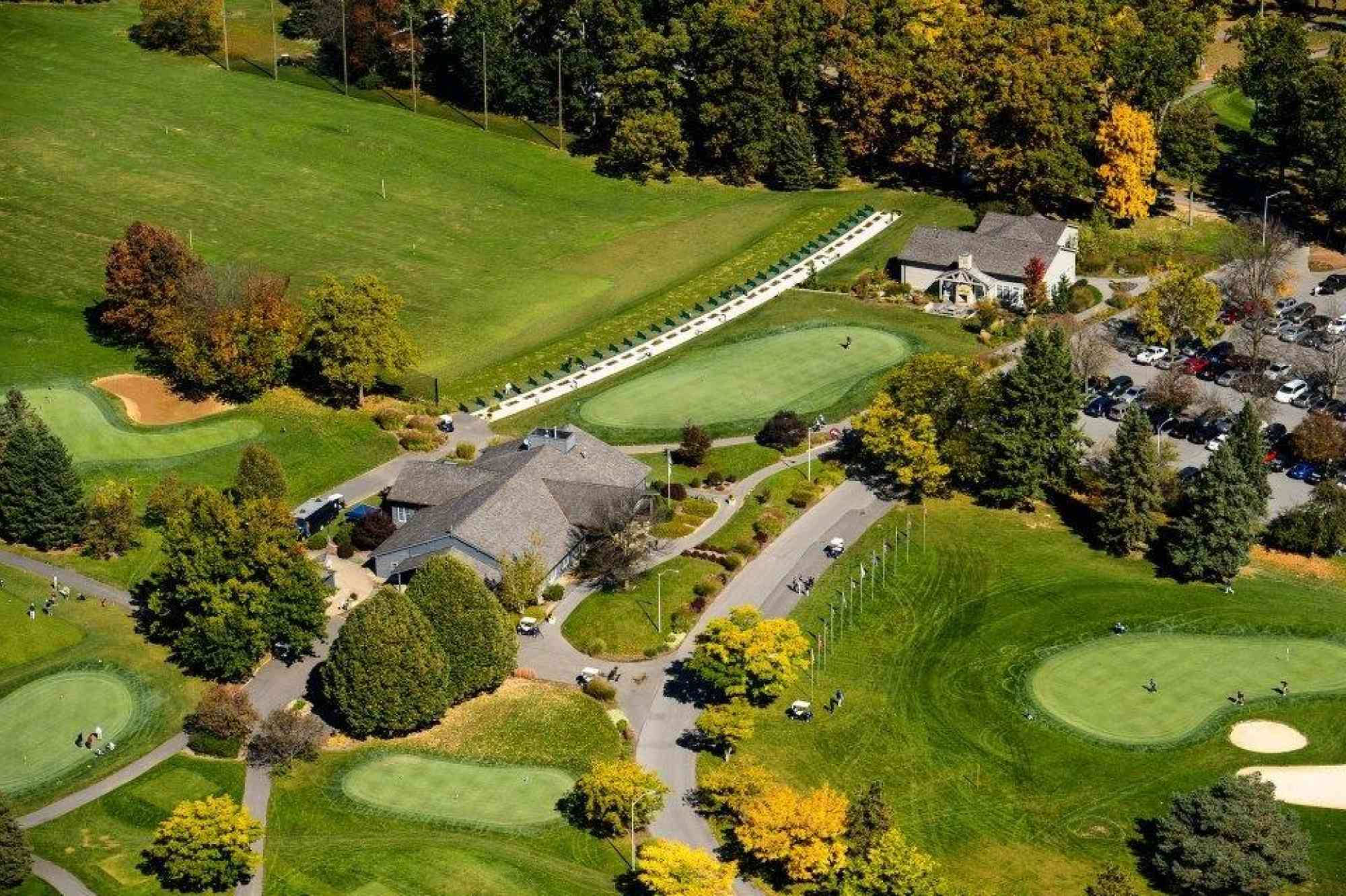 1 Country Club Lane, State College

Tee Times: Book Online or call (814) 234-8000
Rated as one of Pennsylvania's top places to play, Toftrees Golf Resort is one of the best golf courses for players of all skill levels and handicap. Recently rated 4.5 stars by Golf Digest's "Places to Play," Toftrees is regularly included among Pennsylvania's Best Resort/Public Golf Courses.
While the scenery and groundskeeping at Toftrees are second-to-none, it does not take long for the course to really challenge golfers with sand traps, tough pin placements and lengthy holes – starting with the first hole, which is the longest par 4 on the entire course. The second hole is a 500+ yard par 5 with bunkers surrounding the green. At Toftrees, you'll be playing every club in your bag.
As a destination resort, Toftrees Golf Resort features 102 guest rooms and suites just minutes from downtown State College. Toftrees also has an outstanding farm-to-table restaurant on the premises – The Field Restaurant – which uses locally sourced fresh ingredients whenever available including local bread, a variety of regional Amish cheeses, and a house blend of sirloin, chuck, brisket, and short rib to create mouthwatering, hand-formed burgers. Whether you are looking for breakfast, lunch, dinner, dessert, or cocktails, The Field Restaurant has something for any time of the day.
Ready to get out on the course? Book your tee time at Toftrees Golf Resort online today!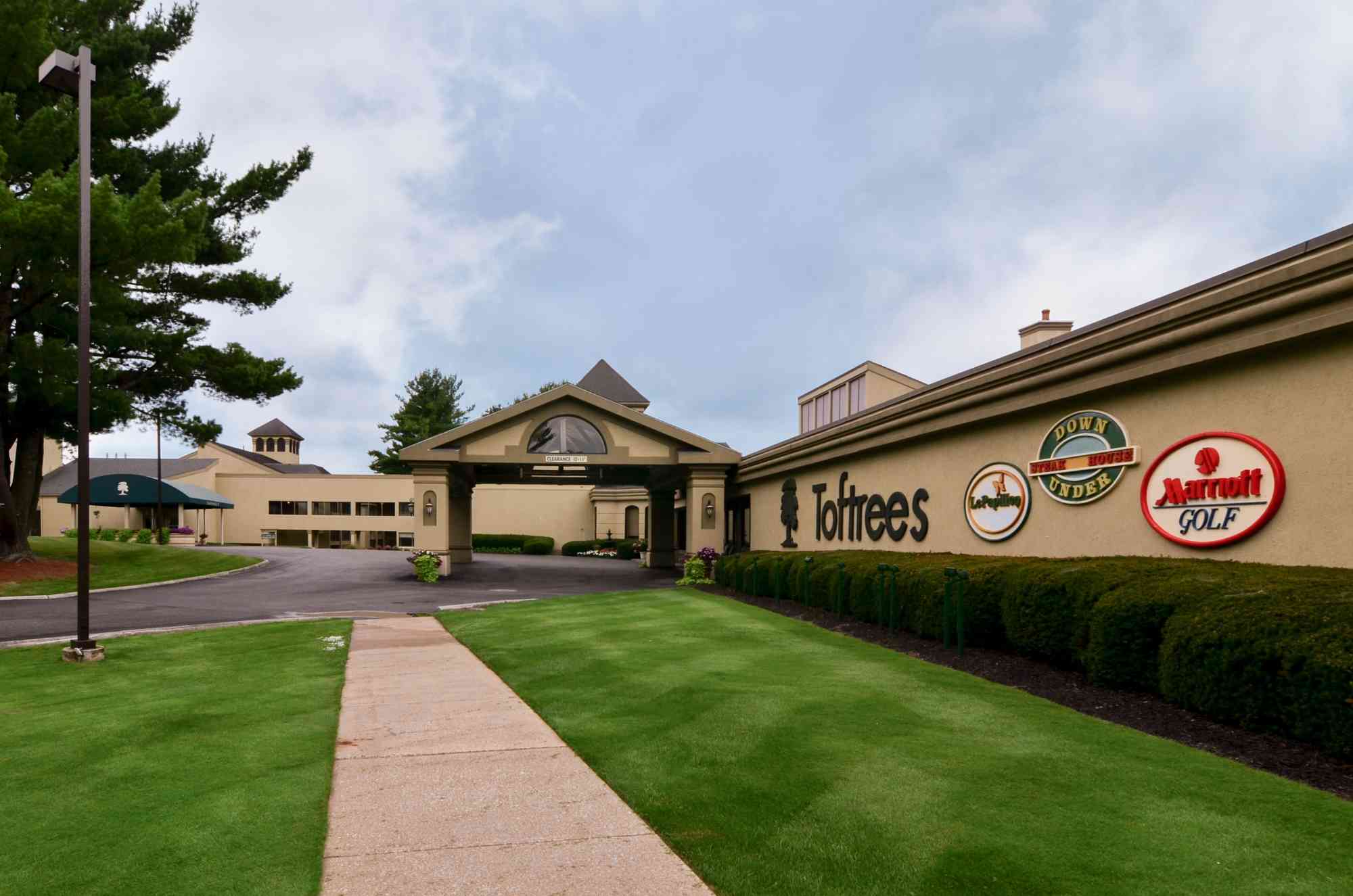 1523 West College Ave., State College
Tee Times: Book Online or call 814-865-4653
https://www.pennstategolfcourses.com/
The Penn State Golf Courses really have something for everyone – and more importantly, something for everyone all throughout the year. Whether you are looking for a tee time in July or have the urge to get out golfing on an unseasonably warm winter afternoon, the Blue and White Golf Courses in State College are the perfect venue in Happy Valley.
The Blue Course front nine measures 3696 yards off the Nittany Tees and challenges golfers to be precise with tee shots to have a decent shot into closely guarded greens. With 27 bunkers on the front nine, the front nine presents demands of length and accuracy from golfers. The back nine on the Blue Course measures 3518 yards off the Nittany tees and provides a quite different experience than the front nine. The back nine not only includes 16 green side bunkers, 11 strategically placed fairway bunkers and water hazards on two holes to add pressure to golfers.
The White Course is a challenging alternative to the Blue Course – and while shorter in distance, it is no less more enjoyable or challenging. The front nine features nearly 40 bunkers and smaller greens to really keep golfers on their toes. The back nine measures 3099 yards and is perhaps the easiest nine to score on at the Penn State Golf Courses – with the exception of #18, a 492-yard uphill hole with a slight dogleg right that may be one of the most challenging finishing holes in Happy Valley.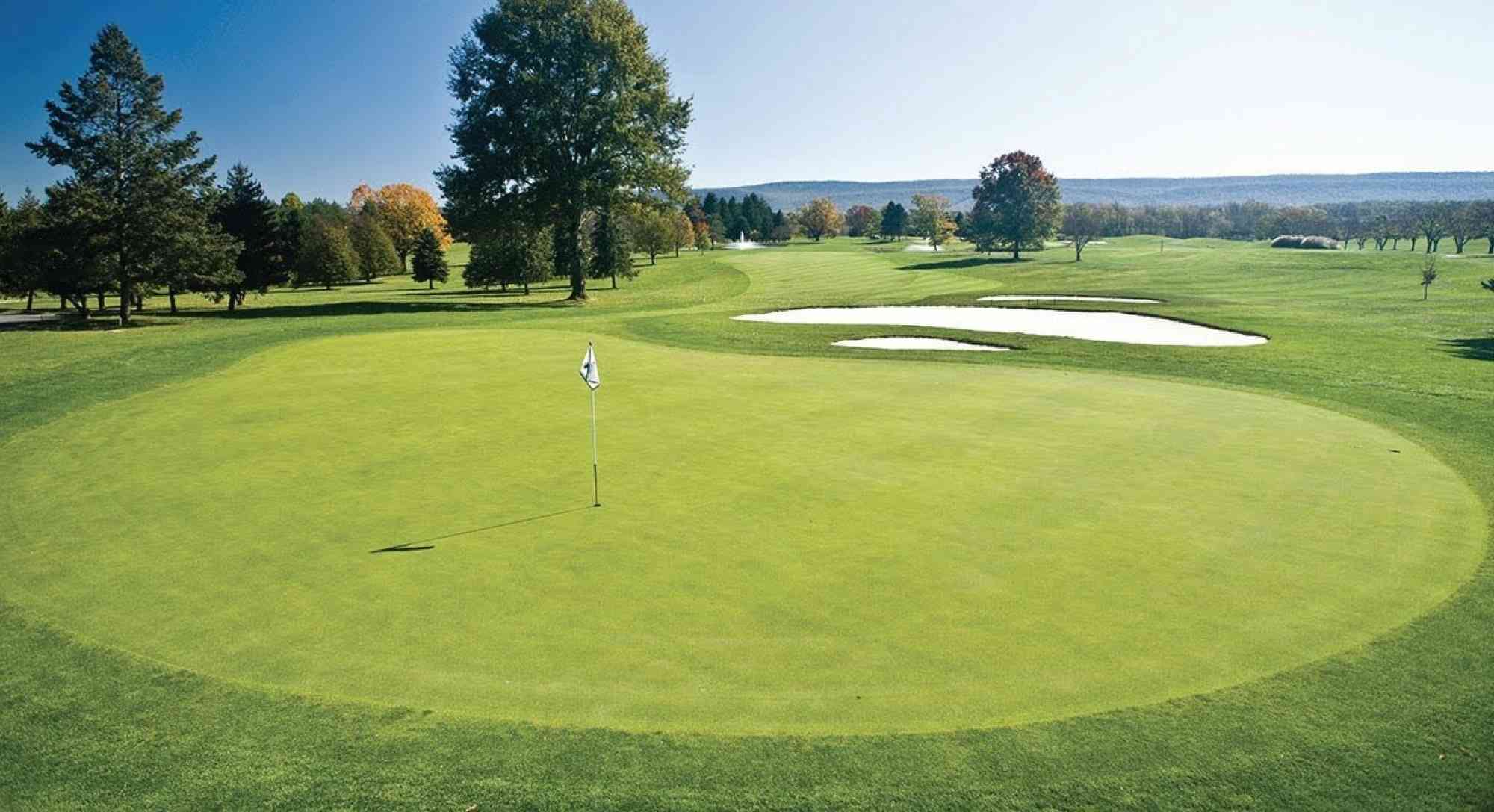 If you are looking to get out on the Blue and White Courses, make sure to book your tee time before heading out! Click here to check out the available tee times throughout the summer and to book your golf outing.
While the Blue and White Courses are both open to the public, there are also great membership opportunities for Happy Valley residents and Penn State Students. The Penn State Golf Courses Season Memberships include unlimited play on both the Blue & White Golf Courses. The White Course PSU Student membership features unlimited golf on the White Golf Course for full-time students taking 12 or more credits in the Fall or Spring Semester. Student memberships also offer discounted rounds on the Blue Course.
In addition to the 36 holes of championship golf, the Penn State Golf Courses is also home to an award-winning practice facility with four practice putting greens and 38 driving range stalls to loosen up before a round with friends or to put in some extra work on the range. The facility also features two indoor swing simulators.
When you are off the Course, the beautiful Walker Clubhouse features an outstanding Golf Shop and The Nineteenth Hole Café which features a variety of food and drinks and a dining room that overlooks the courses.
And lastly, if you're in need of a last-minute gift, the Penn State Golf Courses have a great deal on gift cards – for every $100 worth of gift cards purchased, you receive a free round of golf on the White Course. Click here to shop the Pro Shop online.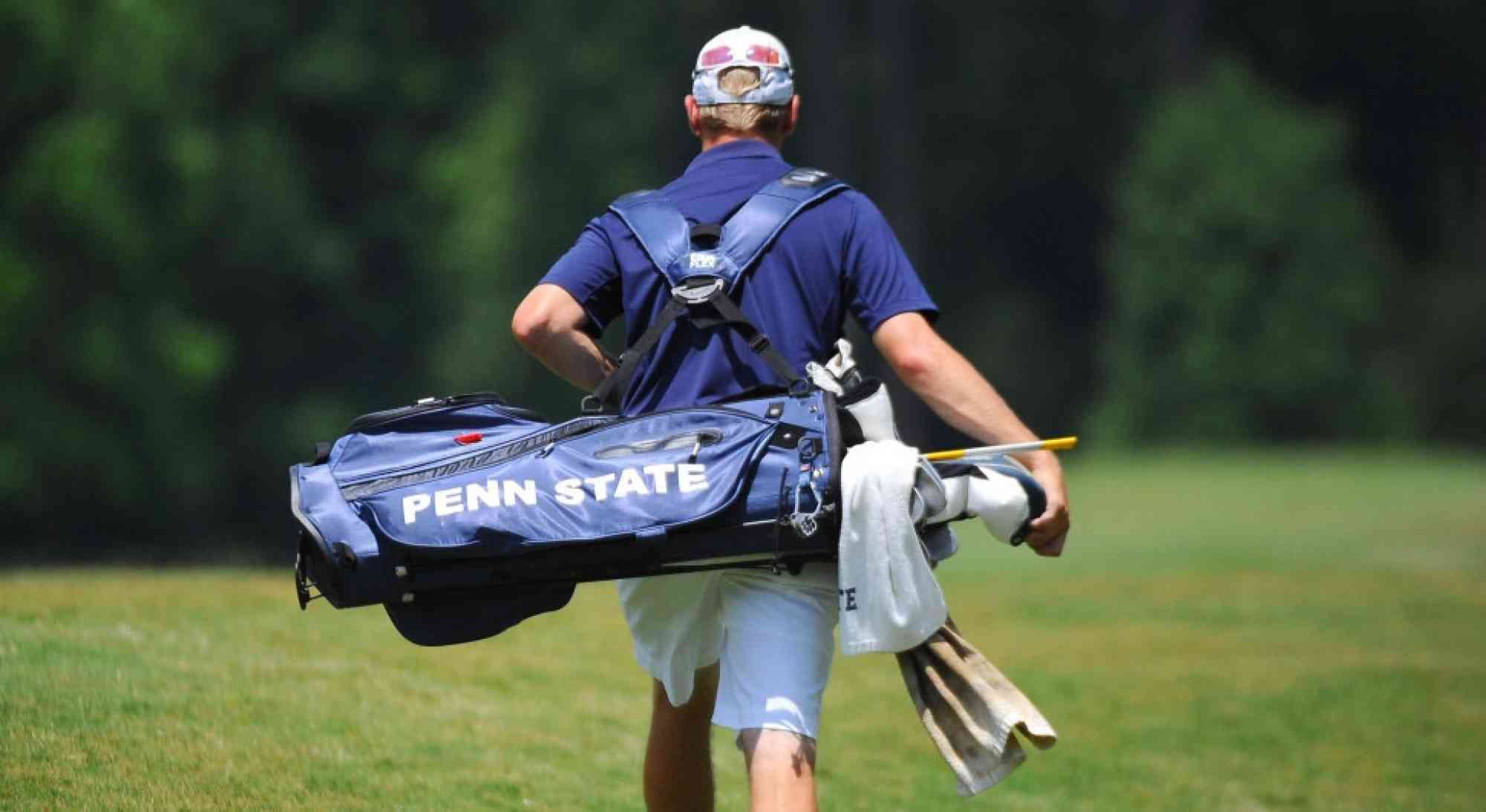 310 Elks Club Rd., Boalsburg

Tee Times: Book Online or call (814) 466-7231
https://mtviewcountryclub.com/
Rated as the #1 public golf course in Pennsylvania in 2021 in the GolfPass Golfers Choice Awards, Mountain View Country Club is the perfect mix of the elegance of a country club and the convenience of a public course.
Built in 1963, the golf course was operated as the Elks Country Club until Spring of 2012, when new ownership revitalized the facility by upgrading both the golf experience and the Club House. The course offers a challenging 18-hole layout that measures 6,427 yards from the Championship Tees. Mountain View Country Club features amazing views of both Mount Nittany and Tussey Mountain while Spring Creek winds through the front nine and back nine. And Mountain View Country Club offers a variety of different membership levels and discounts for juniors, seniors and young professionals.
And even for the non-golfers, Mountain View Country Club has an amazing restaurant onsite – the View Restaurant and Lounge. The View serves lunch and dinner, offering indoor and seasonal outdoor dining with spectacular views of Tussey Mountain and Mount Nittany. The menu features made-from-scratch cuisine including appetizers, salads, sandwiches, entrees and desserts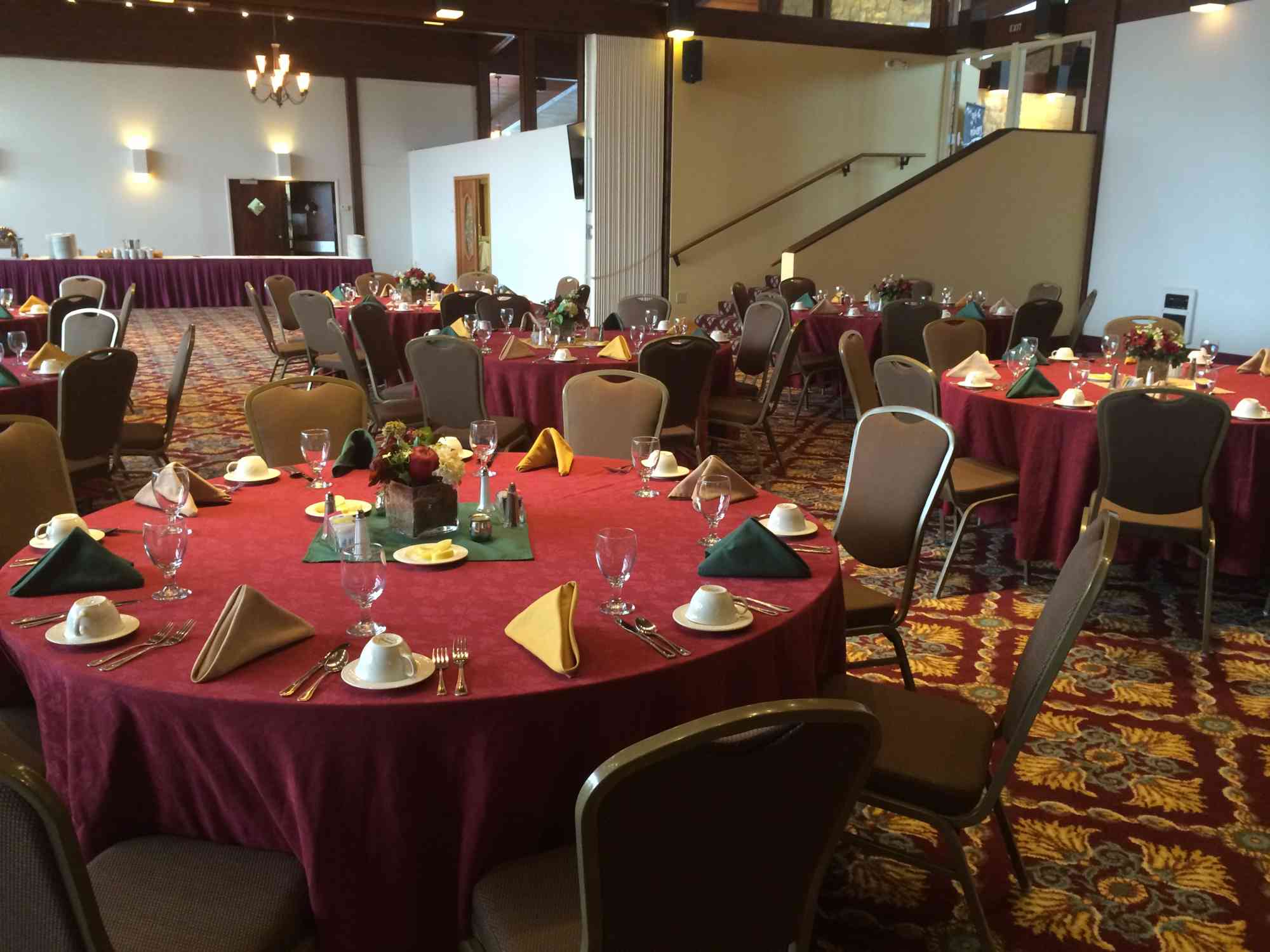 635 Skytop Mountain Road, Port Matilda
Tee Times: Book Online or call (814) 692-4249
Not to be confused with Skytop Lodge in the Poconos – such a regular confusion that its implicitly answered on the FAQ page – Skytop Mountain Golf Club is one of the hidden gems of Happy Valley golf. Less than ten miles from downtown State College in Port Matilda, Skytop Lodge offers breathtaking views of beautiful Central Pennsylvania and five sets of tees to accommodate all levels of golfers.
The Front Nine, Par 36, 3400 yards from the longest tees includes five holes that border Bald Eagle Creek. The atmosphere on the course at Skytop is so peaceful that along Bald Eagle Creek, the only sound you hear is the moving water – well, besides the occasional FORE! The Back Nine, Par 36, 3600 yards from the longest tees, slowly gaining in elevation up the mountainside, provides magnificent views of the valley and the Allegheny Front. The layout and length of Skytop will challenge golfers to use every hole in the bag – with a nearly 600-yard par five at #2 and then a par three only that measures only 126 yards at the longest tees.
Skytop Mountain Golf Club is constantly striving to upgrade facilities and improve member and guest services and they offer a variety of membership plans and categories. One of the many perks of joining as a member of Skytop Mountain Golf Club is that members can reserve tee times up to 60 days in advance. Non-members can reserve tee times up to 10 days in advance for weekdays and up to 5 days in advance for weekends and holidays.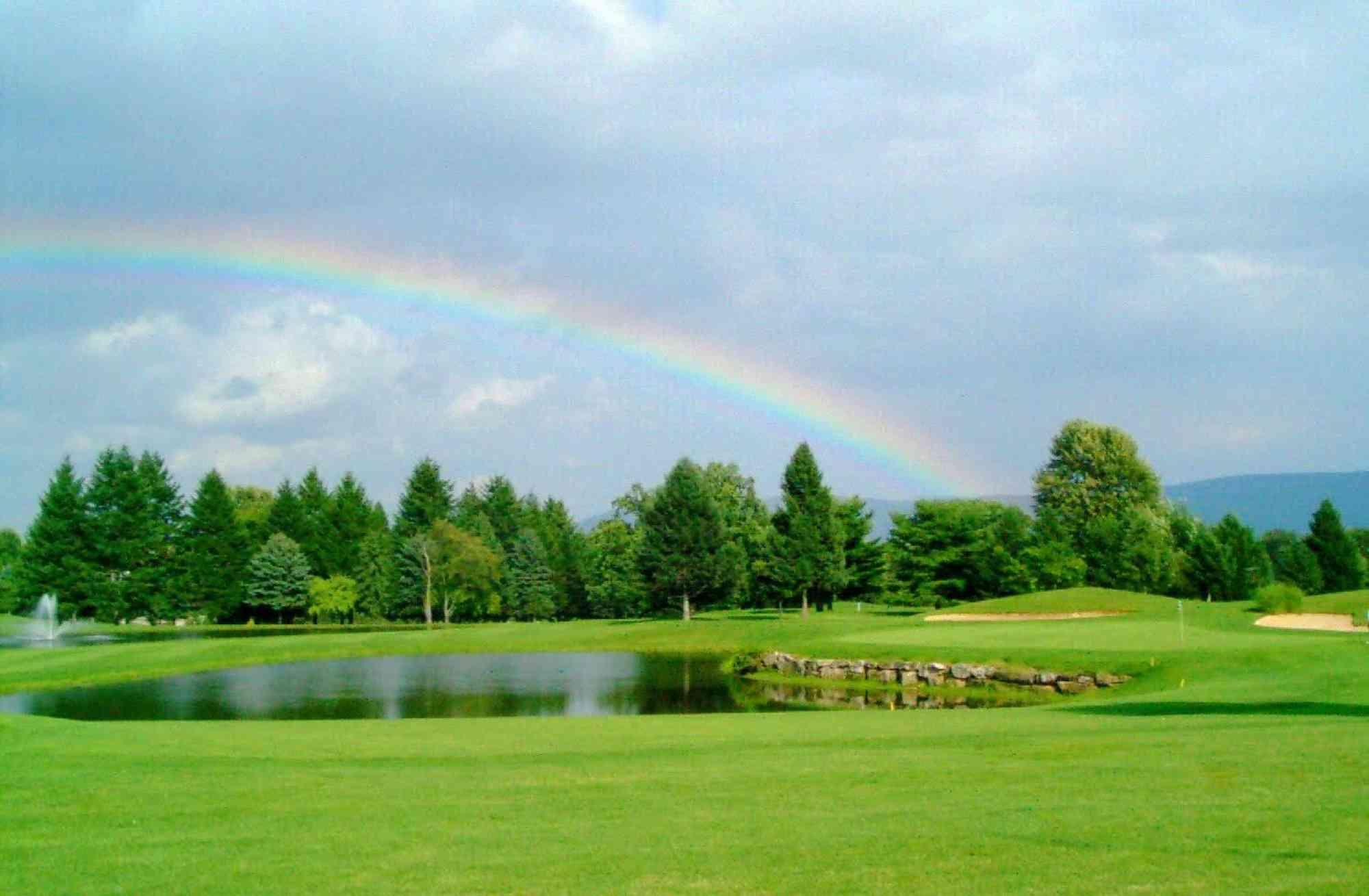 153 Country Club Rd., State College

https://www.centrehillscc.com/our-club
There are so many great public courses in Happy Valley but for area golfers looking for a traditional country club, look no further than Centre Hills Country Club. Centre Hills Country Club is a 27-hole private club located right here in State College for the past 101 years.
The golf course features three distinctive nine-hole options that include some of the finest greens in Pennsylvania. The three courses, known as The Findlay, The Jones, and The Clark all offer a challenge to varying skill levels and provide a variety of tee options.
The original nine-hole course – The Findlay – serves as the Club's Front Nine. Opened in 1922, The Findlay features narrow fairways and small, well-bunkered greens. The Jones serves as the Club's back nine. The Jones course incorporates water features on five of its holes. The newest of the three nine hole courses is The Clark which opened in 1992.
Members of Centre Hills can also take advantage of several racquet courts for tennis and pickleball and a swimming pool to cool off after a long round of golf.
Golf is just one of the many ways to enjoy the beautiful outdoors in Happy Valley. For more great things to do with the family this summer, visit HappyValley.com/play/