Fritz Smith: Fate Kept Bringing Me To This Magical, Thriving Community
For Fritz Smith, president and CEO of The Happy Valley Adventure Bureau, the love for hospitality started at a very early age, in a place fueled by tourism.
"I grew up in Washington, D.C., a place where the two major industries were government and tourism," he said. "You saw thousands of people visiting the Washington Monument and going in and out of the Smithsonian Museum buildings almost year-round. Something inside me said, "I bet those people are spending a whole lot of money while they are here!"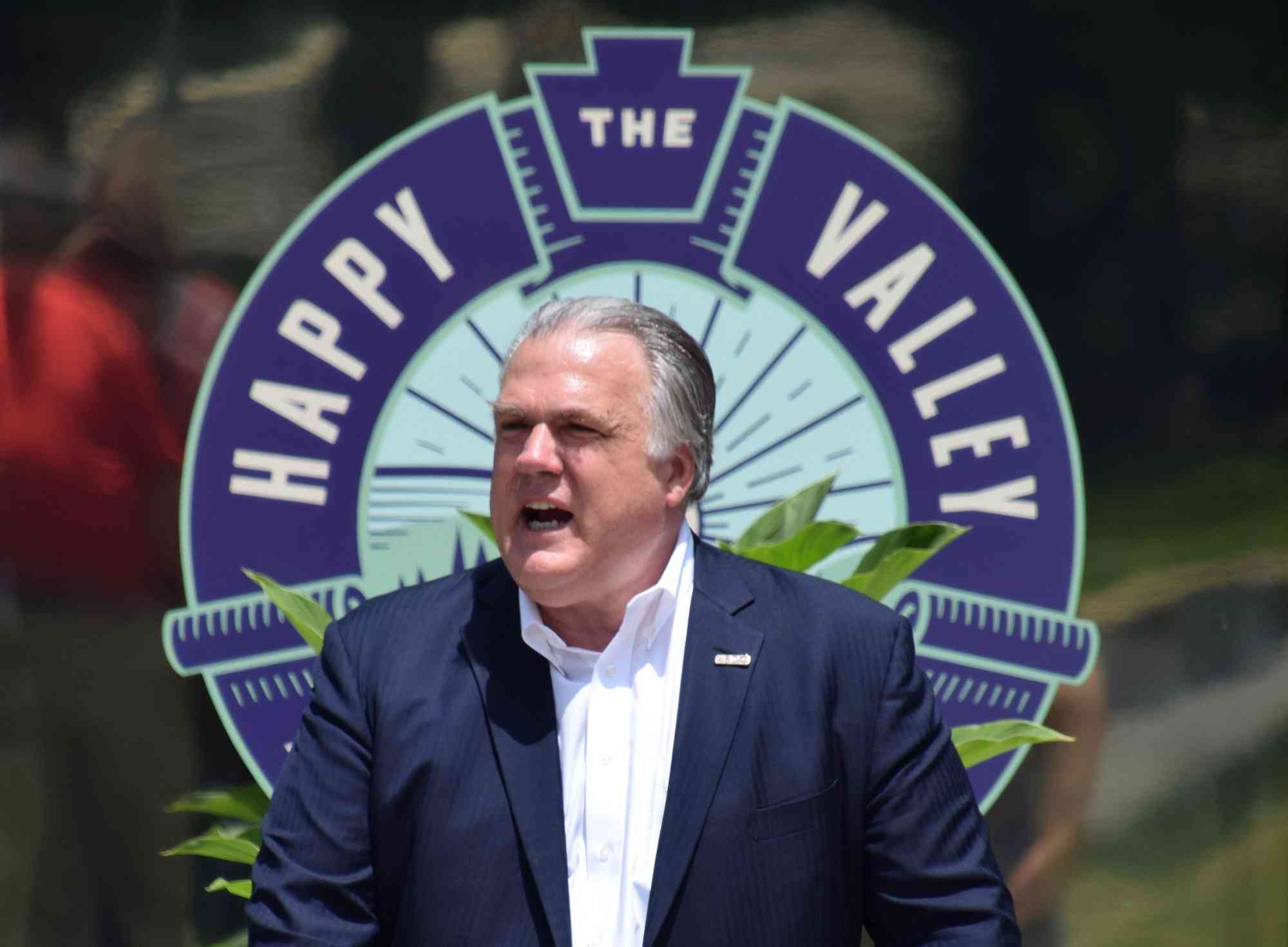 Smith went to Elizabethtown College near Lancaster, PA (even though many in his family went to Penn State, and one uncle labeled him the 'black sheep' for choosing another school!). He majored in journalism with an eye on sports reporting, but when All The President's Men came out, he saw people flood to the field of journalism.
"I quickly sensed that it was becoming an overcrowded field, and I kind of edged away from it… but I still love to write and I love to write for a newspaper."
As he turned from journalism to look for another career path, he says that he started in hospitality "purely by accident."
"I got a job at the Washington, D.C. Hilton as a way to pay bills and help me save money to get a Masters in Business at American University," he said. "When I walked in the door of the hotel, I fell in love with it immediately. It had never occurred to me that I could make a living in that industry, and when I saw the well-dressed managers and salespeople, they seemed to be doing ok. This went back to my observations as a kid growing up in DC — so this is where all of the people who are going to the Smithsonian stay and spend their money while visiting!"
A few years later, Smith went through Marriott's Management Training Program and worked in the industry for about 10 years.
"It was really one of the most formative experiences of my life. It taught me how to deal with all sorts of people, from demanding meeting planners and tour operators, business travel managers, groups of unruly kids – you name it. No day was the same – I still look back on those days with fondness."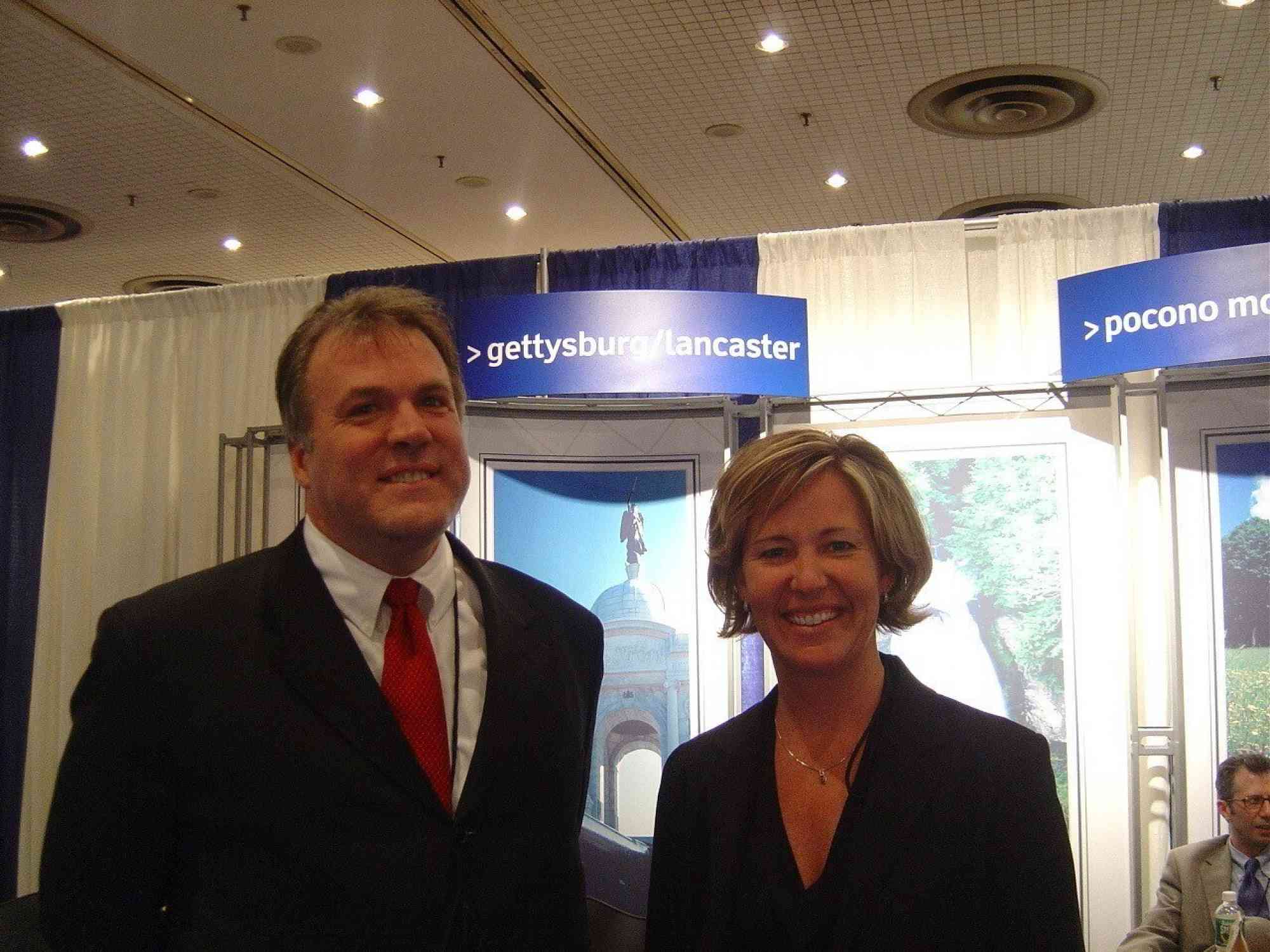 From there, Smith and his wife had the opportunity to work for governor Tom Ridge in Harrisburg.
"My wife worked for him when he was a congressman in D.C.," Smith explained. "At first, I wasn't very enthusiastic about going to Harrisburg — I was ready to be transferred to Chicago, or New York, or Miami. I'd envisioned my future as being a General Manager of a large hotel in some of those communities. But we decided to go to Harrisburg for a year or two."
It was while they were in Harrisburg that Barbara Chaffee was appointed as the State Tourism Director, and she asked Smith if he would be interested in working in her department.
"That's when I made the move over to destination marketing, and it's what I've been doing, except for a couple of detours, since then.
The job in the tourism office helped him get to know "every inch of Pennsylvania, really well," he said.
After 9/11, Chaffee went with governor Ridge to Homeland Security in Washington, DC as a liaison to the travel industry. Smith was promoted to Deputy Secretary for Tourism, Film, and Economic Development, and later served as Deputy Secretary for Administration for the state Department of Community and Economic Development for four years.
"Interestingly, some of the conferences that I attended during that time were at the Penn Stater or the Nittany Lion Inn — it seemed like fate kept bringing me back here. I always enjoyed coming back to Happy Valley. There was a feeling that came over me that I've heard many other people describe; one of a sense of calm, that you're in a magical, less harried, but yet still thriving community."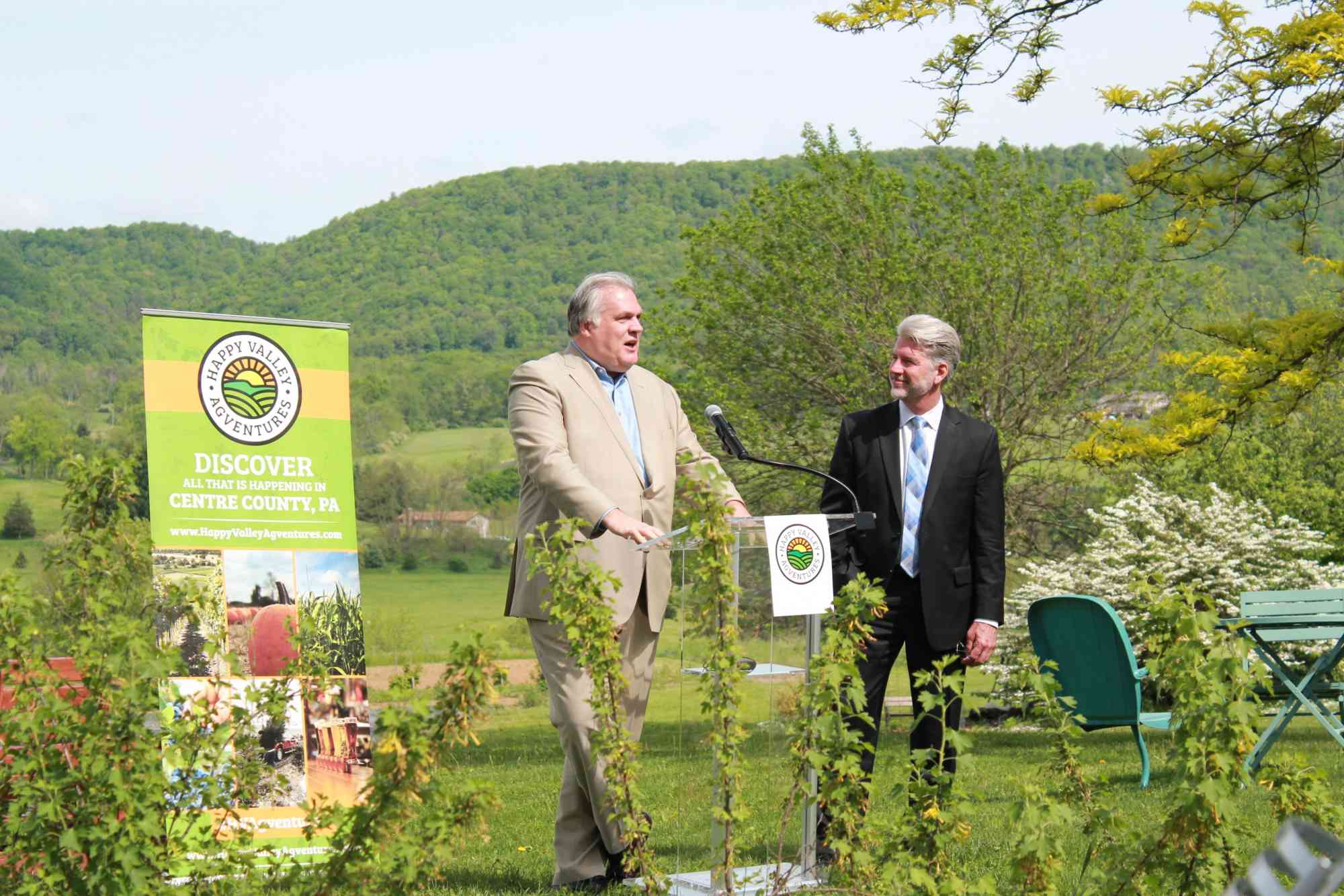 So when the position of president and CEO for then Central PA Convention & Visitors Bureau came open, Smith knew that his roles in tourism, hospitality and economic development had given him great insights and experience to be able to run the bureau.
"I came here in October of 2018 and have not regretted it for a moment," he said.
As president and CEO of what's now known as The Happy Valley Adventure Bureau, Smith says that he and his team have been able to reposition the region as a destination that offers more than coming here for a football game.
"I've been able to build a team that shares the same vision and is incredibly proud of the historical, outdoor, culinary, art and cultural, and agritourism-related assets, and comes up with creative ways to tell the world about them on a daily basis."
"I enjoy seeing progress in these goals and seeing our visitor numbers grow, and exposing this beautiful region to people who have never seen it before. Or maybe they were here as a student but didn't wander far off the campus during their days here – and they come back and start exploring based on our recommendations and say, 'Wow, I never knew this was here.' In some cases they say, 'Hey, maybe I should move back here!'"
He took over as president and CEO mere months before 2020 changed the tourism landscape dramatically.
"I'd been through recession in the early nineties and the Gulf War, 9-11, the Great Recession of 2008-09, but COVID was the greatest challenge of my professional career, as it was for many of my colleagues across the country and around the world," he said. "The hospitality industry was the one most damaged by those events, since people simply couldn't travel, go out to eat, go to stores or performing arts venues.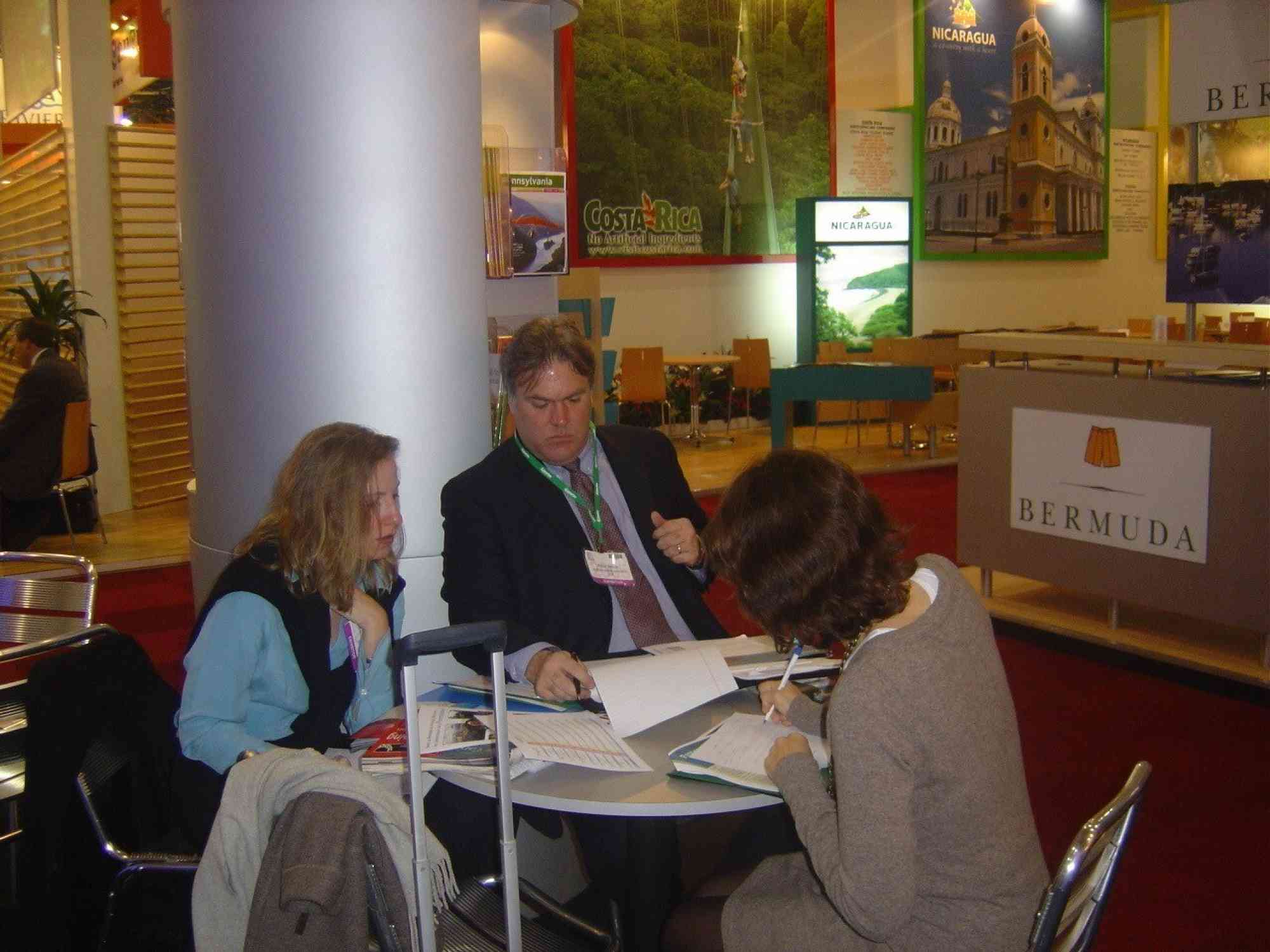 "In Centre County, when Penn State shut down, we really learned how overly reliant we are on that institution," he continued. "It is our anchor and we love it, but it illustrates our need to diversify our economy here."
Smith says that he's proud of how Happy Valley — and his organization — weathered the pandemic.
"I think the work we did positioned us to become a more viable, attractive, and desirable destination in the future."
Today, he says that the future is bright in Centre County.
"Visitation and revenue is rebounding to about 90% of pre-COVID levels, and I think we are on a path to not just go back to normal, but exceed it in the coming year."
New things are on the horizon, such as the Happy Valley Sports & Entertainment Alliance, led by Chair Joe Battista, and Vice Chair Scott Sidwell, that will lead to Happy Valley being a sports mecca, capitalizing on the great athletic tradition at Penn State University.
"There is so much to see and do in Happy Valley," Smith said. "There are hidden gems like Rhoneymeade; the Columbus Chapel and Boal Mansion, and the Rowland Theatre in Philipsburg. Go fishing on Spring Creek, go shopping and then have dinner in Bellefonte. You can visit more than fifty agritourism sites, go hiking in Rothrock State Forest or Black Moshannon State Park, and then check out our vibrant art and music scene."
Smith said his goal for every visitor in Happy Valley is that, "half-way through their visit, they will realize that they didn't budget enough time for all the things that there are to do, and they'll plan a second visit."