Move over vodka! Whiskey and bourbon cocktails are enjoying a boom in popularity nationwide, including Happy Valley.
Reflective of U.S. trends, whiskey was tops in dollar sales in Centre County and 61 other of Pennsylvania's 67 counties in fiscal year 2018-19, according to the Pennsylvania Liquor Control Board. Locals here spent more than $5.6 million at Fine Wine & Good Spirits stores on whiskey, topping vodka and rum.
Whether you are a seasoned and nuanced aficionado or just starting to explore the complex character and flavor notes of whiskey and bourbon, these Happy Valley establishments are serving up traditional favorites alongside inventive cocktail options.
Barrel 21 Distillery & Dining
Popular State College-area establishment Barrel 21 began distilling whiskey and bourbon, among other spirits, five years ago. Using Pennsylvania grains sourced from within a 60-mile radius, Barrel 21 produces two whiskeys, a straight bourbon whiskey and a straight rye whiskey.
A tasting room favorite is the seasonal and almost-too-pretty to drink Black Currant Sour. Served in a coupe glass, the cocktail combines B21 Whitetail Pennsylvania Straight Bourbon Whiskey, black currant liqueur, lemon juice and simple syrup. Bartender Eric Hermann said the drink's sweeter, fruity taste is a great option for introducing bourbon to someone who "wants to give it a try but doesn't know how to jump in."
Another popular drink with customers is the aged Manhattan. The cocktail's ingredients are combined in a 15-gallon barrel and aged 30 days before serving.
As for Hermann, he prefers a bold, "hit-you-in-the face" cocktail. His choice? The Bear Paw – B21 Whitetail Bourbon, crème de cacao, Aztec chocolate & mole bitters in a bourbon oak smoked glass.
Big Spring Spirits, Bellefonte, PA
The popular Bellefonte craft distillery produces four signature whiskeys – 100 percent corn, 100 percent wheat and 100 percent rye, as well as a bourbon-style American whiskey, which is a blend of all three grains. The distillery uses a malt-less process pioneered by Japanese scientist in the 1890s. In addition, Big Spring Spirits just released a five-year-old Rye Whiskey finished in Port barrels, and will soon release a peach whiskey.
Head distiller Phil Jensen said the American whiskey is a more bourbon-style whiskey and perhaps the most popular with customers as a result; staff prefers the wheat whiskey.
Big Spring Spirits is known for its creative cocktails, such as Sc'orned: white wheat and rye whiskeys, black peppercorn, lime, orange and rose syrups, falernum [a sweet syrup that brings notes of allspice, lime, clove and almond] and a Himalayan pink salt rim.
A bit less adventurous but still flavorful is the seasonal Blackberry Bourbon Smash. The drink is "wildly popular and selling like crazy," according to Jensen.
Jensen and Barrel 21 Sales Representative Lynda Nguyen both agree that bourbon and whiskey can be acquired tastes for some, but they encourage people not to be intimidated to give them a try.
"If people say they don't like whiskey, I feel they haven't found the right one," Jensen said. "Try experimenting with different flavor profiles."
Starting with classic whiskey cocktails is always a good option.
Gigi's Southern Table, State College, PA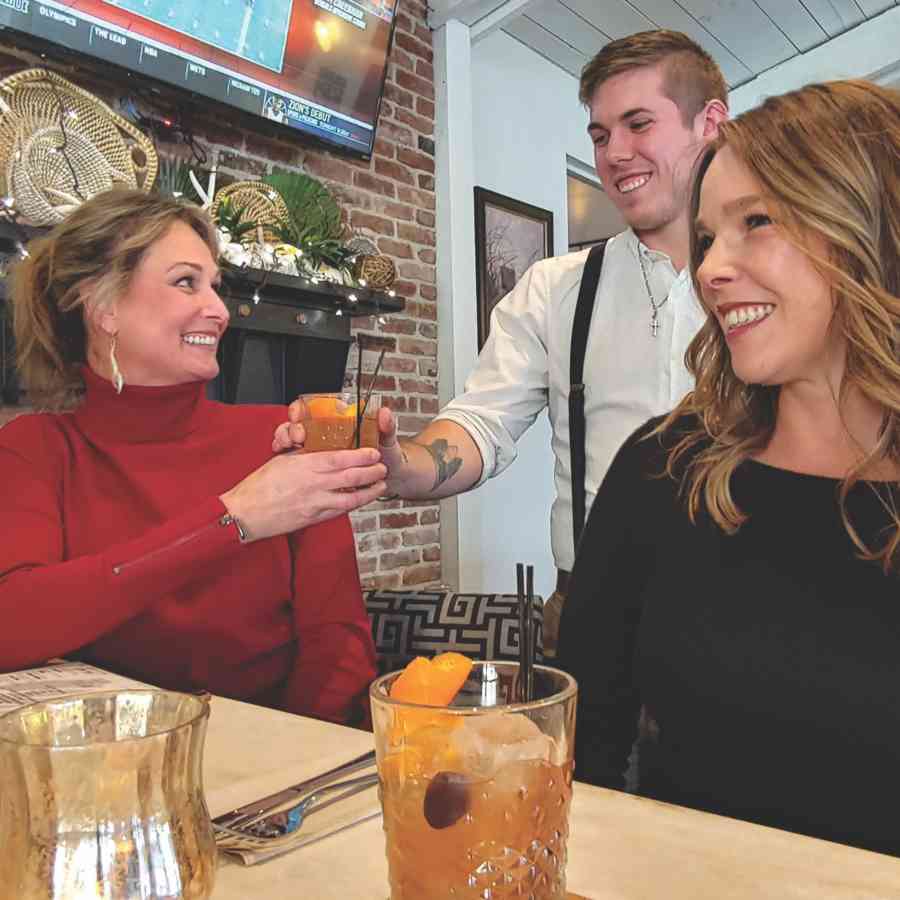 Gigi's Bar Manager Seth Rice said the Old Fashioned is trending in popularity among all crowds. Complementing the drink, and other bourbon cocktails, are Gigi's delicious bourbon cherries, made in-house by bringing sugar, orange juice, bourbon and an orange rind to a simmer. The mixture is removed from the heat and dark pitted cherries are added.
Adding more cherries also helps to sweeten drinks for customers concerned about the strength of bourbon and whiskey.
For customers seeking a bit more flavor, Gigi's also offers bacon infused and peanut infused bourbons.
The Hublersburg Inn, Hublersburg, PA

The cozy and historic Hublersburg Inn is known for great food and artisan cocktails. Its Sprig & Stave combines Bulleit, house-made rosemary syrup, orange bitters and a smoking rosemary sprig. The Bourbon Brulee – Jefferson's Small Batch Bourbon, Lambrusco, ginger Brandy and a caramelized orange slice – is both a customer and staff favorite. The drink requires a propane torch to caramelize the orange, so proprietor Andi Biddle said it is fun to make as well.
Local Whiskey
Offering 200 varieties of whiskey, featuring Irish, Scotch and bourbon, this popular establishment brings an international whiskey experience to downtown State College. With special nights such as Whiskey Wednesdays and Good Old Fashioned Thursdays, along with experienced and knowledgeable bartenders, Local Whiskey is a must-visit establishment for whiskey drinkers.
Embracing bourbon infusion
The requirement that bourbon age only in brand new barrels provides flavorful re-use options for local craft beverage establishments. At Bellefonte's Good Intent Cider, its North Meets South cider is the perfect blend of hard apple cider and bourbon, making it a year-round best seller. The cider is aged four to eight weeks. It's slightly tart, with hints of rich caramel and vanilla, and finishing with a smooth and mellow bourbon flavor that really carries it through, according to cider maker Matt Simon. The cider blend recently placed third in the wood-aged cider category at the Pennsylvania Farm Show in Harrisburg.
At Barrel 21, its bourbon barrels are reused by Otto's Pub & Brewery to create its Jolly Roger Stout. The reuse of barrels is a perk of the distillery and brewery being under the same ownership.
Not just for sipping
Foodies take note, we haven't forgotten about you! Be sure to check out popular food truck Bonnie Blues Smokeys & Sweets. A specialty of chef Bonnie Walter is an out-of-this-world triple chocolate whiskey cake, typically made with Big Spring Spirits American whiskey. Comfort food, redefined, indeed! Find out more information about the food truck and where it is located on Facebook/BonnieBluesFoodTruck.
Or, pick up a bottle of Barrel 21's maple syrup, which is aged 10 months in its bourbon barrels. [It tastes good with bourbon and orange zest, another nice introductory cocktail for first-time bourbon drinkers.]
Whatever your whiskey or bourbon preference, there is a Happy Valley establishment to serve you.
Cheers!