Confessions of a reluctant fly fisherman
It's one thing to be able to teach a perfectly willing person how to fish at Fisherman's Paradise, the oldest and most famous catch-and-release waters in the country. But it takes quite the expert to drag a completely unwilling, hangry and slightly belligerent person to those beautiful waters and teach them the subtle art of fly fishing.
Fortunately George Costa from TCO Fly Fishing was more than up to the task.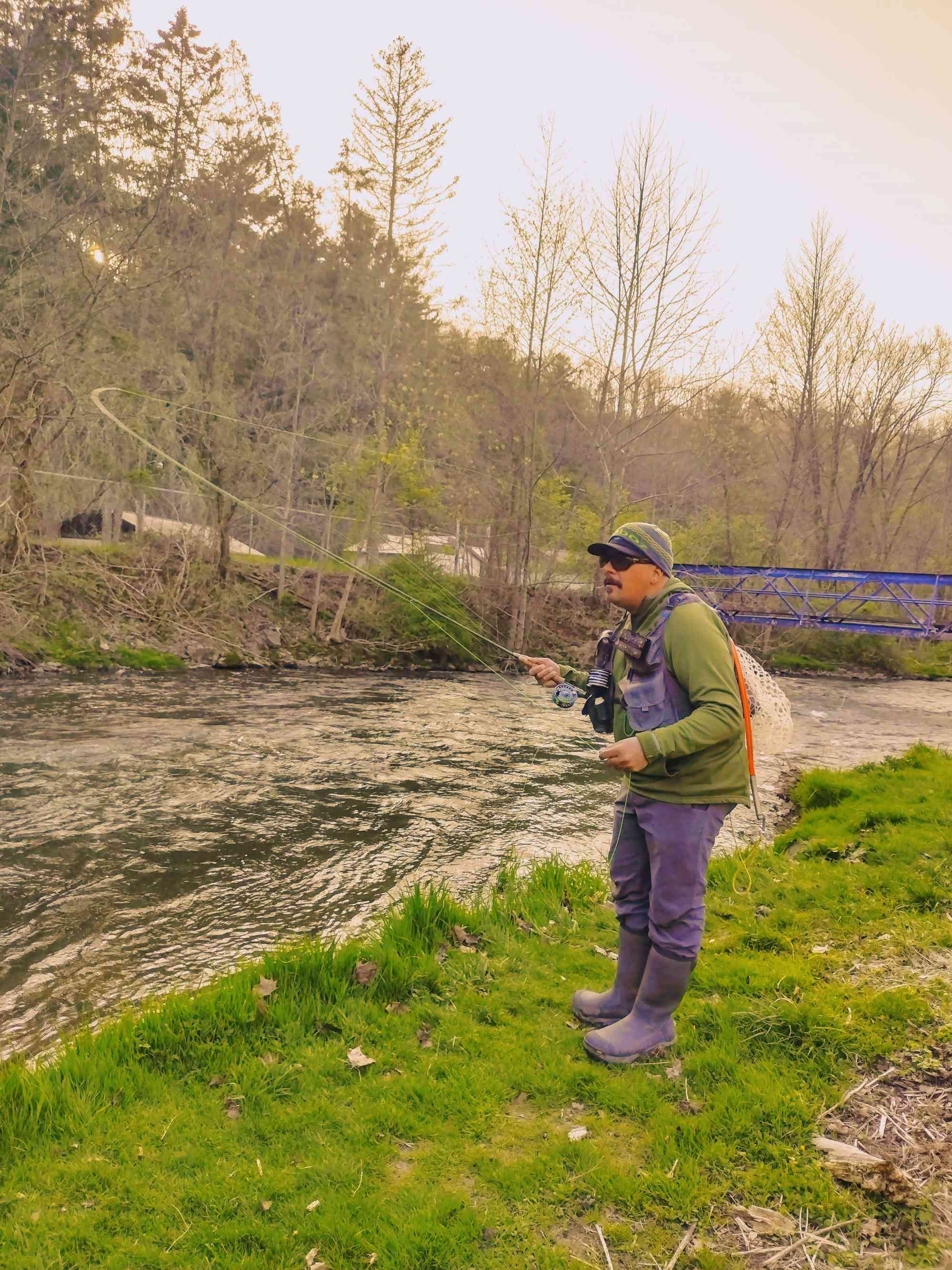 It all started out with an innocent visit to the TCO Fly Fishing shop on East College Avenue with the Happy Valley Adventure Bureau team. If you haven't been there, the shop is the ultimate one-stop-shop for outdoor gear, and specifically for those looking for fly fishing accoutrement. It's staffed with people who live and breathe fishing, trading stories with everyone who comes into the shop.
The energy was contagious and before I knew it, I was telling them about my brother who fishes local streams as a way to unwind after long days as a physician. Then somehow — and this part is a little blurry in my memory — I was being volunteered for fly fishing lessons. You know, so I could write about it.
The full impact of what I'd been signed up for didn't totally sink in until I told my husband, who almost choked from laughing so hard. "I told the guys at work," he said the next day. "They can't WAIT to hear how this goes."
The mockery was totally warranted. In our 21 years of marriage, my outdoorsy husband has fished the waters of Kish Creek, the Juniata River, Raystown Lake, Chesapeake Bay and Atlantic Ocean. The amount of times I've gone with him? Absolute zero. In fact, the last memory I have of fishing was when I was 8, with a flopping fish on the line, squealing for my dad to take it off the hook and throw it back in.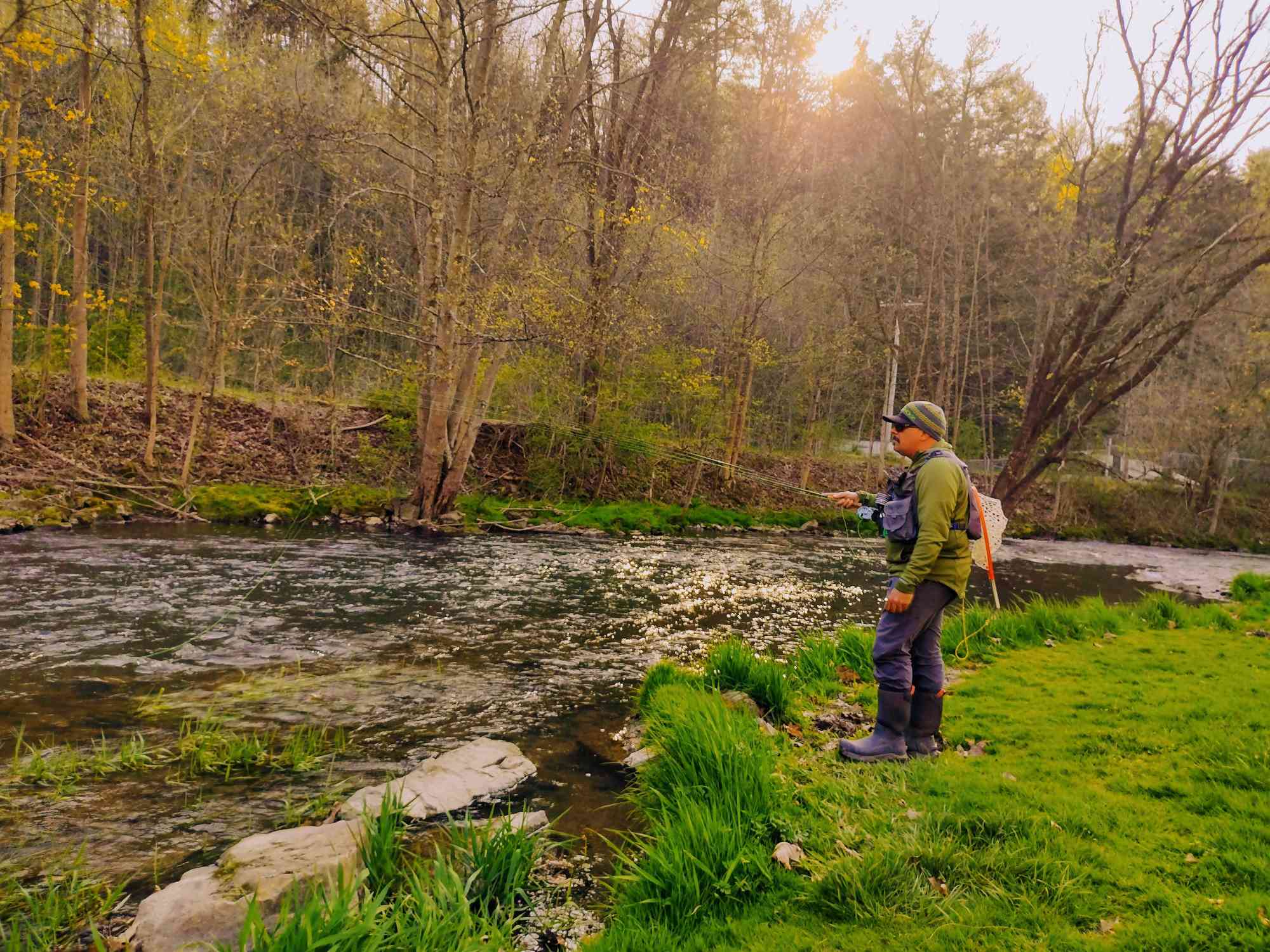 The things I do for a story.

I think George knew he was in for a bit of persuasion when I flew in the door of the shop, late, wearing business clothes and heels. I quickly changed while the crew in the shop eagerly talked about the state of the creek and the temperament of the fish in the rising coolness of the evening.

We drove on a winding back road until we got to the creek and geared up — me in a borrowed, too-big bright orange windbreaker and George, in a full regalia of waders and fishing vest bristling with hand-tied flies. Even in my reluctant and hungry state, it was completely impossible to not be completely overcome with the beauty of Fisherman's Paradise at the cusp of twilight on a beautiful April day.
George was in teaching mode before we left the parking lot. He told me that the area used to be stocked until a period of poor resource management. After intensive rehabilitation of the waters, it was no longer commercially stocked, but instead became a habitat for wild trout, creating a no-kill catch-and-release destination. "It's a super unique resource," he said. "It has the highest trout concentration of any stream east of the Rocky Mountains. That creates a very interesting spot to fish. These fish are homebodies, they stay where they're at, and most have been caught 15-20 times in their life, so they are pretty savvy. Fishing here is a challenge."
And it's a challenge that he loves to teach people to attain. He says that he's been fishing "since he could walk," and worked at TCO Fly Shop in Philadelphia before he and his wife decided that they wanted a change from urban living.
When a job opened up in Happy Valley, he and his wife jumped at the chance, even though they knew nothing about the area. He says that he's so glad that they made the jump. "We love this place," he says. Pretty high on the list of the things he loves about the area are all the places where he can fish.
As a guide, George says that he loves to show people places where they haven't been before. "I love to show them the water and what works locally. Waters change and conditions change, and that's fun to teach," he said.
He and his team of guides are booked pretty full in the spring (but there's always room for a few more) and specialize in adding a quiet fishing excursion to a great Happy Valley stay. "People will come for a football game and get a guide so they can be on the water the next day. Or they'll be coming into town for business and they want to add it to their stay. We help people get on the water, slow down and fish," he said.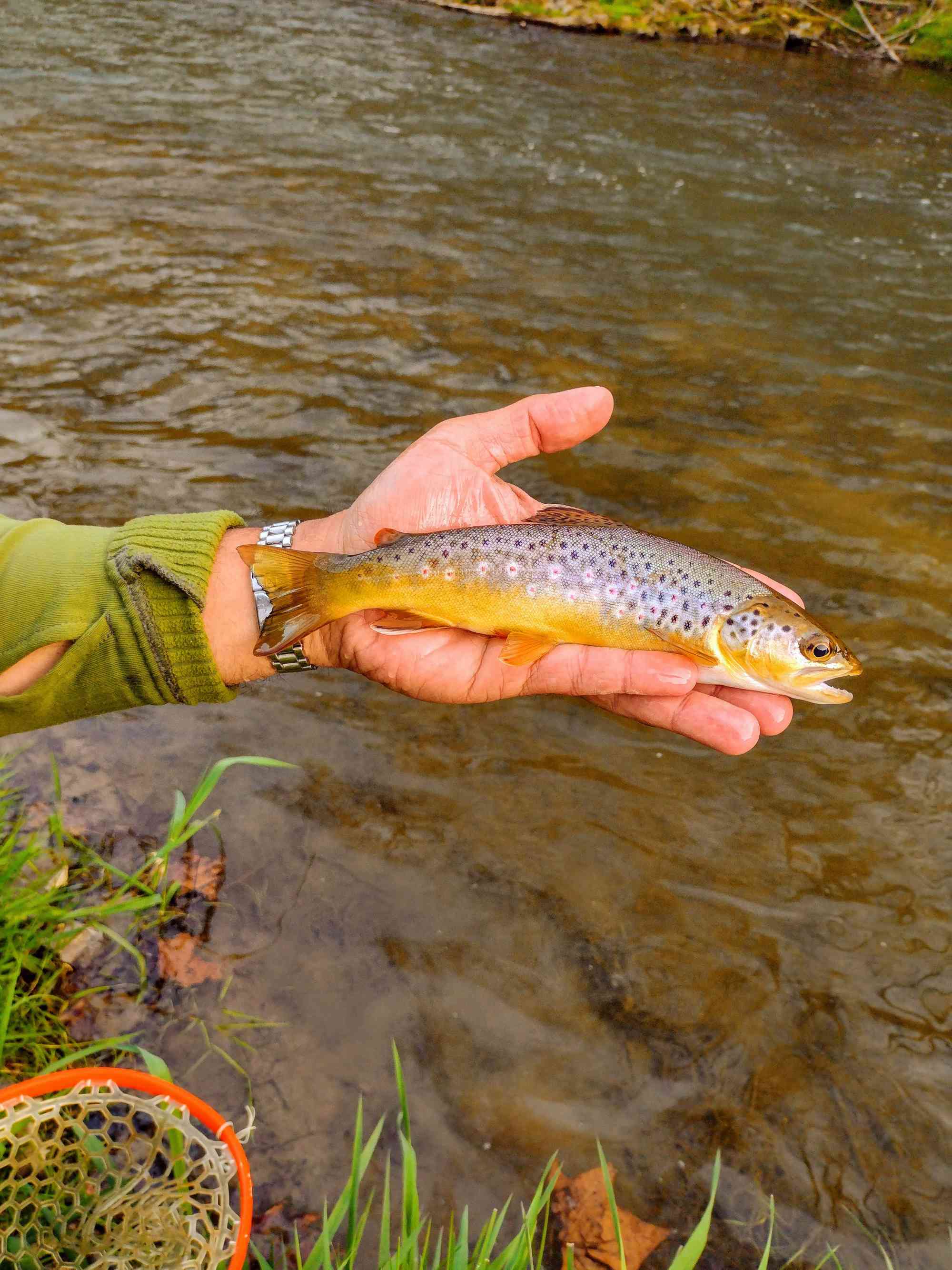 Which brings me back to my guided lesson. Although it would have made for a truly hilarious story, I regret to report that I don't have any wild mishaps to report. I did not fall in the water, get a hook in my ear or break the tip off of the fishing rod.
I did learn a bit about the art of fly fishing: how to cast, fix the line, read the water. And I drank in an incredible sunset over some of the most beautiful water you'll ever, ever see.
Whether you are like my brother and fish to restore your soul, or you are brand new to the sport, George is your guy. He'll show you his favorite waters and how to cast out with his favorite flies to lure in these wily, beautiful trout. It's the perfect addition to a Happy Valley visit, and frankly worth a Happy Valley visit all by itself.
Take it from me, the most reluctant fisherman of all.
You can book a guided tour by visiting https://www.tcoflyfishing.com or calling (814) 689-3654 ext. 4. Ask for George.