Harvest Trails Makes Biking Fun for All Ages
The picturesque mountains that line the Happy Valley horizon provide limitless opportunities for families to make lifelong memories. Whether hiking, biking, fishing or hunting, there is something for everyone to enjoy in the great outdoors of Central Pennsylvania.
Perhaps the newest of our outdoor recreation gems in Happy Valley is the Harvest Fields Community Trails. Opened in October 2020, Harvest Fields Community Trails (HFCT) is an ideal place for family members of all ages to discover and fall in love with mountain biking.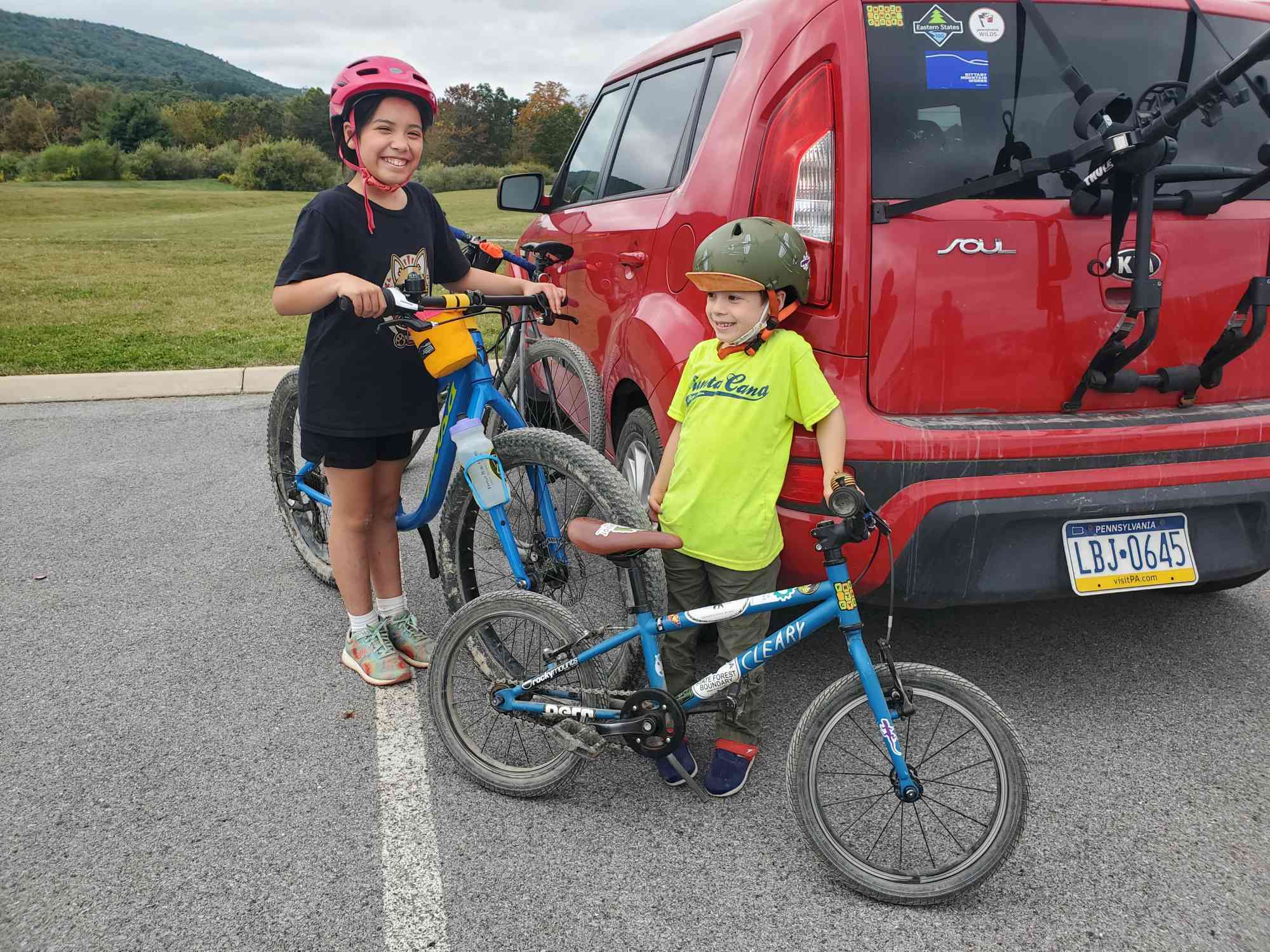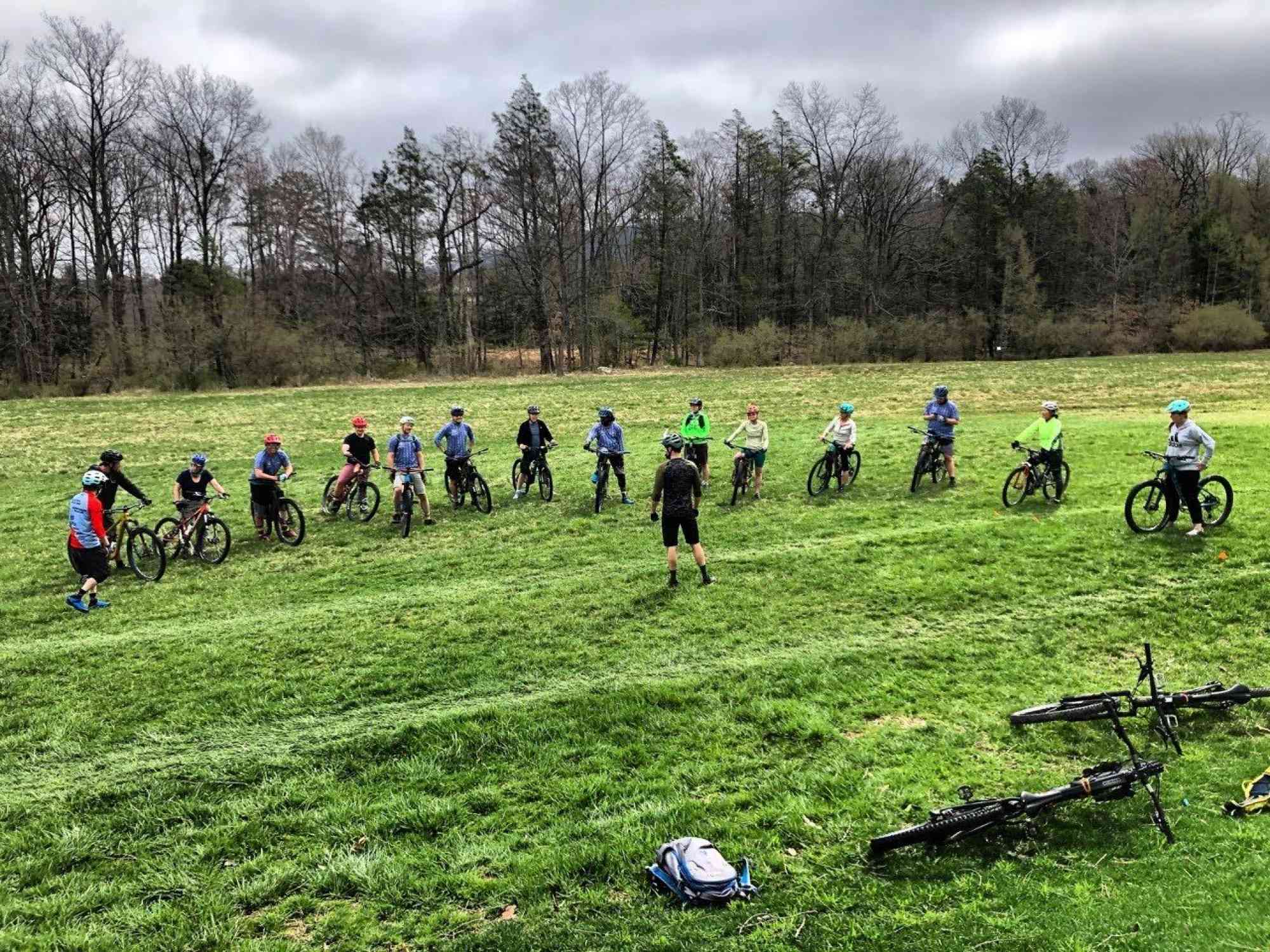 "The Harvest Fields Community Trail system will help beginners of all ages develop their skills and confidence before heading out into Rothrock State Forest where the trail system is much more technical and better suited for advanced level riders," Perry Schram, President of the Nittany Mountain Biking Association (NMBA) said. "HFCT trails were designed and built by experienced professionals in the industry with beginner to intermediate level riders in mind which makes HFCT well suited for all ages. The trails were machine built and provide an excellent resource for beginners but also provide intermediate to advanced riders an opportunity to improve their bike handling skills."
For many years, the Nittany Mountain Biking Association (NMBA) discussed and looked for an opportunity to provide a venue that would support those who are interested in learning to ride a mountain bike. Harvest Fields Community Trails (HFCT) provided this opportunity, and there has been incredible usage of the trail since its opening.
"I started mountain biking in the area about ten years ago and I would jokingly call Rothrock my personal playground since it is a large area, and I would typically not see many or anyone on my rides in the forest," Schram added. "That has changed over the years and certainly changed in the last year as COVID has inspired many to enjoy the outdoors. I encourage everyone to take advantage of the resources that we have in our community including Harvest Fields Community Trails and the surrounding state forests. They are treasures and if you are not taking advantage of them, you are missing out."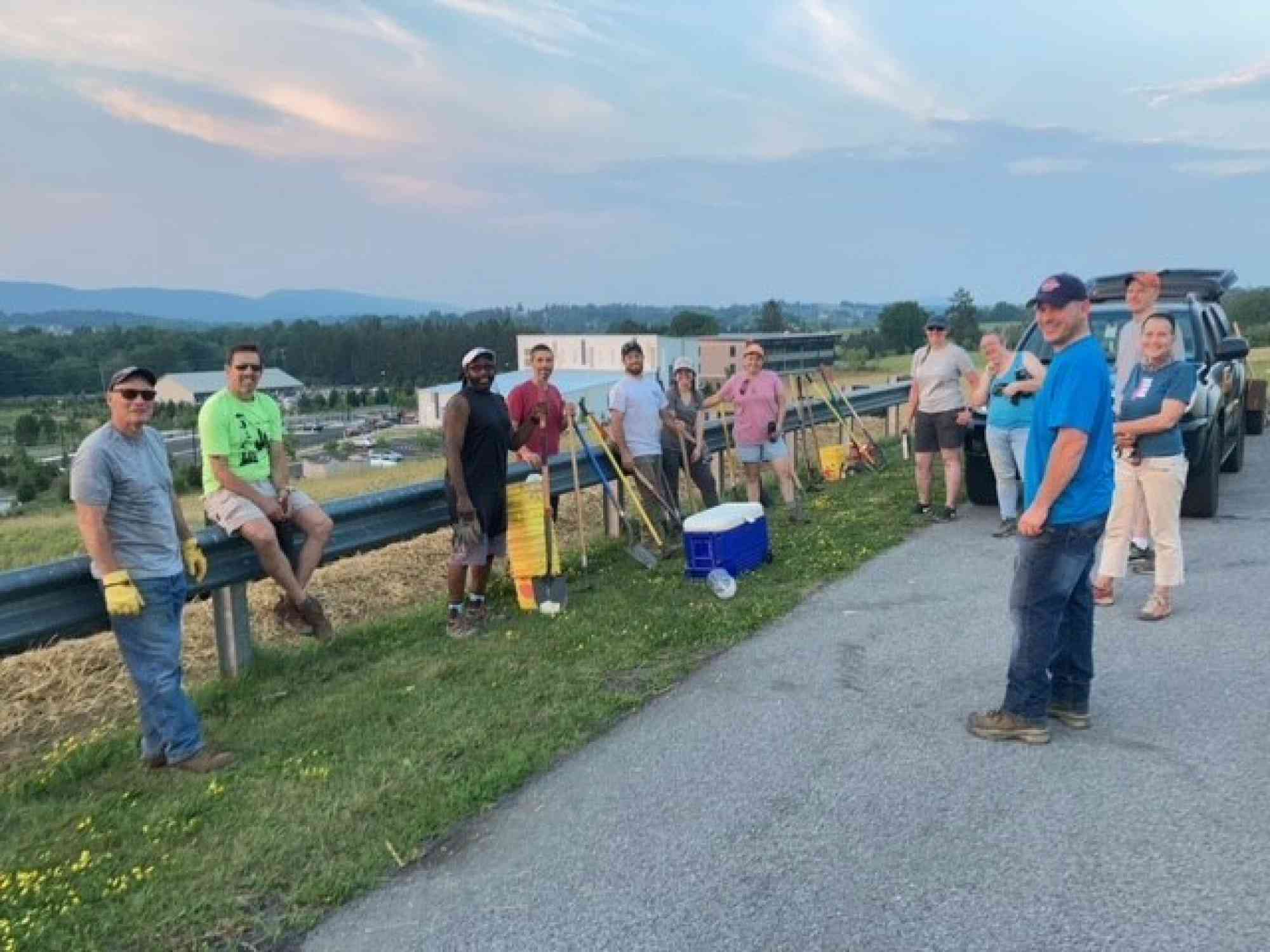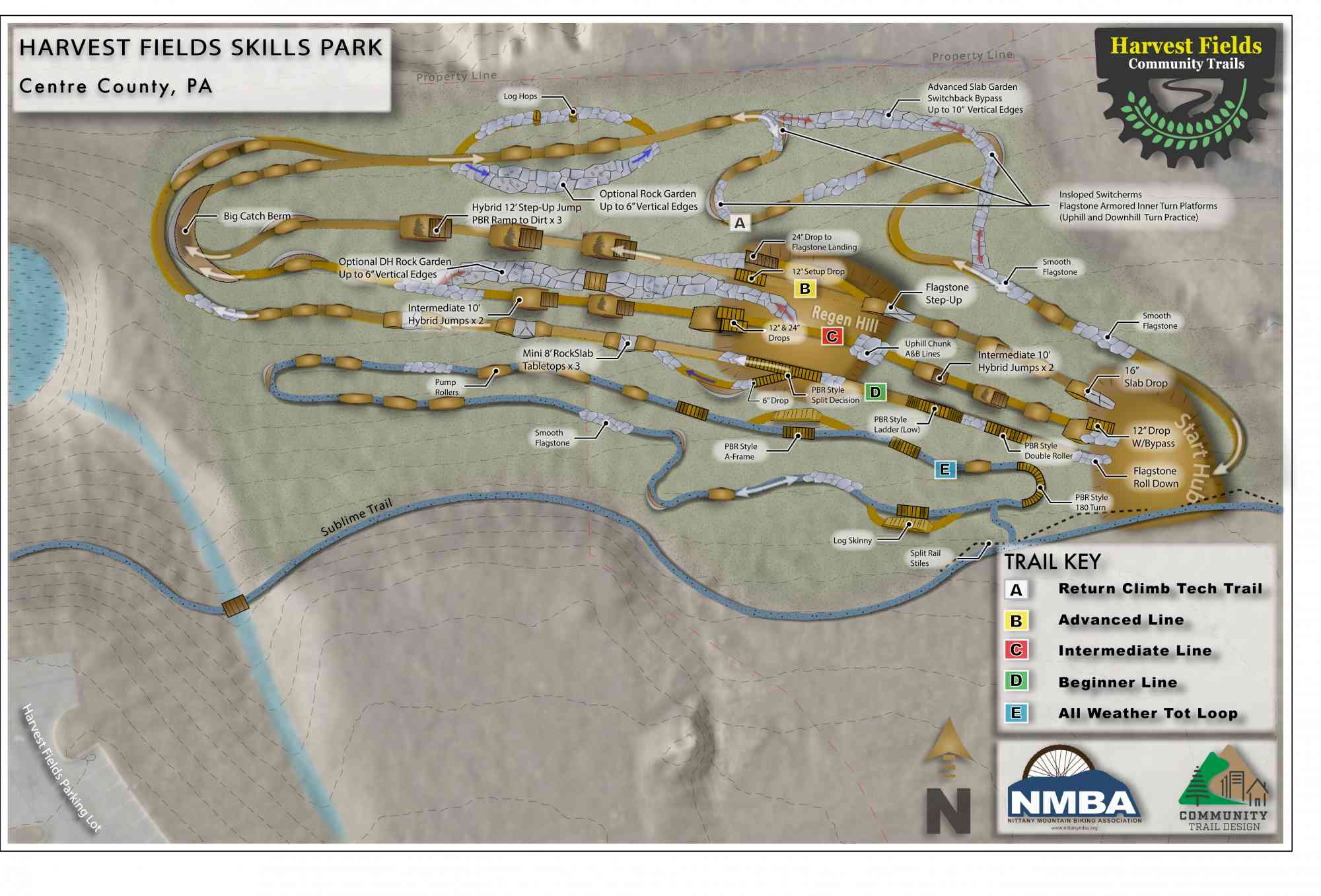 NMBA is currently raising funds for Phase II of the HFCT. This phase will expand upon the current trail system to include a skill building area. The skills area will provide a series of features for riders to learn skills of varying difficulty and gain the confidence required to enjoy the more challenging 100+ miles of trail available in the adjacent Rothrock and Bald Eagle State Forests. Schram said they hope to begin construction of Phase II in the spring of 2022.
In addition to the HFCT, there are a number of other great trails for mountain bikers of all ages and skill levels across Happy Valley — which is why State College was named the Mountain Bike Capital of Pennsylvania by the popular mountain biking website Singletracks. The Rothrock State Forest, which borders State College, offers over 100 miles of trails that include the Tussey Mountain Ridge and Cooper's Gap. Tussey Mountain Ridge has some of the most breathtaking views in all of Pennsylvania and the 26.7-mile Cooper's Gap trail is considered by some to be the best trail in the Rothrock State Forest. These are just a few of the dozens of trails that are available to mountain bike enthusiasts from the region or those travelling to find their next outdoor adventure.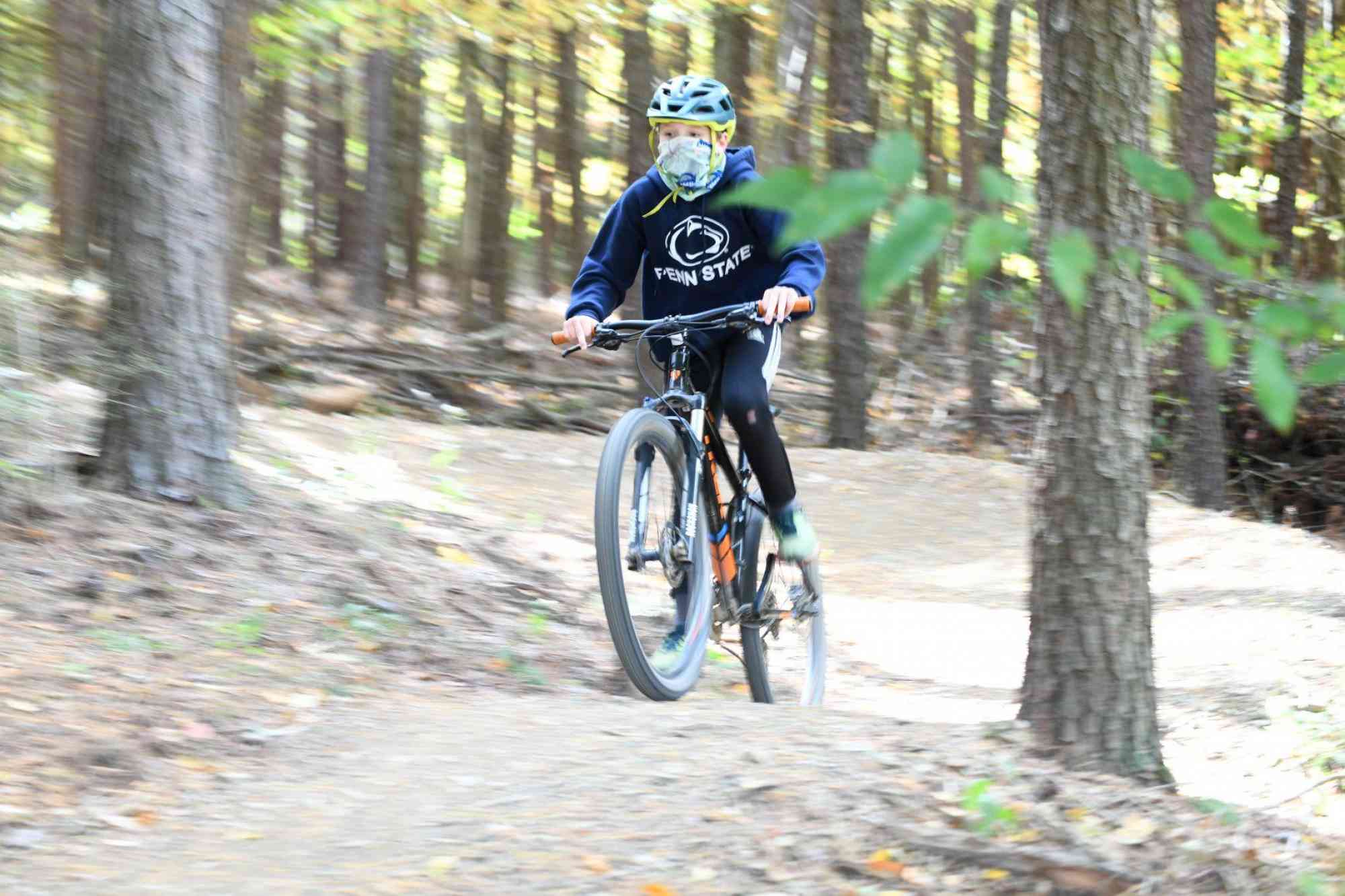 The first step in getting into mountain biking is, of course, getting a bike. Local bike shops in Happy Valley — like The Bicycle Shop and Freeze Thaw Cycles — have biking experts on staff that will direct you to the right bike for the adventures you have in mind and also help ensure you have the proper fit on the bike. After obtaining a bike, start building your endurance and confidence on the bike.
"The trails at HFCT are an excellent place to start, and we also have many gravel roads in Rothrock that will help you build endurance while taking in the forest and stunning vista views," Schram said. "I recommend you pick up a Purple Lizard map at one of our local bike shops to help show you all the gravel roads and trails that we have to offer."
Schram said that individuals 18 years and older can join NMBA on one of their weekly rides or trail work days where they maintain the trails that many enjoy at HFCT and in Rothrock State Forest.
In addition to NMBA, another great local biking organization is the Centre County Crows who have certified coaches trained to provide the best experience for young riders. The Centre County Crows is a youth mountain biking team for riders in 6-12th grade (11-18 years old). Their mission is to get more kids on bikes and provide the foundation for student athletes to become competent, confident and independent mountain bikers. Certified coaches teach fundamental mountain bike skills and provide a safe, educational and fun environment for young riders to bike.