Experience The Charm of Bellefonte's Bed & Breakfasts
As the saying goes, sometimes the little things make the biggest difference. Whether you're visiting Happy Valley for business or pleasure, Bellefonte's bed and breakfasts offer a more personal experience than any hotel. Full of charm and rich history, these accommodations provide a perfect backdrop for relaxation and productivity.
Here's a look at some of our favorites in town.
The Queen, A Victorian Bed & Breakfast (176 E Linn St., Bellefonte; 814-355-7946) offers an authentic Victorian stay within walking distance of Bellefonte's historic commercial district. You may get to stay in Annie's Room, the original master bedroom with turret and stained glass overlooking the neighboring rooftops.
With common areas currently closed due to the pandemic, owner Nancy Noll has thought outside the box to ensure guests have a safe and memorable experience.
Breakfast is socially distanced with an option for a private breakfast. Masks are only required for unvaccinated guests who are served a private breakfast in their room.
"Each room has its own refrigerator, microwave, and coffee/tea service," Noll shares. "Additional amenities include luxury robes and linens, Bee Kind toiletries, free Internet, Fire stick TV with Prime video, and private dining for your take-out dinner from local restaurants."
The Queen also offers accommodations with desk space if you're here for business or still working during your getaway.
While many small inns can't accommodate families, The Queen welcomes children and even has a playhouse in the backyard.
You might also be surprised that The Queen allows pets. "The only rule is, please, let me play with them," Noll jokes.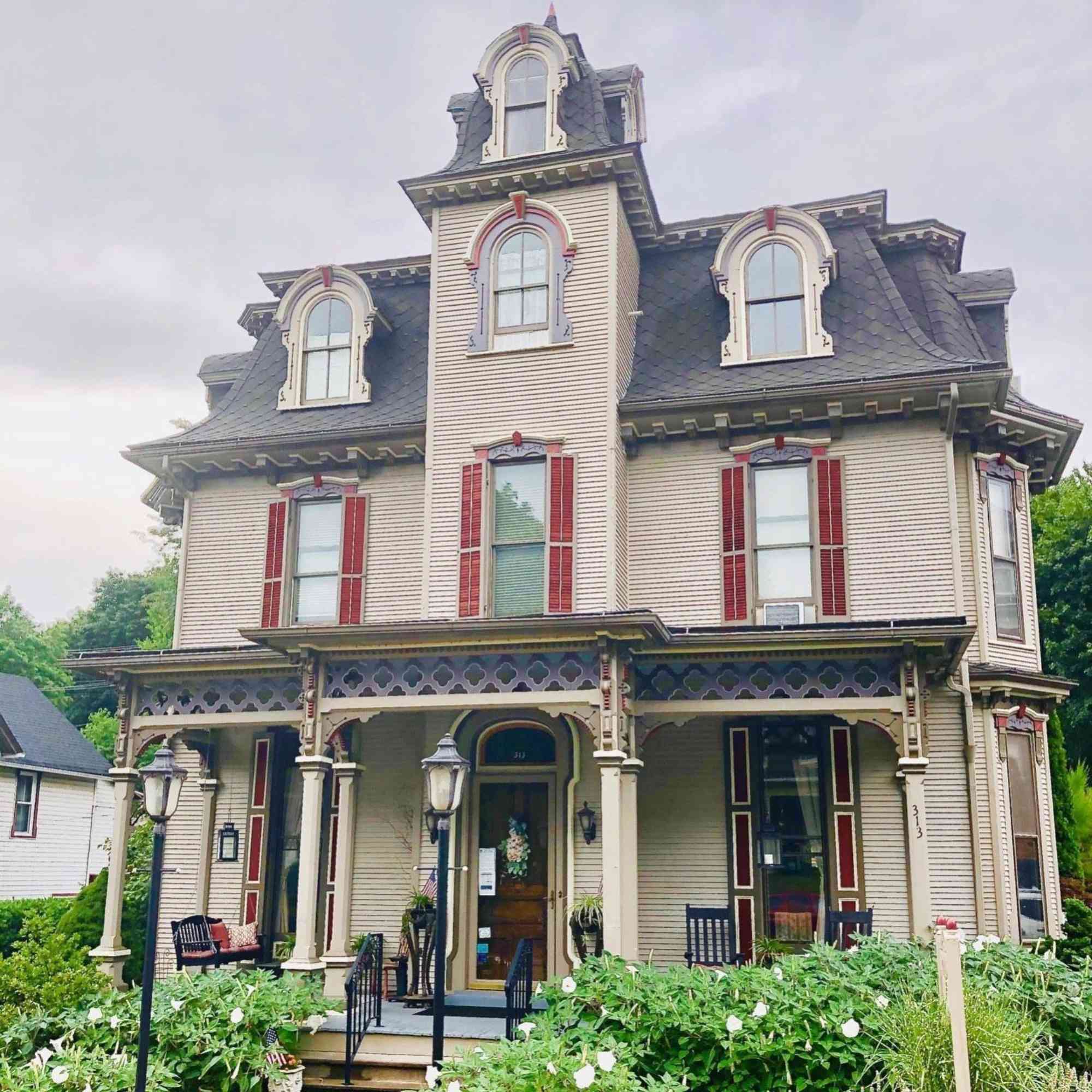 What's new this year? "After 48 years of renovations and collecting, we are finally beginning to part with some of the many treasures in the Queen," she says. "Who knows? You might find a special gift for a friend or a memory from your childhood."
Bellefonte offers attractions year-round to keep you entertained during your stay -- whether it's the famous Victorian Christmas, Penn State sports, or one of the arts festivals.
"Oh, don't forget your fishing rod!" Noll adds. "Some of the best fishing in the state is within walking distance of the bed and breakfasts or just 3 miles away at Fisherman's Paradise."
Located in the heart of historic Bellefonte, Our Fair Lady (313 E Linn St., Bellefonte; 814-355-1117) is a meticulously maintained 19th century home to which Hostess Tami Schuster is eager to welcome you.
Tami and her husband, Bob, are committed to providing a safe stay for guests. "We are fully vaccinated and have had our booster shots," she says. "Along with that, Our Fair Lady has special air purifiers in each of the common rooms that have a UV light to enhance your safety."
Farm-to-table lovers are in for a real treat when it comes to breakfast. Their meats are locally sourced. Plus, the Schusters are avid gardeners and grow many of the organic vegetables, fruits, and herbs you'll find on your plate.
In the evenings, enjoy wine and cheese or learn about Our Fair Lady's history from Bill and Tami. There is plenty to share about its unique architecture and the restoration process. They can also recommend local shops and restaurants to visit.
The bed and breakfast offers many unique events from wine pairing dinners to teas. Other special packages include a girls' night out.
"Get away from the hustle of everything and just have some girl downtime," Tami says.
Whether you're in town visiting family/friends or seeking a relaxing getaway, enjoy the hospitality and rich history Our Fairy Lady has to offer.
If you're looking for a quiet, relaxing stay, you're sure to find it at Bellefonte Bed & Breakfast (214 N. Allegheny St., Bellefonte; 717-419-6400). Though the house is spacious, there are just three rooms available, meaning you'll have a quieter and more personalized experience than most other places can offer.
During your stay, you can partake in a hearty breakfast, walk to popular shops and restaurants, and enjoy some downtime at the B&B. "Something unique that people might not realize is that behind the house is a secluded courtyard and terraced garden," say innkeepers Kathy & Phil Breidenbaugh. "Guests can enjoy outdoor dining or relax around the fire pit."
This tranquil space is suitable for small gatherings, as well as other events that could utilize both indoor and outdoor spaces.
What's new this year? The Cottage, formerly the carriage house, was recently converted into a cozy two-bedroom home and is available for short-term or extended stays.
Bellefonte B&B is ideal for just about any visitor, whether you're an outdoor enthusiast, Penn State fan, or history and architecture buff.
If you're looking for a real historical treat, Reynolds Mansion (101 W. Linn St., Bellefonte; 814-353-8407) may be just the spot for you. The mansion was built in 1885 by Major William Frederick Reynolds, a wealthy businessman, landowner, and banker. Designed by renowned architect C.S.Wetzel, the home turned B&B is of the late Victorian period featuring an eclectic blend of Gothic, Italianate, and Queen Anne styles.
Whether you're an architecture buff or not, you'll no doubt appreciate the unique handcrafted woodwork, stained glass windows, and inlaid parquet floors.
Breakfast-lovers will delight in the three-course breakfast served at the Reynolds Mansion. After your scone, fruit cup, or smoothie, enjoy Eggs Benedict, Avocado Smash, or Croque Madame prepared by Chef Mike. Finish it off with a fresh-baked dessert.