International Cuisine in Happy Valley
Happy Valley, in the heart of central Pennsylvania, is home to the Berkey Creamery, Grilled Stickies and Ham Pot Pie at the Centre County Grange Fair...but the valley has a growing menu of authentic international cuisine available. Authentic Mexican, authentic Brazilian, authentic Venezualan, authentic Korean, authentic Chinese, the list goes on. Just pick the cuisine you're craving or try something new!
Lupita's
Authentic Mexican cuisine, with ingredients and recipes straight from Mexico, is Maria Guadalupe "Lupita's" specialty. When Lupita and her husband, Emilio Lopez Ramirez, moved from Oaxaca, Mexico to State College at the age of 18, Lupita was worried about what she was going to eat here. She learned to cook the recipes her mother made growing up and quickly learned she had a passion for cooking.

When her children were young, Lupita started a catering company and would cook food for over 100 people in one day. When looking for a commercial kitchen to grow the business, they found an empty storefront in a gas station. "I couldn't sleep the night before [Lupita's] opened," said Lupita. "We didn't know if the people from this area were going to like it or not." On opening day, Lupita prepared food she thought would last for the week. "On the first day we ran out of everything and we had to prepare more food. The whole week was like that!"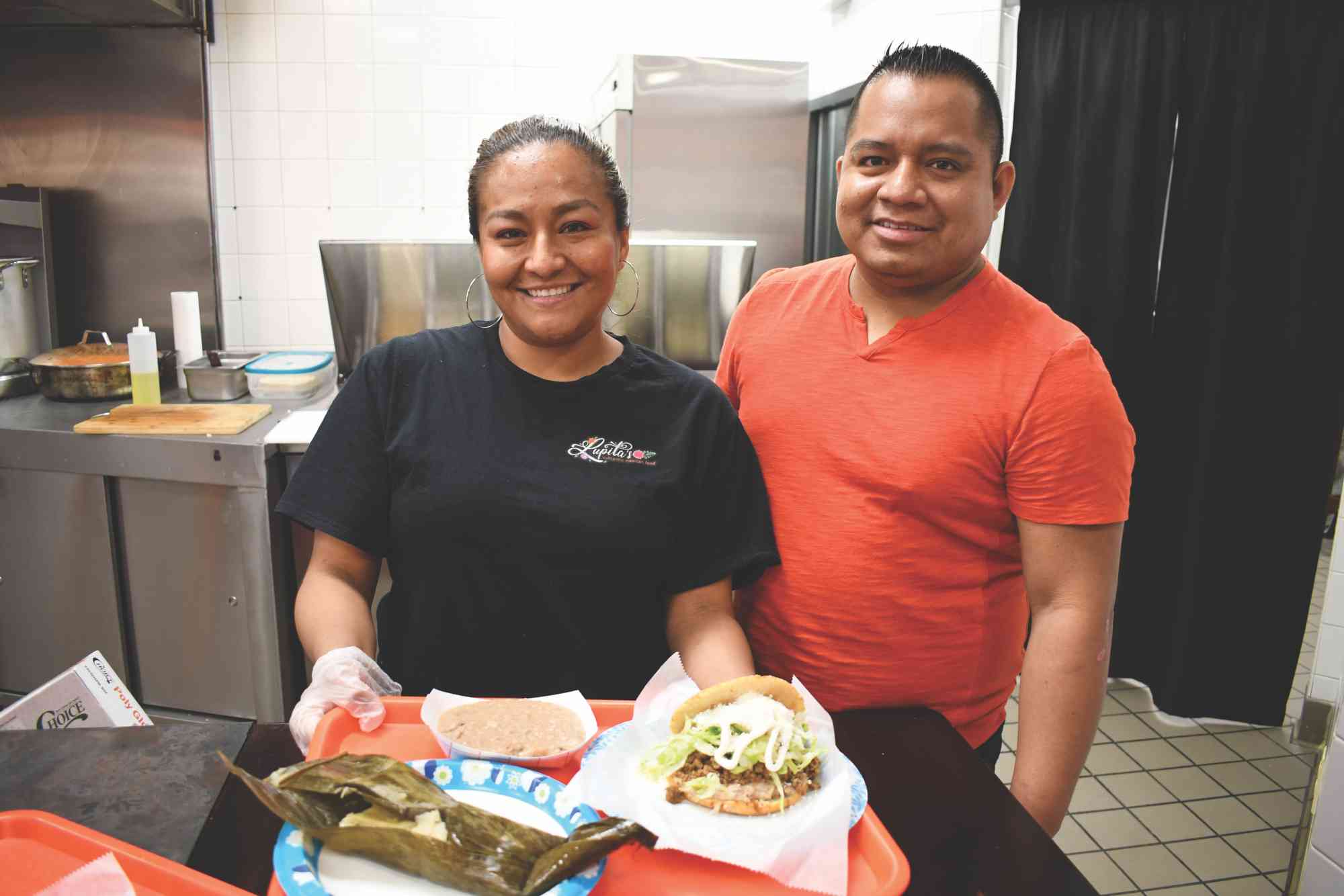 Lupita orders as many of the ingredients from Mexico to keep the authentic Mexican flavors. "We try to keep everybody happy," said Lupita. "We are authentic but accommodating." Authentic Mexican tacos are served with cilantro and onion and no cheese, but Lupita said she is happy to accommodate if you ask for what you want. Next time you are looking for Authentic Mexican food, there is no need to hop on a plane to Mexico, just go to the Uni-Mart on West College Ave.
You Should Try @ Lupita's
Gorditas (Best Seller): A thick pocket corn tortilla filled with refried beans and your choice of ground beef or chicken. All topped with lettuce, cheese, and cream.
Tostada (Lupita's Favorite): A thin crunchy corn tortilla topped lettuce, cheese, cream and your choice of ground beef or chicken.
Brazilian Munchies
"We want to offer the experience, the Brazil experience," said Flavia Barger. "That's why we buy all our ingredients from Brazil. It is the real taste of Brazil."
Portuguese is Flavia Barger's first language and Brazilian Munchies was created as a way for her to improve her English. When Flavia and her husband, Nick Barger, moved from Brazil to State College, Flavia's English was very limited. Nick enjoyed cooking authentic Brazilian food and he encouraged Flavia to sell the food as a way to practice her English and meet new people. They started selling a popular "munchie" in Brazil - pao de queijo, cheese puff. From there, the business took off. They sold the munchies at farmers markets but the dream was to open a food truck.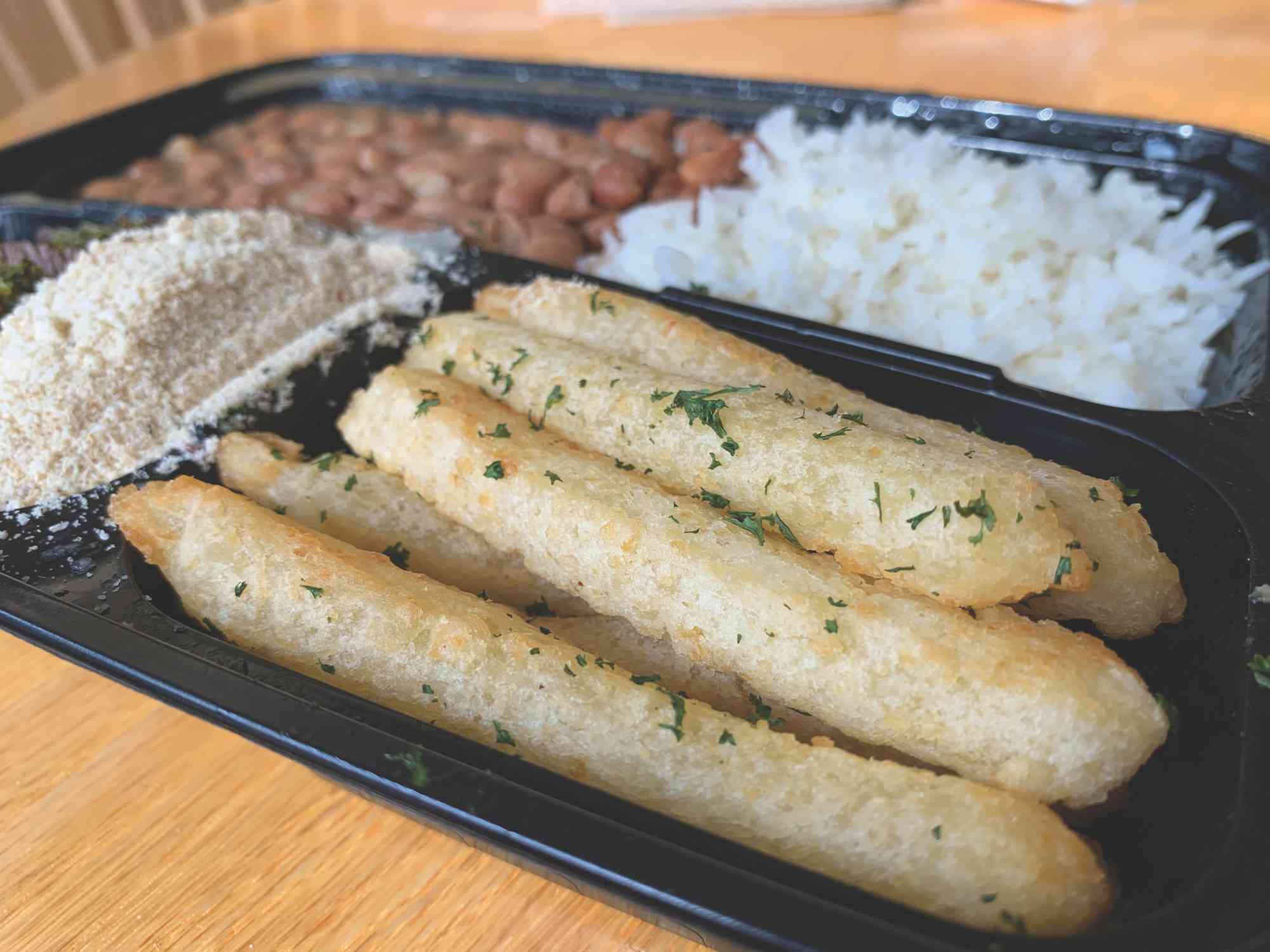 Business partner, Yama Castilho, helped make this dream become a reality. "With the truck, we started to do more events and were able to offer more variety," said Flavia. One year after the debut of the food truck, Brazilian Munchies was ready to expand again and open a storefront. "Pegula Ice Arena was a gift," said Flavia. "It was hard to find a place in downtown State College and that's when we heard about Pegula."
Brazilian Munchies opened their take-out stand in the Pegula Ice Arena in August 2019. "Families love that they have options that are not fast food and they can get a meal of rice and beans and meat during the hockey games," said Flavia. Pegula is also open during the week so you don't have to wait until a hockey game to get an authentic Brazilian meal! The take-out Brazilian Munchies stand is located near Gate B of Pegula or if you don't have time to pick it up, your favorite munchies are also available through GrubHub and Uber Eats. This summer, you can find the Brazilian Munchies food truck at events like Arts Fest., Bellefonte Arts Fest., Bellefonte's Outdoor Adventure Adventure Expo, and more.
You Should Try @ Brazilian Munchies
Steak and Yuca Fries (Best Seller - Meal): Brazil's most famous beef cut, grilled and thinly sliced. Served with white rice, pinto beans, yucca fries and farofa (toasted cassava flour).
Cheese Puff - Best Seller (Best Seller - Munchie): Brazilian cheese puff sandwich filled with cheddar cheese and ham or pulled pork.
Juana's
A taste of Venezuela is waiting for you just around the corner of Fraser Street. Adianez Martinez "Ady" wants to bring the community together through her cooking and music and share a part of her culture with those who step into Juana's. "Everything I know about the kitchen is from my grandma, Juana," said Ady. When Ady was a young girl, her grandmother put a blindfold on her and put various spices and ingredients under her nose. "She [was] training me. She [taught] me love when we prepare the food." Ady's authentic Venezuelan menu comes from her grandmother's recipes which have notes of European and African influences. "It's different, my recipes because my grandma cooked special recipes her whole life." Ady carries on her grandmother's legacy by making everything fresh. The ingredients are organic and all food is prepared the same day. "It's my heart. I love the kitchen."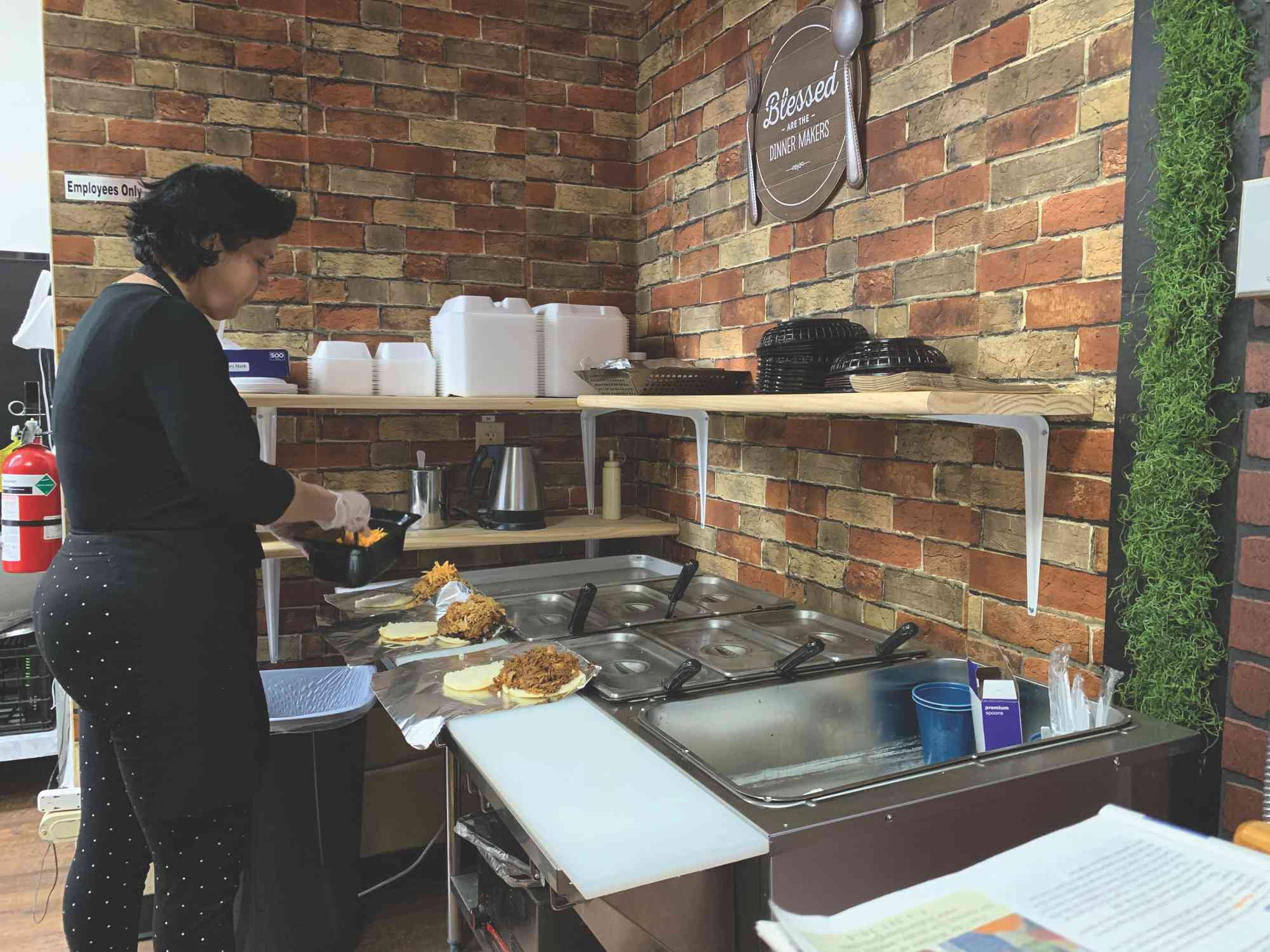 You Should Try @ Juana's
Pabellon (Best Seller - Meal): A staple food in Venezuelan culture, an arepa is a cornmeal cake that is crispy on the outside and light and fluffy on the inside. This stuffed arepa is overflowing with seasoned black beans, shredded queso fresco, sweet plantain and your choice of protein (shredded beef stew, shredded chicken stew or marinated shredded young shark).
Cachapa (Ady's Favorite): A sweet corn pancake stuffed with queso de mano.
Little Szechuan

If you are looking for bold and spicy authentic Chinese food, Little Szechuan is the place to go. Szechuan is a province in southwestern China and Little Szechuan brings the traditions of the province to Happy Valley. Traditional flavors include garlic and chili peppers and the menu includes many traditional meals from the Szechuan region, including Pork Dumpling in Hot Chili Oil and Kung Pao Chicken with Peanuts. The restaurant also offers typical Chinese American dishes.
Kimchi
Named after the most popular Korean side dish, Kimchi features authentic Korean food. With a large repertoire of ethnic ingredients and recipes, Kimchi has a menu with a variety of popular Korean cuisine to choose from, including Bibimbap and Japchae. Bibimbap is a rice bowl topped with beef, various vegetables and a fried egg, all served in a sizzling stone bowl. Japchae is another popular Korean dish made of clear, stir-fried noodles served with vegetables and your choice of protein. And of course, every meal is served with Kimchi, a fermented cabbage dish that is marinated with hot peppers.