IRONMAN 70.3 PENNSYLVANIA HAPPY VALLEY - Volunteers Needed
Volunteers are needed for the inaugural IRONMAN 70.3 Pennsylvania Happy Valley this summer.

The IRONMAN HAPPY VALLEY triathlon is set for July 2, 2023, and IRONMAN asks for the support of the community to pitch in to help. More than 1,200 volunteers will be needed leading up to race day. Individuals and groups are encouraged to sign up to volunteer.

In an effort to recruit and recognize local volunteers, IRONMAN will be hosting a Volunteer Night at Champs Sports Grill on Tuesday, January 24 from 6-8 PM. The event is open to the public, and all are welcome to attend to learn more about IRONMAN volunteer opportunities and sign-up should they be interested.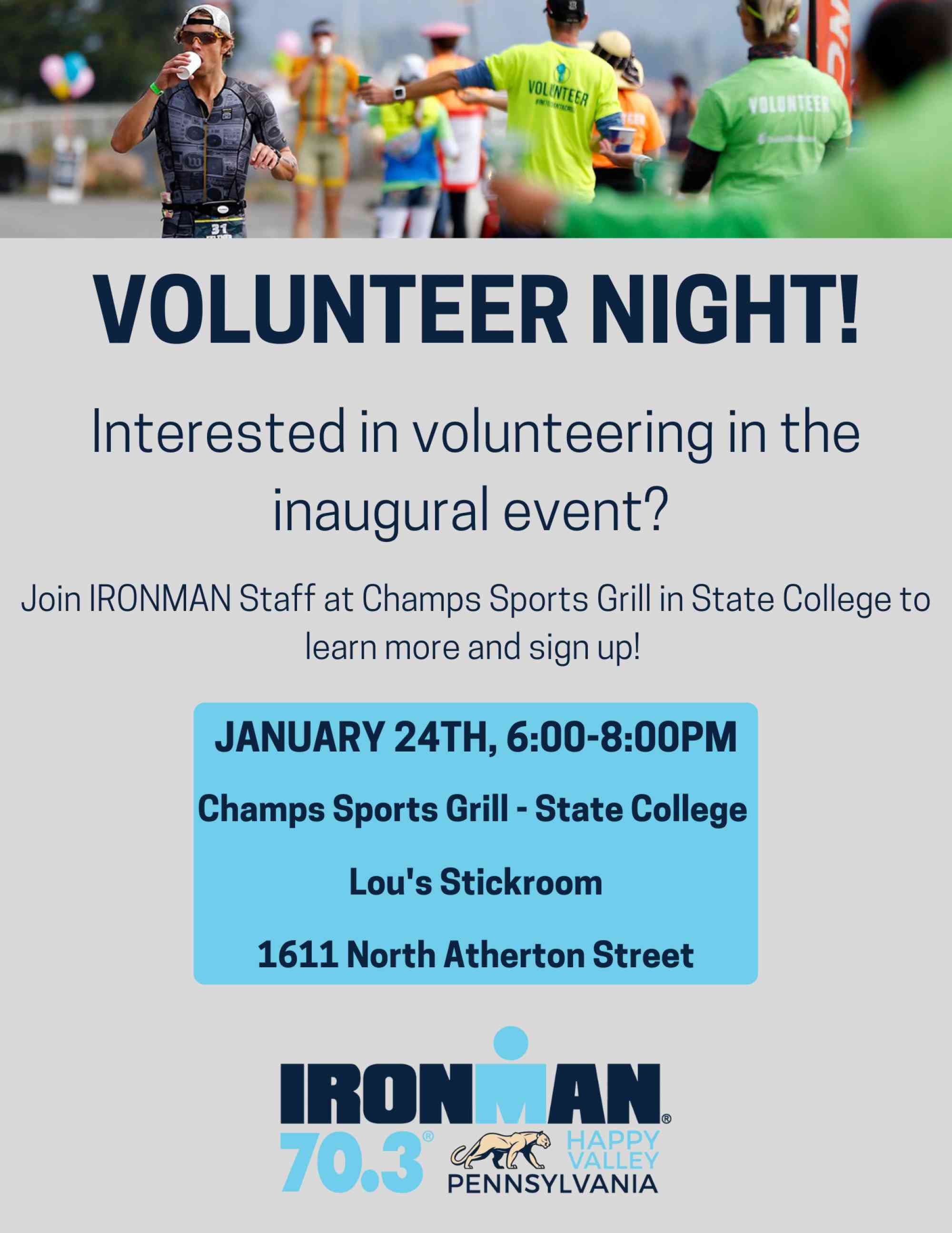 "IRONMAN is proud of the success of our events. None of it could be possible without the support of our amazing volunteers!"

Eric Nartatez - Volunteer Coordinator, IRONMAN 70.3 PENNSYLVANIA HAPPY VALLEY
If you are ready to join the gold standard tradition of supporting IRONMAN athletes, here is YOUR OPPORTUNITY:

IRONMAN 70.3 Pennsylvania Happy Valley 2023
July 2nd, 2023
IRONMAN 70.3 PENNSYLVANIA HAPPY VALLEY volunteer LINK
Individual Volunteers
Click the LINK to fill out a general interest form to volunteer for the IRONMAN HAPPY VALLEY event.
Volunteer as a Group
IRONMAN events are a great opportunity to get your community group, run club, tri-club, ANY group involved and volunteer together. We have many areas of the race that are perfect for groups from 5-75 people to volunteer together.
Foundation Grant Applications
Through the IRONMAN Foundation, every race has grant funding available to groups or organizations that volunteer at the race. If you or your group is interested in applying for a grant from the Foundation, please reach out directly to the event's local volunteer director. For more information visit IRONMAN Foundation LINK
-----------
For international opportunities to volunteer for IRONMAN events, click to the all-encompassing VOLUNTEER LINK