46 hours straight – THON raises $15 million record
More than 700 dancers (students committed to standing the full 46 hours for their organizations) stood, moved and danced throughout the weekend for the fight against pediatric cancer. THON was held Friday, February 17, 2023 starting at 6 p.m. and raised an astounding total of $15,006,132.46, surpassing THON 2022's total by $1,249,757.90.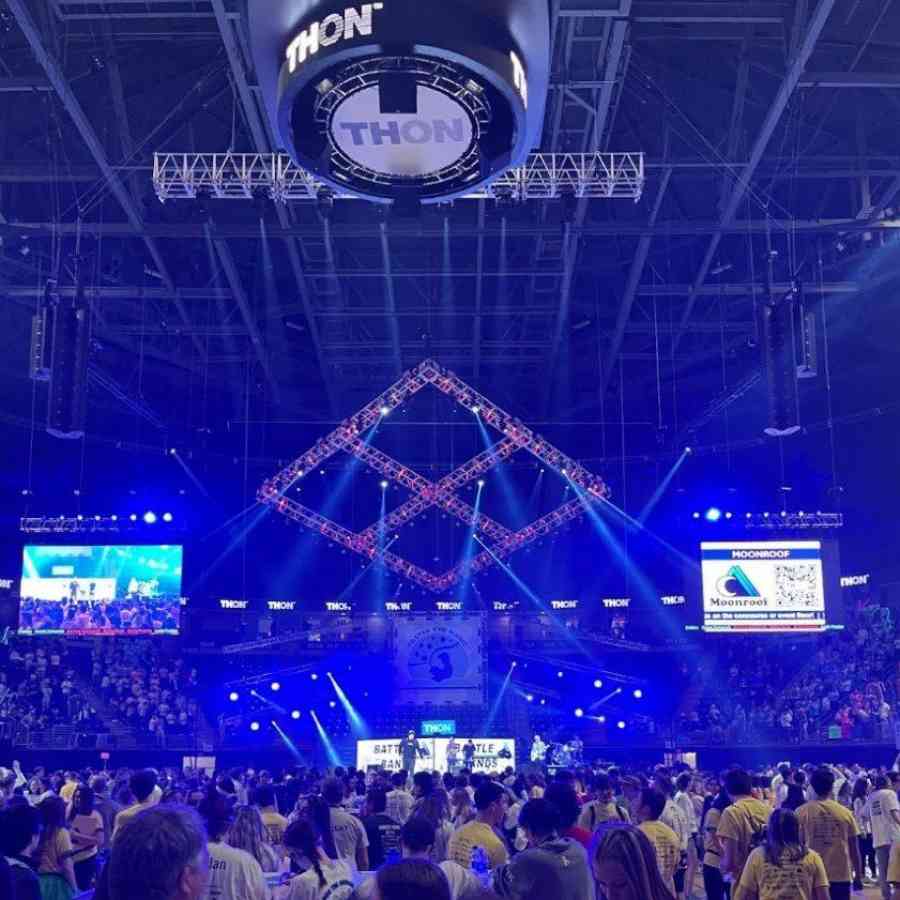 THON is a 46 hour no-sleeping, no-sitting dance marathon supporting pediatric cancer research done FOR THE KIDS! The Four Diamonds Foundation is the beneficiary for THON, which was established by Charles and Irma Millard after their son, Christopher, passed away at the age of 14 after battling pediatric cancer for three years. Their son, Christopher, created a tale of a strong knight (himself), on a quest for courage, wisdom, honesty and strength – which are the four pillars for the Four Diamonds Foundation.
THON started at Penn State in 1973 by a group of students looking to give back to the community. Since 1973, THON has become the largest student-run philanthropy in the world, with more than 16,500 student volunteers involved in the year-long fundraising efforts to benefit Four Diamonds and Penn State Health Children's Hospital.

"I THON so kids can be kids. I THON for Eli, for Kyler, for the memories, and better tomorrows. I THON so one day we can stop dancing for a cure and start dancing in celebration!"

- Julia Coulter, THON dancer 2023
"THON is not something I just woke up one day and decided I wanted to be a part of. It truly has always had such a special place in my heart," stated Julia Coulter, Family Relations Chair for Epsilon Sigma Alpha benefitting THON. "I know my actions have made an impact, but I felt like I could do more, and if our THON children, Eli and Kyler, could kick their treatments butt, I could go 46 hours without sleeping or sitting to honor them, and I did just that."

One thing THON is known for across the campus is its array of exciting events including; special guest performers, pep rally, kids talent show, and more. "The performers are what really keep you going when things get tough," stated Mckenna Ullsperger, Primary THON chair for PreVet club. "When a band came on or the kids were singing on stage, you can't help dancing and taking your mind off of the pain." This year did not disappoint with activities and performances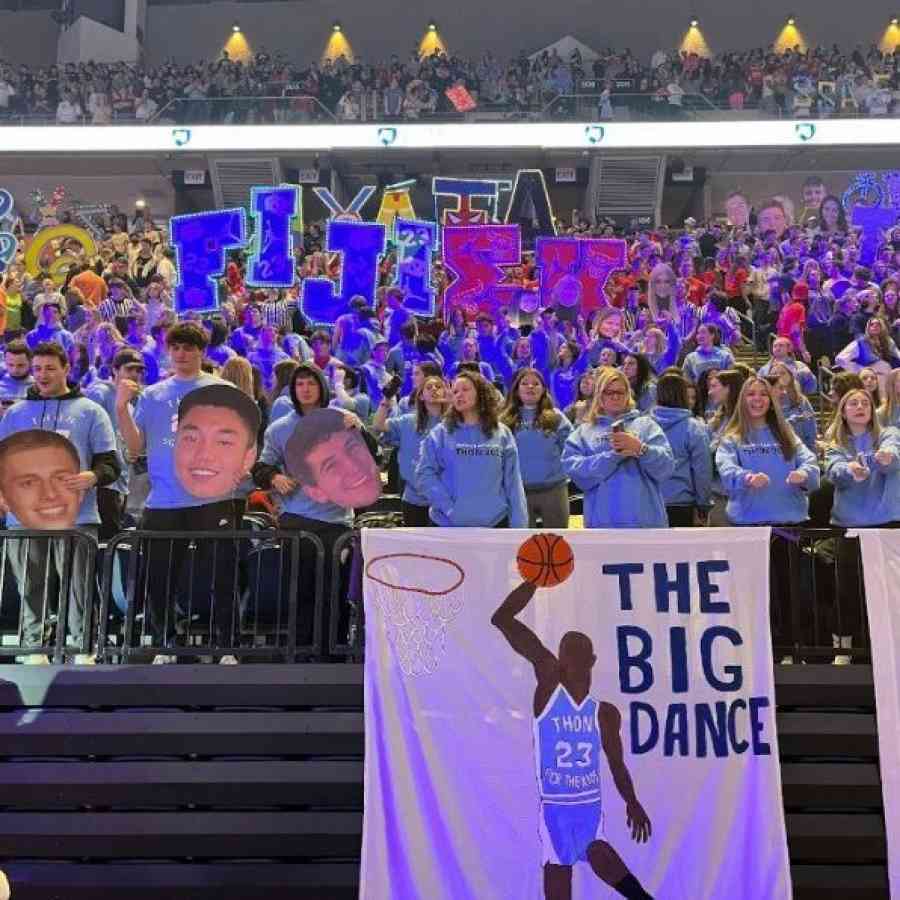 Hour 1 (6 p.m. to 7 p.m. Friday) – Hour one began with learning the 2023 "Line Dance." The Line Dance is a five minute dance routine choreographed by the Dancer Relations Committee. The purpose of the Line Dance is to help dancers stretch and get moving throughout the weekend. The line dance comprises Penn State highlights from THON 2022 to present, News and sports from the year, Pop culture, a "dance break," and THON highlights. To view the full lyrics and Line Dance for THON 2023, check out this article from The Daily Collegian.
Hour 2 (8 p.m. Friday) – Our first special guests of the weekend make an appearance with "The Academic Weapon," Brad Kraut – Penn State Student and famous TikTok star, and University President Neeli Bendapudi took the stage to share her support for those dancing.
Hour 3 (9 p.m. to 10 p.m. Friday) – The first big name performer of the weekend was Natasha Bedingfield. Bedingfield performed her 2008 hit "Pocketful of Sunshine" along with some renditions including Prince's "Purple Rain" and The Weekend's "Blinded by the Lights."
Hour 6 (Midnight to 1 a.m. Saturday) – The midnight hour of THON began with the annual tradition of Battle Of The Bands, between Moonroof and Walk On Mars. Moonroof performed covers including Harry Styles' "As It Was," and Walk On Mars followed with covers of "Mr. Brightside" and "That's What You Get." After the back and forth between the two bands, Walk On Mars was declared the winner.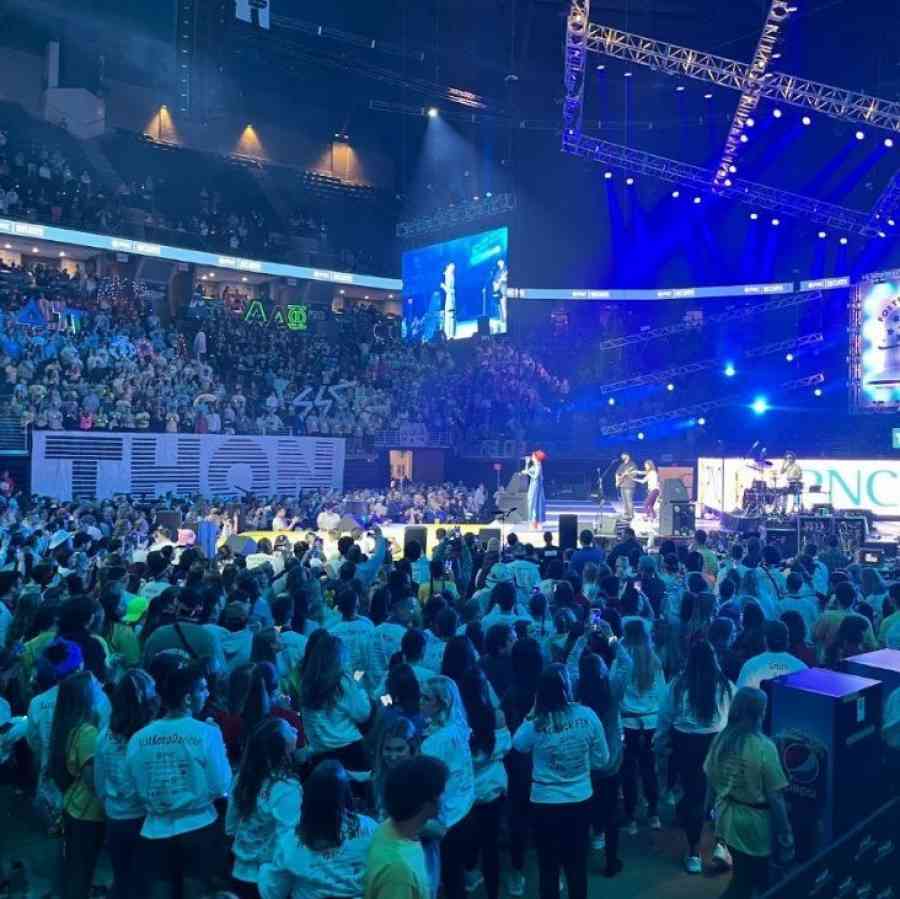 Hour 9 (3 a.m. Saturday) – Penn State Homecoming Executive Committee reveals the 2023 Homecoming theme – "Illuminate the Lion Within." The logo for Homecoming 2023 is expected to be revealed during the annual Blue-White game on April 15.
Hour 22 (4 p.m. to 5 p.m. Saturday) – Another band takes the stage at the BJC, "Royals," a pop-punk band playing best hits from the 2000s and 2010s. Some crowd favorites were Maroon 5's "Moves Like Jagger," Whitney Houston's "I Wanna Dance With Somebody," and Killer's song "Mr. Brightside."
Hour 24 (6:30 p.m. to 7:30 p.m. Saturday) — The annual Kids and Teens Talent Show took the stage with 22 performances by THON children and families. Some crowd favorites were a lightsaber battle and a participant's collaboration with the Lionettes to a dance routine to Rihanna's "Don't Stop the Music."
Hour 25 (8 p.m. to 9:30 p.m. Saturday) – Everyone's absolute favorite event of the weekend, Pep Rally. Pep Rally is when sports teams across Penn State's campus put together intricate routines and battle to win bragging rights for the year. To kick off the pep rally, Penn State President Neeli Bendapudi, Vice President for Intercollegiate Athletics Pat Kraft, and Football Coach James Franklin said a few words to begin. Some crowd favorites were men's and women's golf, men's lacrosse, men's gymnastics, women's volleyball and the Lionettes. Outside of the athletes on stage, throughout the pep rally, some popular alumni took the stage, including Matt McGloin and Bo Nickal. The ultimate winner was Women's Lacrosse.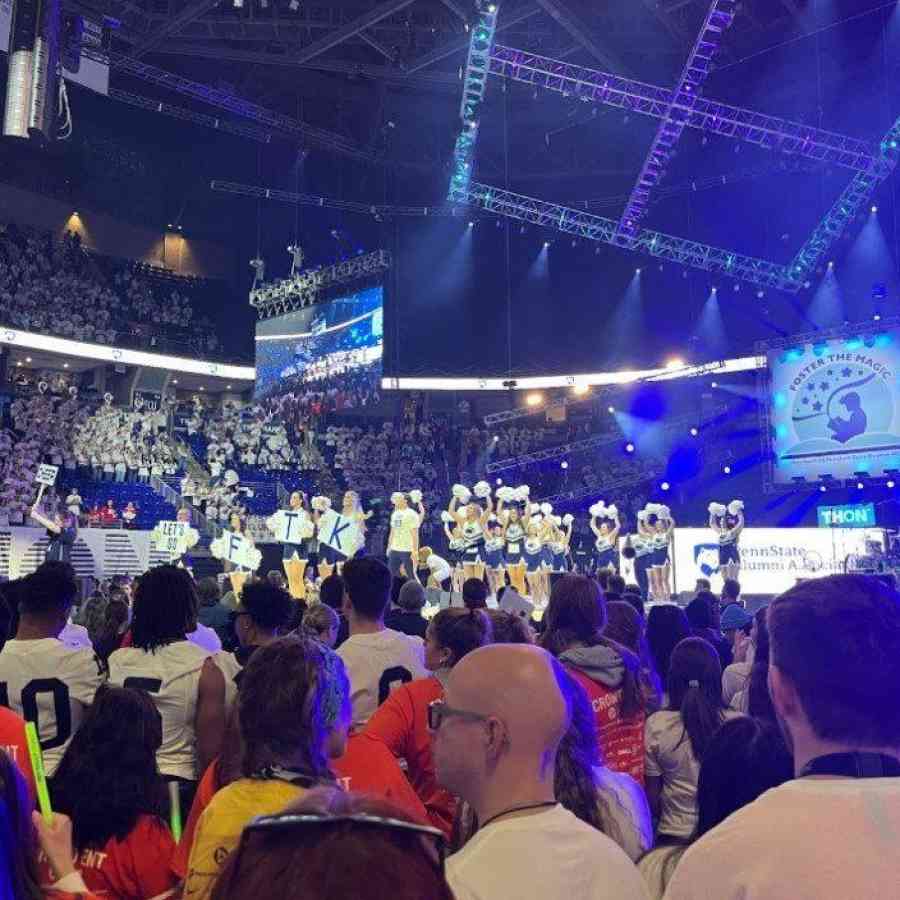 Hour 26 (10 p.m. Saturday) – Another guest artist took the stage after the pep rally, Whethan, an American DJ and music producer from Chicago. Whethan is best known for his collaboration with Dua Lipa, Charlie XCX, and the Chainsmokers. Whethan played a few classics including Foster The People's "Pumped Up Kicks," and Natasha Bedingfield's "Pocketful of Sunshine."
Hour 31 through 33 – Power Hour (1 a.m. to 3 a.m. Sunday) – Power hour, or as some like to call it "the graveyard hours" at THON, were filled with performances to help dancer's get through the worst part of the weekend. The first performer was My Hero Zero and the second was Donny Burns & The Third Degree.
Hour 42 (noon to 1 p.m. Sunday) – Hour 42 through 46 marks THON's Final Four hours. Final Four began line dances over the last 5 years. THON's dancer relation captains starting with 2019 through 2023 all returned for Penn State's THON to do all of the line dances, ending with a final line dance from the 2023 Dancer Relation Captain's for the weekend.
Hour 43 ( 1 p.m. to 2 p.m. Sunday) – The next Final Four Hour began with Family Hour. Beginning with the Jesse King Family and the Gus Bombgardner Family. Then, a recap video of THON families Cancer Survivors in a "Where They Are Now." The video showcases THON children since the start of THON and how they are now living their lives after beating childhood cancer.
Hour 44 (2 p.m. to 3 p.m. Sunday) – The final family story of the weekend was the Jay Jacunski Family. The Jacunski family shared stories in the remembrance of Jay Jacunski, who passed away December 15, 2010 to Lymphoma. After the Jancinski Family, THON shared a video entitled "Celebrating our Angels," a video in the remembrance of THON children we have lost to childhood cancer. The closing of Family Hour was an acapella performance by the Singing Lions.
Hour 45 (3 p.m. to 3:45 p.m. Sunday) – The final guest performance of the weekend was GoGo Retro, an East Coast throwback band that also performed at THON 2022. A crowd favorite was GoGo Retro's 15 80s songs in only 15 minutes, starting with Rick Astley's "Never Gonna Give You Up," and others including "Love Shack" and "Crazy Train." GoGo Retro performed for exactly 45 minutes, leaving the last 15 minutes for dancers to sit and final remarks.
Hour 46 (3:45 p.m. to 4 p.m. Sunday) – The final 15 minutes of THON featured one final Line Dance with the THON 2023 Executive Board, dancer's sitting at 4 p.m., and the THON 2023 Executive Board revealing the total for THON 2023.
"I feel so honored that I was able to spend the 46 hours representing TKESA and am so grateful for the endless support from our section, my family, boyfriend, best friends & Dancer Relations Committee Members," stated Julia Coulter. "I am so overwhelmed with pride seeing the record breaking total of 15 million knowing that TKESA contributed to over 188k of it!"
For more information about THON and THON Weekend, check out THON.org.