$5 Happy Valley Improv tickets this Friday
Happy Valley Improv and the Blue Brick Theatre were awarded the Silver 'Best of State College' Award for Best Local Theatre Group and Best Community Space! To say THANK YOU for voting for us, we are offering $5 tickets to this Friday's show!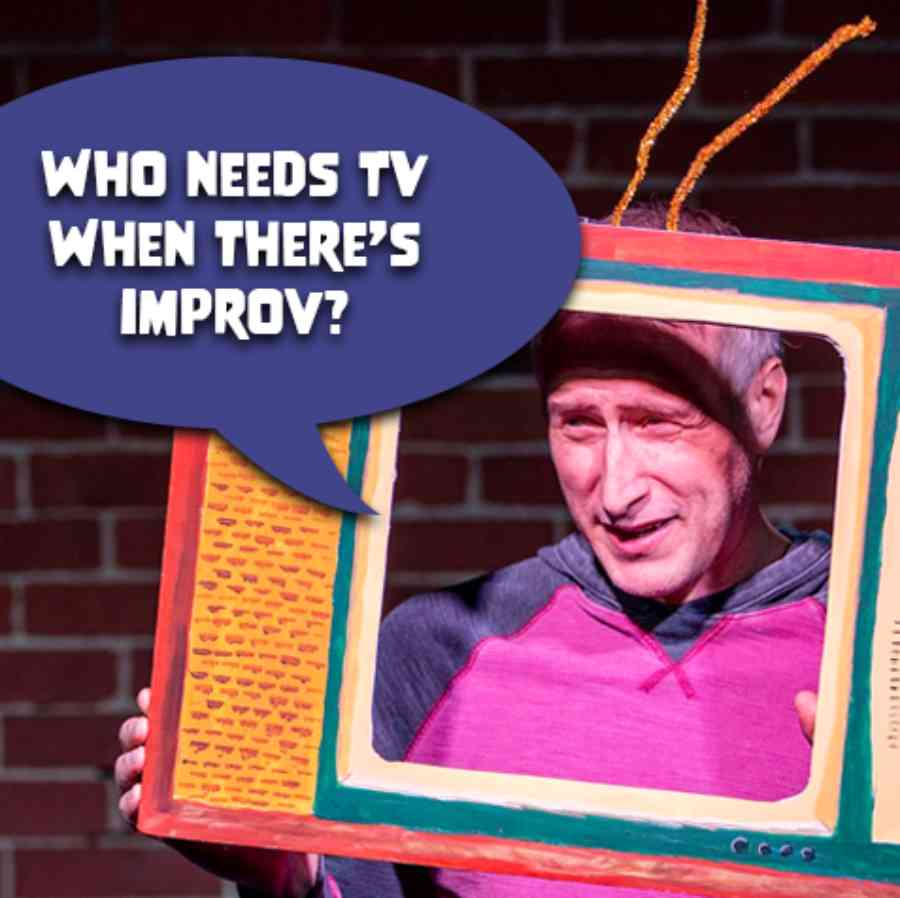 Get your $5 Ticket TODAY! By using code "BESTOF" at checkout.

Come laugh with us!
We're back this Friday at 7 p.m. for another 90-minute improv show, featuring the following three improv sets:

Destination Unknown. Have you ever wondered about the impact that your decisions have on the future? Destination Unknown explores this concept by putting the important decisions in the hands of the audience. Throughout the show, our main character will be presented with difficult choices, and it will be up to the audience to decide their path. Will they win the lottery and buy their own island? Will they end up in a cave having a tea party with a family of bears? It's up to you!

Cosmic Flow Job. Ever wished you could know the answers to the universe's most mysterious questions? A question you always wanted answered but didn't know who to ask? Ever imagined you could see them answered in a live performance before your very eyes? Come see The Cosmic Flow Job unite with the knowledge of the galaxy and grant you your answers in an improvised comedic story channeled from the universal voice that's sure to enlighten your funny bone.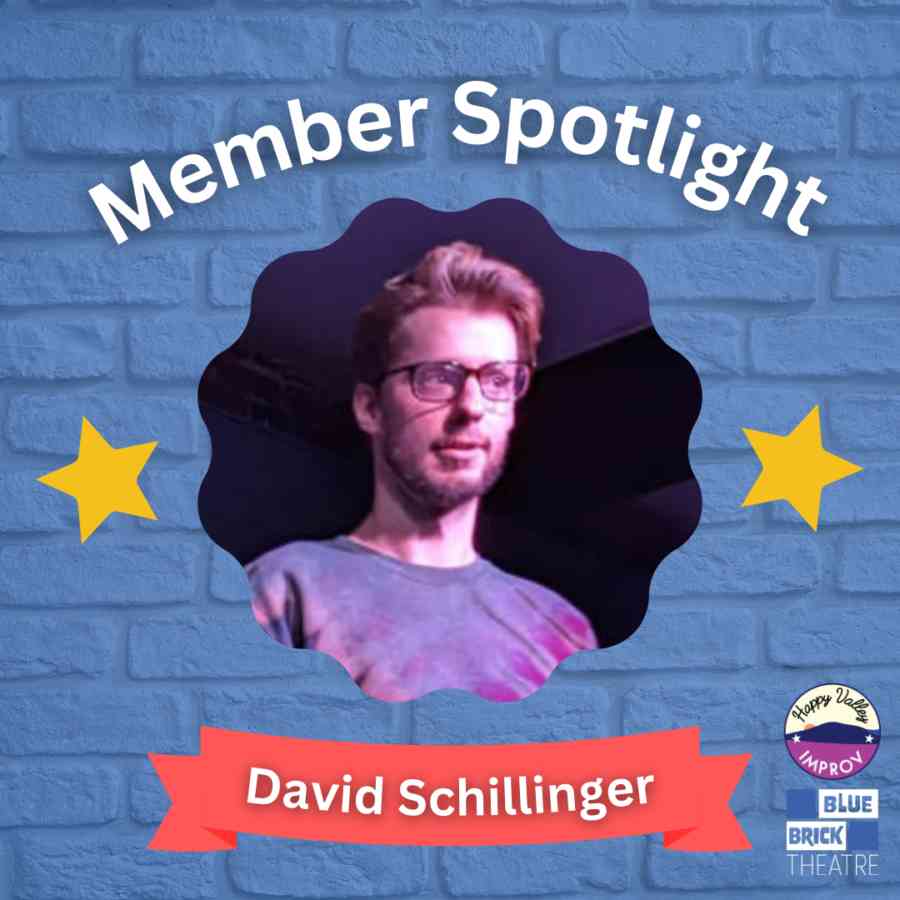 Wedding Crashers. Crash a stranger's wedding with Wedding Crashers! Get in on all the juicy family gossip and watch as the drama unfolds over the course of one wacky wedding weekend.
Enjoy some Friday-Night Laughter.
Company Member Spotlight: David Schillinger
David has been performing in plays and musicals from a young age and got his first taste of improv in his college's production of One Man, Two Guvnors. A handful of improv classes later he now finds himself bringing his unique brand of late-twenties tired graduate student comedy to the Happy Valley Improv stage.​

Thank you for making our Happy Valley Improv community special!
Become a Patreon Supporter!
Happy Valley Improv is now on Patreon! For a small monthly contribution, you can become a supporter to help keep improv alive and thriving here in State College!

Join HERE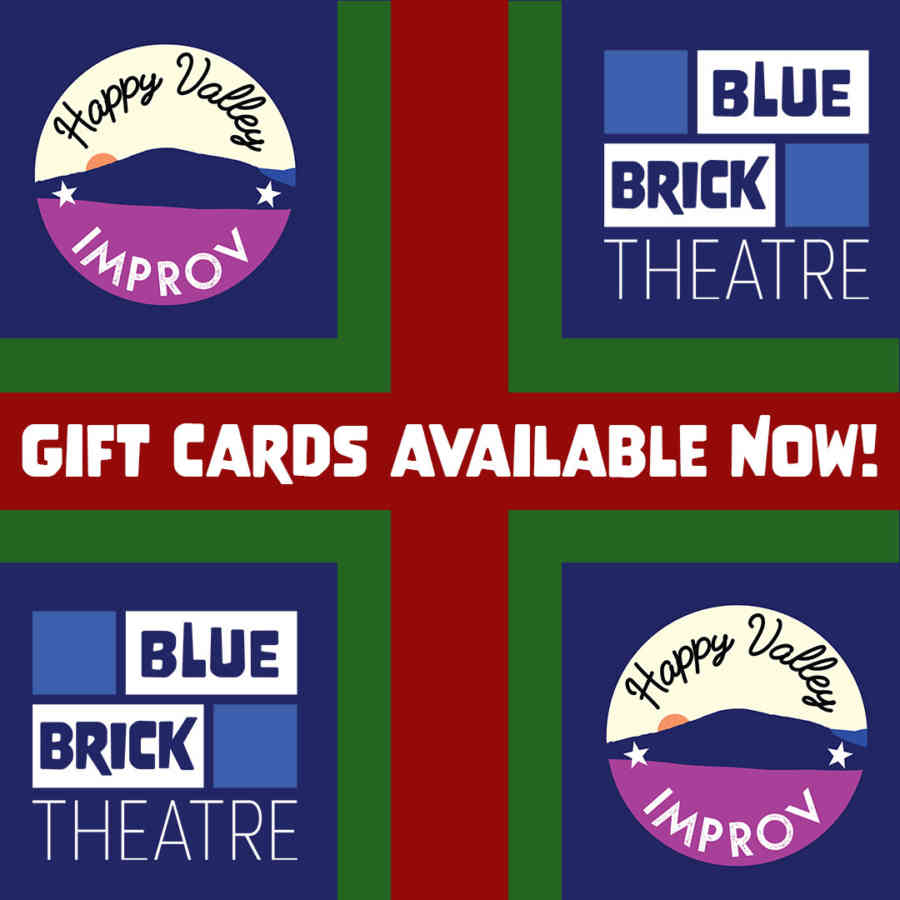 Give the gift of Improv this Holiday Season!
Buy a Gift Card HERE

Help Build State College Improv Brick-By-Brick

Are you looking for another way to support Happy Valley Improv and the Blue BrickTheatre? Join our Brick-by-Brick Program today.

We're asking our community to build the State College improv scene with us—Brickby Brick. This is an ongoing initiative, as building a robust improv comedy scene in State College will not happen overnight.

Your support will help us continue to always offer fully-funded scholarships to our training program to those who are unable to pay, keep our ticket prices well below the average night out, and donate our time, energy, and talent to the local community.

Use the link below to become a Foundation Builder for State College improv. Gift Cards Available HERE