A Perfect Fishing Weekend in Bellefonte, PA
There are a small handful of places where I've traveled that have the ability to both energize and subdue the mind, heart and soul. Bellefonte, Pennsylvania is at the top of my list. I've spent a fair amount of time here, fishing different spots along Spring Creek from Benner to Milesburg, and a few eateries, and some cool bars in between. It's the kind of place that has appeal for just about anyone. When you come here and see the Victorian architecture, small bars, unique eateries and eclectic shops, it actually makes the heart beat slower. I swear it does.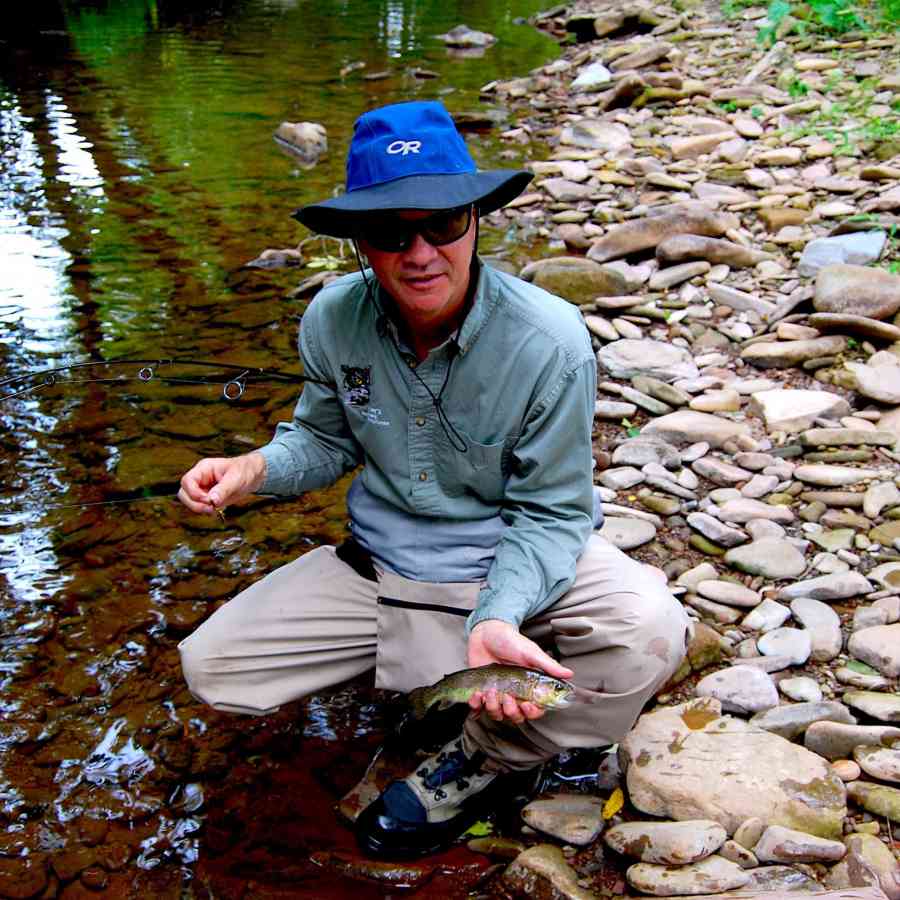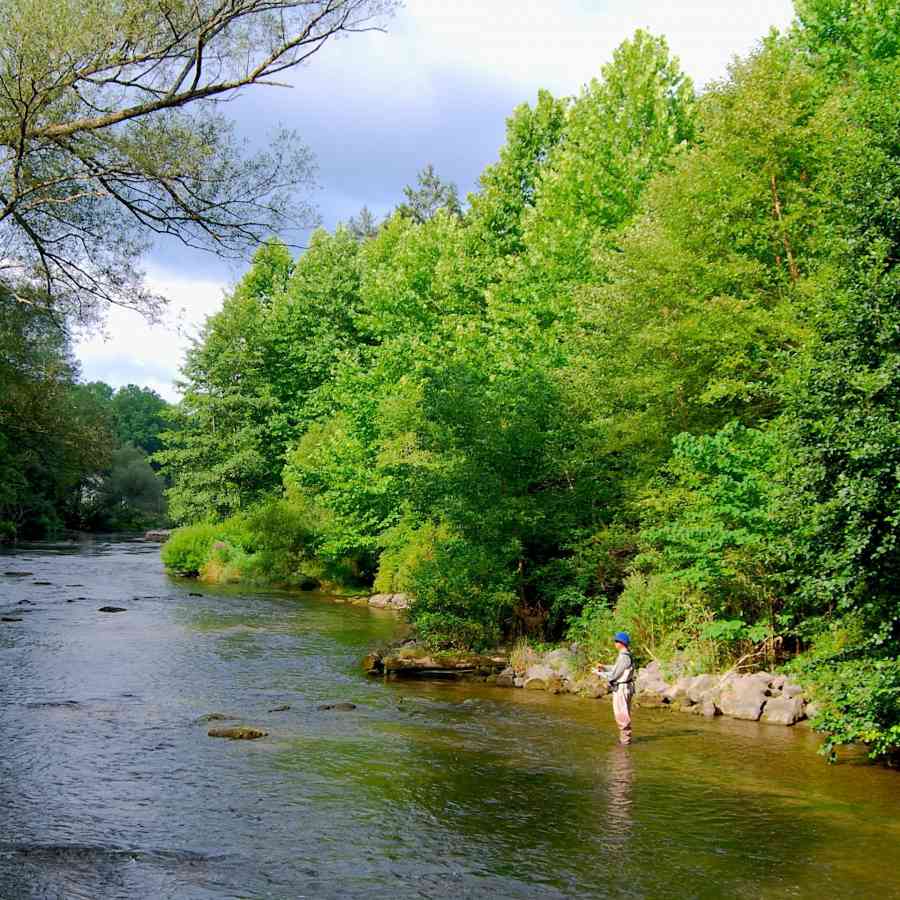 I moved to central PA two and a half years ago from the San Francisco Bay Area because I wanted to be closer to family. I spent most of my life in California, where I raised my kids and enjoyed the splendor of many outdoor treasures from San Francisco to Mendocino and Humboldt up north, to the beaches of southern California and many spots in between. When I made the move, I was delighted to find that Pennsylvania had its own treasure trove of outdoor treasures.
This weekend I've got an incredibly fun adventure planned in Bellefonte fishing Spring Creek with my friend and colleague, Jeff Deitrich, lodging in a historic bed and breakfast called "The Queen," and dinner at a recently opened gem called Titan Hollow in the tiny hamlet of Axemann.
I begin my weekend arriving after work and visit with B&B owner, Nancy Noll. Nancy has owned The Queen, a Victorian Bed and Breakfast, for several years and she's perfectly suited to her role as hostess and the ultimate purveyor of hospitality, local history, and where to go for anything and everything in Bellefonte. Upon arrival she informs me that I'll be staying in the Governor's Suite, the premier lodging suite of this multi-room beauty, and adorned with all manner of fishing memorabilia, artworks and books on the subject. I repair to the Suite and it's amazing. Spacious, wonderful antiques, a small writing desk, outdoor tapestries and antique linens and collectibles, and pictures of fishing and outdoor critters that are unique and fit this space perfectly. There's a small sitting room off to the right with a fireplace and more arts, treasures and books – perfect props for some quiet time with a brandy on a quiet evening. The Queen is the coolest bed and breakfast I've ever stayed in. Ever.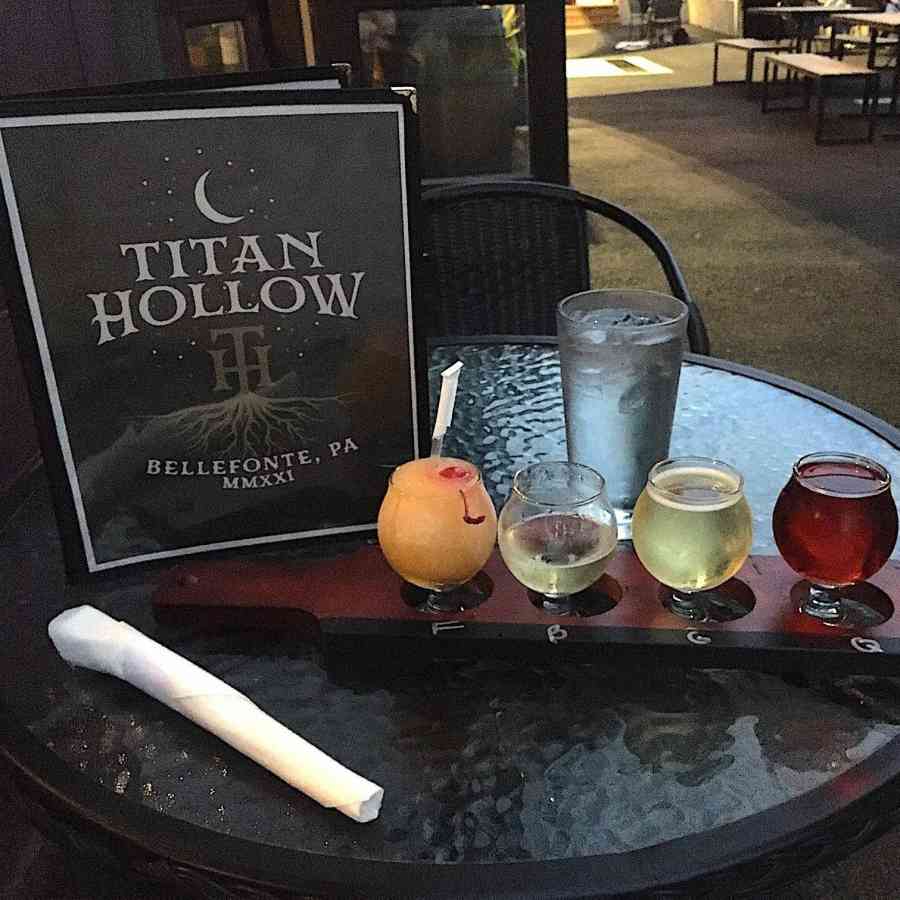 I've had a busy day and do not feel like having a big dinner, so Nancy suggests the Titan Hollow property near Axemann in Bellefonte. It's the sight of a commercial space dating back almost 100 years. In the former factory space, current tenants include Titan Hollow which is a blend of Alloy Kitchen and Mad McIntosh, and Axemann Brewery. For decades, Titan Hollow was an industrial space that manufactured brass components – for WWII, consumer products, clothing and other. These current businesses have rescued this historic site, ensuring its charm and new offerings can be enjoyed for the decades to come. Tonight I decide on dinner at Alloy Kitchen and I'm blown away beyond measure.
I decided to order a few small plates. Alloy Kitchen does have a full menu with entrees, soups, salads and more, but I elect to try three small plate options. So glad I did. I ordered the Hot Honey Brussel Sprouts, French Onion Soup Dumplings, and the Wonton Wrappers with gruyere and parmesan. Off the bloody hook! The dishes are incredibly savory and I pair the meal with a 4-flight taste of Angie's killer ciders. (That's another sidebar here: Angie, like me, did time on the West Coast and worked in special effects in the entertainment industry, but decided to take a left turn and ended up learning how to make cider in the Finger Lakes region of New York. I'm really glad she did because I'm a wine lover and the cider lineup at Alloy Kitchen works better than wine with the menu. It is truly memorable.)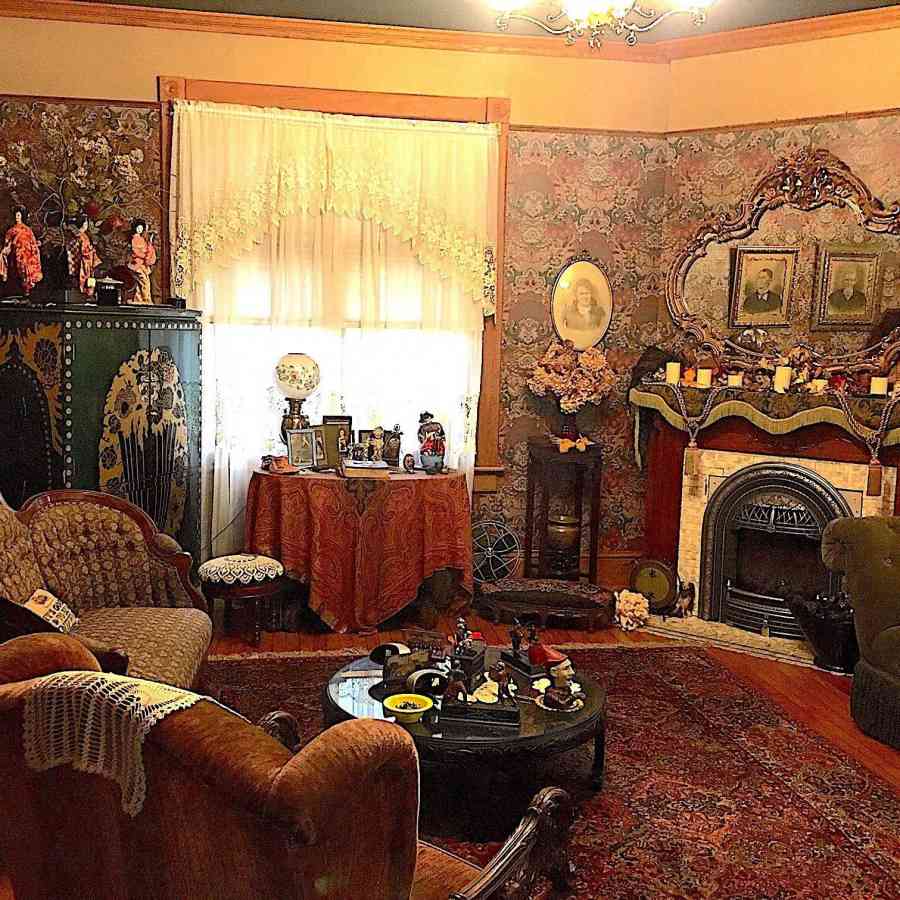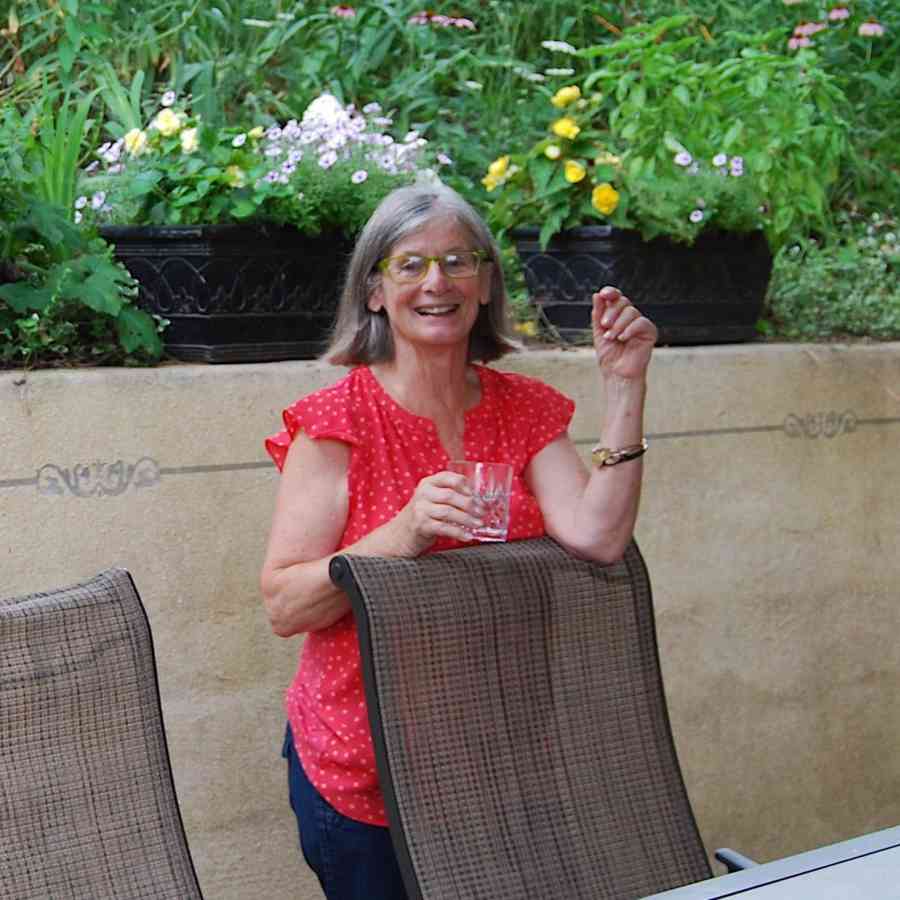 In the morning, I met up with friend and colleague at Happy Valley Hotels, Jeff Deitrich, who has earned an enviable spot I've created in my fishing years as a "headhunter" of trout. There are only four others in the club, and Jeff and I are going off to fish a few spots on Spring Creek to see what we can pull from the stream. Jeff meets me at The Queen and we head to "The Pines," an area near Fishermans Paradise where I've had many outings both joyous and sad in hopes of pulling and releasing trout, primarily Browns from this beautiful waterway.

We have a nice morning with the weather – maybe too nice, as nice weather tends to keep the fish down in the stream. We move along the stream as Jeff expertly targets his casts to pools and cut banks where the trout surely lay. We fish for a couple hours and then move to a tributary that ultimately feeds into Spring Creek and Jeff nails a couple of pretty fish. The day shows us victory.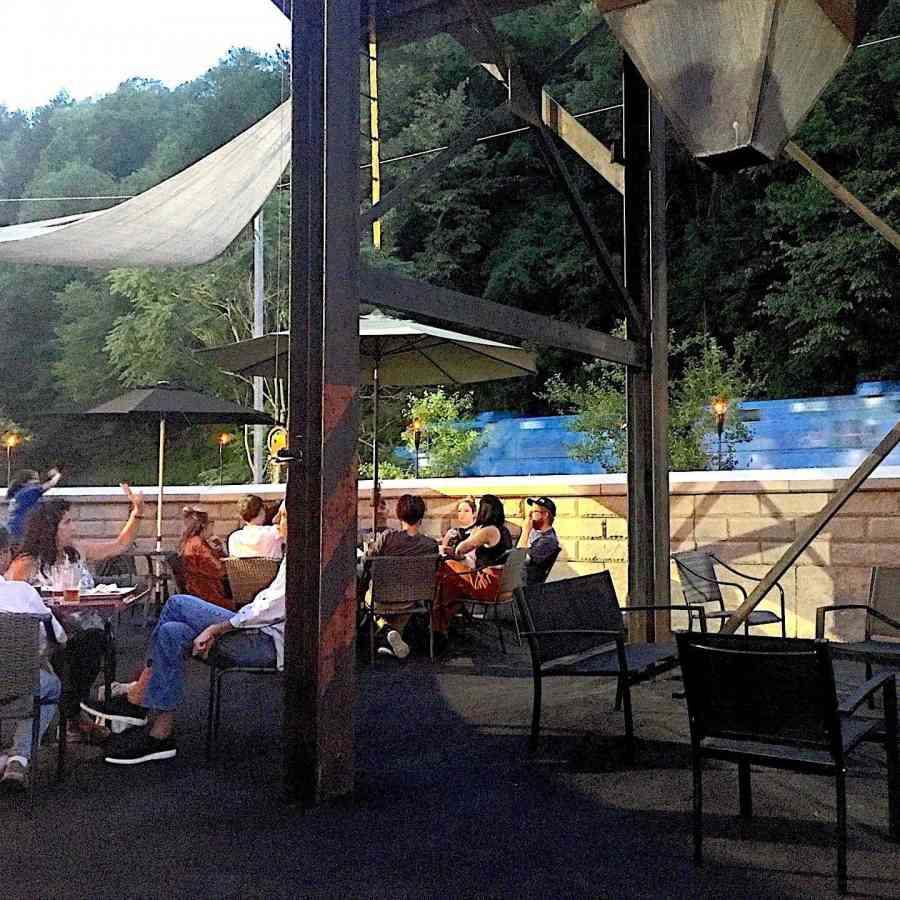 Do yourself a huge favor. Come to Bellefonte, Google Happy Valley Pennsylvania, see what attractions there are in this amazing place that is proof of a higher order. Don't wait!

The Queen Bed & Breakfast
176 E. Linn Street
Bellefonte, PA 16823
(814) 355-7946
Titan Hollow
2042 Axemann Road
Suite 179
Bellefonte, PA 16823
(814) 424-7728
For all the accommodations in Happy Valley, places to eat and things to do, click to HappyValley.com or follow #HappyValleyPA.