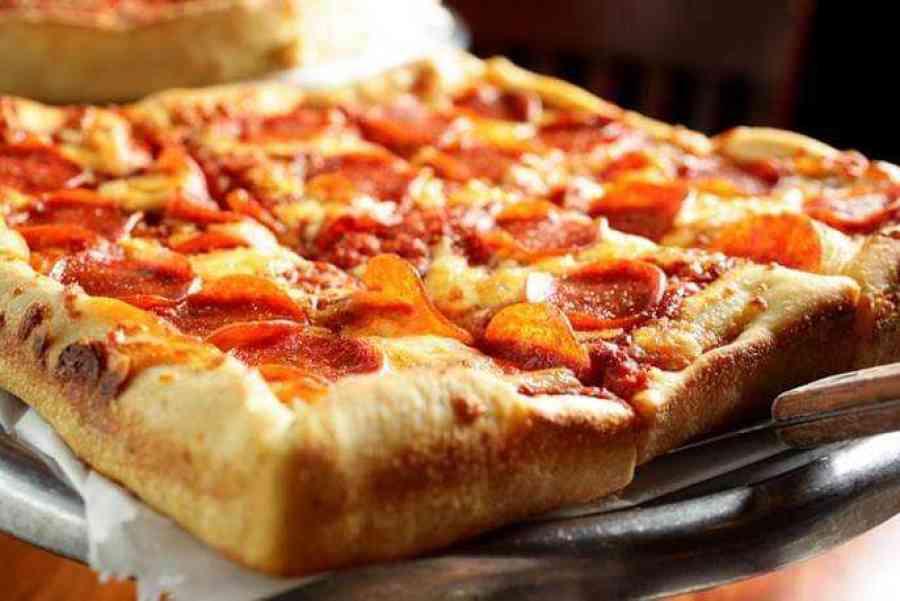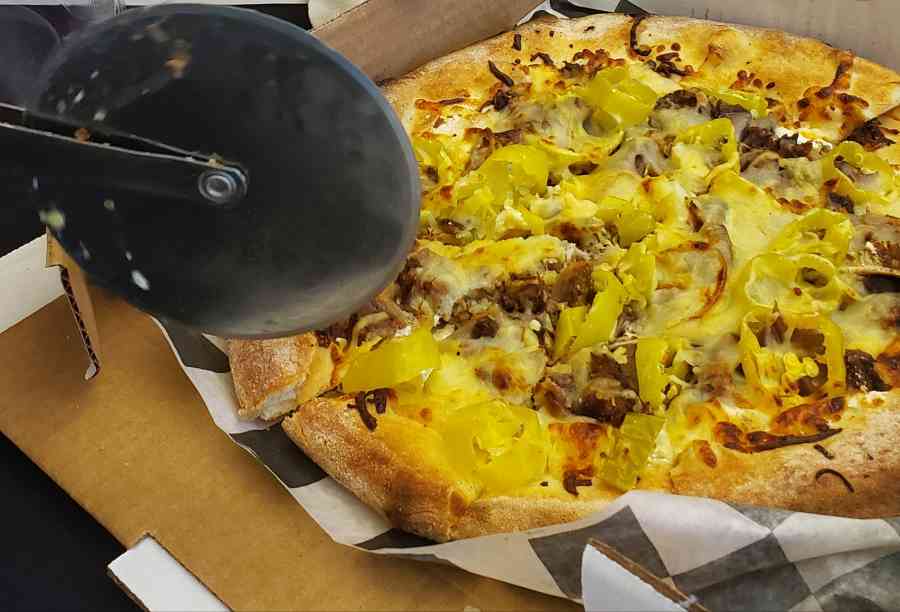 The first pizzeria in the United States opened in New York City in 1905. Today, there are more than 61,000 across the nation, making it fairly obvious that Americans have a love for pizza. Every day, 13 percent of the population eats some form of pizza, and we spend $38 billion annually satisfying our craving!
If you are one of those Americans, then Happy Valley is the perfect destination to find a variety of establishments serving up their best versions of this classic lunch, dinner, snack-time, even breakfast – yes, breakfast – staple.

Pizza was the obvious choice for The Happy Valley Adventure Bureau's latest taste test challenge. As the team quickly discovered, being asked to pick a consensus favorite was nearly an impossible task. After all, pizza is about personal preference – deep dish, thin crust, thick crust, flaky crust, stuffed crust…cauliflower crust. It's sausage versus pepperoni. White sauce versus tomato sauce. Our feelings about pizza fuel hotly contested debates such as whether or not pineapple belongs as a topping. (Um, no.)
It wasn't unexpected then that as we sampled entries from eight of Happy Valley's best known pizza places, individual favorites emerged on the way to naming an overall winner.
SNAP Custom Pizza – Kennett Square mushroom with cauliflower crust
What's not to like about a custom pizza restaurant offering signature pizzas with names such as "hot little honey," and "sweet & slow." However, the appreciation really starts when you get creative at this popular downtown State College establishment. With three crust options; six sauce options; seven cheese options, plus vegan cheese; six protein choices; 14 vegetable options; and 17 amazing finishing touches, from oils to greens to balsamic syrup, the combinations are seemingly endless. The same can be said for the line at noon when students are on campus! It's worth the wait, which is probably why SNAP consistently ranked high in Onward State's own recent staff power ranking of State College pizzas. For the taste test, the team sampled HVAB Public Affairs Director Lesley Kistner's favorite – the signature Kennett Square mushroom, but with a cauliflower crust. The herb butter, shredded mozzarella, crumbled goat cheese, local mushrooms, arugula and truffle oil make for a delicious combination. The cauliflower crust is light and crispy, allowing you to savor even more the amazing flavor combination on top. (SNAP Custom Pizza and Salads; snapcustompizza.com; 814-954-7416; 132 W. College Ave., State College)
Hofbrau – Classic cheese and pepperoni
If you grew up in and around Bellefonte, or have visited there (and if you haven't, why not?), you're probably quite familiar with "world famous" Hofbrau. The East Bishop Street establishment has been serving pizza, wings, subs and other Italian specialties for more than 80 years. The Hofbrau proudly touts its fresh, hand-tossed crust, which it describes as "crisp and dark brown on the outside, and thick and chewy on the inside." It's not surprising then that the HVAB taste test team gave the crust across-the-board high fives. What was on top was just as delicious. The classic cheese and pepperoni is topped with a heavy tomato sauce with basil, Hofbrau's trinity of spices and olive oil. Next is a proprietary blend of mozzarella and provolone cheese, and a bold pepperoni, the edges of which char and crisp perfectly upon baking. Simple pizza perfection. "Hofbrau pizza is the only pizza," says HVAB Director of Membership and Visitor Services and Bellefonte native Lori Miller. "I was raised on it." Because Hofbrau is now a satellite location for Otto's Pub & Brewery and Barrel 21, dine-in guests can enjoy their favorite Hofbrau pizza with delicious, locally produced craft beer and spirits. (Hoffbrau; hofbraupizza.com; 814-355-5529; 106 Bishop St., Bellefonte)
Faccia Luna – Genovese
Faccia Luna is a popular State College trattoria specializing in wood-oven pizza, fresh pasta, salads and sandwiches. The pizza and toppings menu is extensive, with three size choices – 10 inch, 12 inch and 14 inch – available. For the taste test, we sampled the Genovese, a unique combination of potato, a basil pesto sauce originating from the north of Italy, fresh tomatoes and fresh basil, and the top choice for HVAB Technology Manager John Pratt. The crunch of the crust and the pesto scored high with the rest of the team, as did the choice of toppings for this take on a traditional vegetable pizza. It was even described as a "pizza symphony" by one anonymous taste tester. It is easy to see why Faccia Luna has received Best of State College awards for its pizza offerings. If you are a fan of veggie pizza generally, Faccia Luna's menu offers several other flavorful combinations. The South Atherton Street establishment also boasts a robust Italian estate-bottled wine list and a variety of American microbrews. (Faccia Luna; faccialunastatecollege.com; 814-234-9000; 1229 S. Atherton St., State College)
Brothers Pizza, Centre Hall – White pizza
Let's be honest, the concept of white pizza probably falls into the same category as pineapple on pizza. You either like it or you don't. There is no middle ground. While it's true that its somewhat bland appearance may not stand up visually next to its vibrant, tomato sauce-based counterpart, don't let that stop you from giving it a try. Made well, white pizza delivers amazing flavor, so noted HVAB Vice President of Sales and Marketing Dave Gerdes of his top choice. The Centre Hall Brothers' version is a garlic lovers delight. So much so that HVAB Communications Director Edward Stoddard described the classic white pizza like one would a fine wine – a flavorful garlic introduction with a delightful ricotta finish. (Don't forget the mozzarella.) Speaking of cheese, the combination also scored well in the taste test. However, the garlic was the real star of the show. So treat your taste buds and head to 239 N. Pennsylvania in Centre Hall. You just might think about white pizza a little differently. (Brothers Pizza; brotherspizzacentrehall.com; 814-364-9817; 239 N. Pennsylvania Ave., Centre Hall)
Angelo's Pizzeria – Buffalo Chicken Pizza
Taking white pizza a step further is Angelo's popular buffalo chicken pizza. The Boalsburg pizzeria's combination of chicken, buffalo sauce and cheese brings standout flavor to an extensive menu, satisfying pizza and wing lovers alike. HVAB Administrative Assistant Judy Maurer raved about the "buttery flavor" and "nice spice" of the buffalo sauce and the "well-developed" dough that created a delicious, hearty foundation. The group agreed that Angelo's buffalo chicken pizza would taste just as good cold – the true test of a great pizza according to some aficionados. So if you are prone to sneaking to the fridge for a midnight snack, or grabbing a quick breakfast on the run, you might want to make sure you order enough for leftovers. (Angelo's Pizzeria; Angelospizzaboalsburg.com; 814-466-1980; 6013 Boal Ave., Boalsburg)
Otto's Pub & Brewery – Braised beef with gouda
If you haven't noticed by now, the HVAB team likes to get a little adventurous with its pizza choices. Popular State College eatery Otto's Pub & Brewery's braised beef with gouda pie certainly fits that bill. Cara Aungst, Managing Editor of the Happy Valley Fun Guide, said the wood fired pizza is one of her favorites courtesy of its nice blend of smoky and savory flavors. "Everything just married well," she pointed out. That harmonious union includes pulled and braised A.V. Farms BBQ beef, pepperoncini, ricotta sauce and gouda cheese. While some of the HVAB taste testers thought it was a bit too spicy for their delicate palates, they nonetheless raved about the "interesting combination of toppings" that work well together, and the delicious crust. Altogether, the braised beef and gouda is a "nice pizza package" that can be enjoyed paired with one of Otto's many craft beers, brewed in-house at its North Atherton Street location. (Otto's Pub & Brewery; ottospubandbrewery.com; 814-867-6886; 2235 N. Atherton St., State College)
HiWay Pizza Pub – Vodka flaky pizza
A State College tradition since 1963 with three locations, Hi-Way Pizza prides itself on homemade pizza, pasta doughs and sauces. The vodka "flaky" crust pizza is considered a must have, so of course, it made our taste test list. A favorite of Andy Rupert, HVAB Director of Digital Strategy and Metrics, the vodka flaky also comes topped with fresh mozzarella and prosciutto for a pleasing flavor combination. A big hit with taste testers was the secret spice blend, prepared and known only by owner Andy Z! Hi-Way Pizza offers more than 29 varieties of hand-spun pizzas and an endless combination of toppings – a pizza for every palate. (HiWay Pizza Pub; hiwaypizza.com; 814-237-0375; 1688 N. Atherton St., State College/ 340 E. College Ave., State College/ 1301 W. College Ave., State College)

Canyon Pizza – Bacon Cheeseburger
A popular option for generations of Penn State students, Canyon Pizza is affordable, convenient and flavorful. HVAB Intern Jenny Leader's taste test pick was one of the East Beaver Avenue's many specialty pizza offerings – the bacon cheeseburger – American cheese, topped with ground beef, bacon, onions and mozzarella cheese, then drizzled with ketchup. The pizza is proof you don't need to go a burger joint to get a good cheeseburger. Since you never know when a craving for pizza will hit, Canyon Pizza is open late – very late, or should we say early – making it a great option to satisfy a late night hunger pang. P.S. That pineapple on pizza mention earlier; if you are a fan, take note. One of Canyon Pizza's specialties is a Hawaiian pie with ham, pineapple, mozzarella and cheddar cheese. (Canyon Pizza; canyonpizzapsu.com; 814-867-5672; 219 E. Beaver Ave., State College)
And the winner is…
Our taste test by no means covered the full extent of fantastic pizza offerings in Happy Valley. But it was ample enough to leave us in suspense as we tallied individual scores in three areas – flavor, crust and topping quality. Thanks to the broad appeal of anything buffalo chicken, and just really good pizza, the overall winner was Angelo's Pizzeria! Congratulations, and thanks to all of our participants! The HVAB team savored every delicious minute of this latest challenge.
We want to know what you think. Post a photo of your favorite Happy Valley pizza place on Instagram or tag The Happy Valley Adventure Bureau on Facebook. Remember to use the #HappyValleyPA hashtag.

Lesley Kistner is Public Affairs Director for The Happy Valley Adventure Bureau.