Adventure begins here: explore our caves
Explore Happy Valley no matter the season! There are seven show caves open to the public in Pennsylvania, and a record three are located in Happy Valley. Here's how you can enjoy an underground excursion.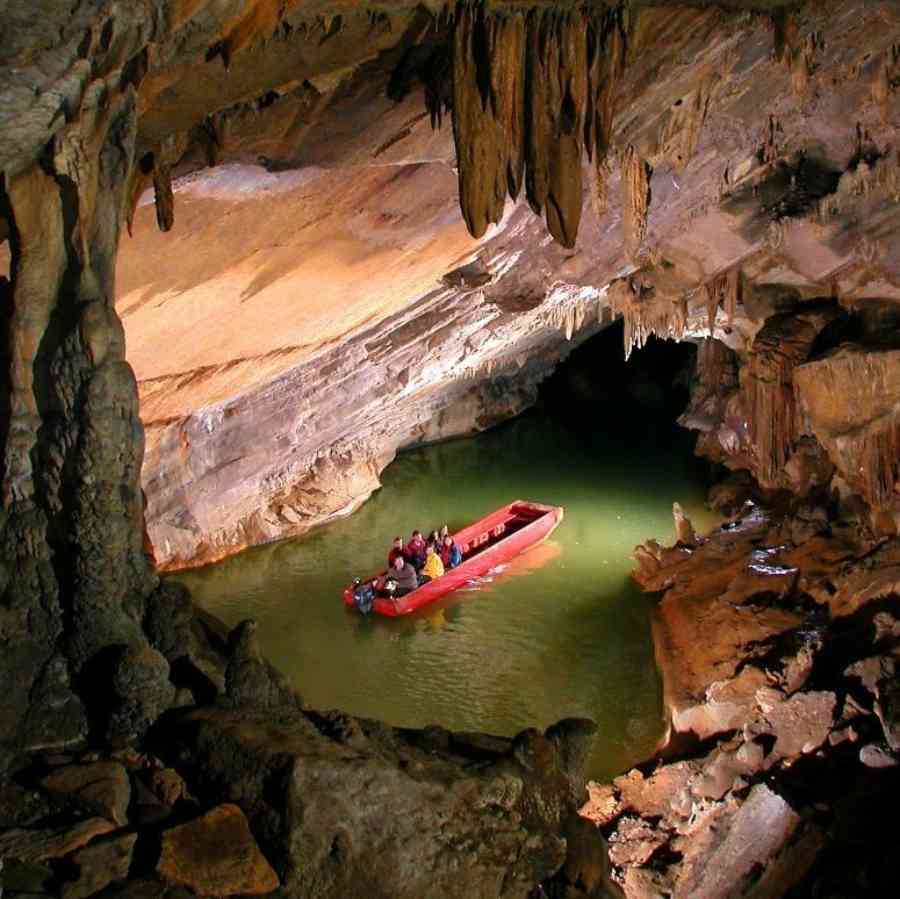 Penn's Cave
Penn's Cave is America's only all-water cavern & farm-nature-wildlife park. It offers its visitors a tour via boat that winds through the passages and concludes with a ride outdoors on Lake Nitanee.

First opened for commercial tours in 1885, Penn's Cave has been delighting visitors ever since. The caverns were added to the National Register of Historic Places, as has Penns Cave House, which was originally a 30-room hotel that now houses Penn's Cave's offices.
Visitors taking a tour first descend a long incline and set of stairs at the entrance to the cavern, down to a dock to embark on one of the electric-powered boats. Once underway, tour guides will take visitors past the many stalactites, stalagmites and columns. You'll get to see well-known features such as "The Statue of Liberty" and "The Garden of the Gods."
"Penn's Cave is America's only all-water cavern & farm-nature-wildlife park"
The cave remains at 52 degrees year-round, so be sure to pack a warm layer.

Tickets can be purchased in advance, but Penn's Cave also accommodates walk-ins. Wait times might be longer during the month of July and peak season weekends.
In addition to the cave tour, visitors have a host of fun options. The 90-minute Farm-Nature-Wildlife Tour takes you by bus to see native North American animals like timber wolves, gray and arctic wolves, bison, Texas longhorn cattle, black bears, elk, whitetail deer, mustangs, bighorn sheep, and mountain lions. During the guided tour, visitors will learn about the geology, biology, and geography of the area. Tours are open from April through November.
For rates relating to Penn's Cave Cavern Tours click HERE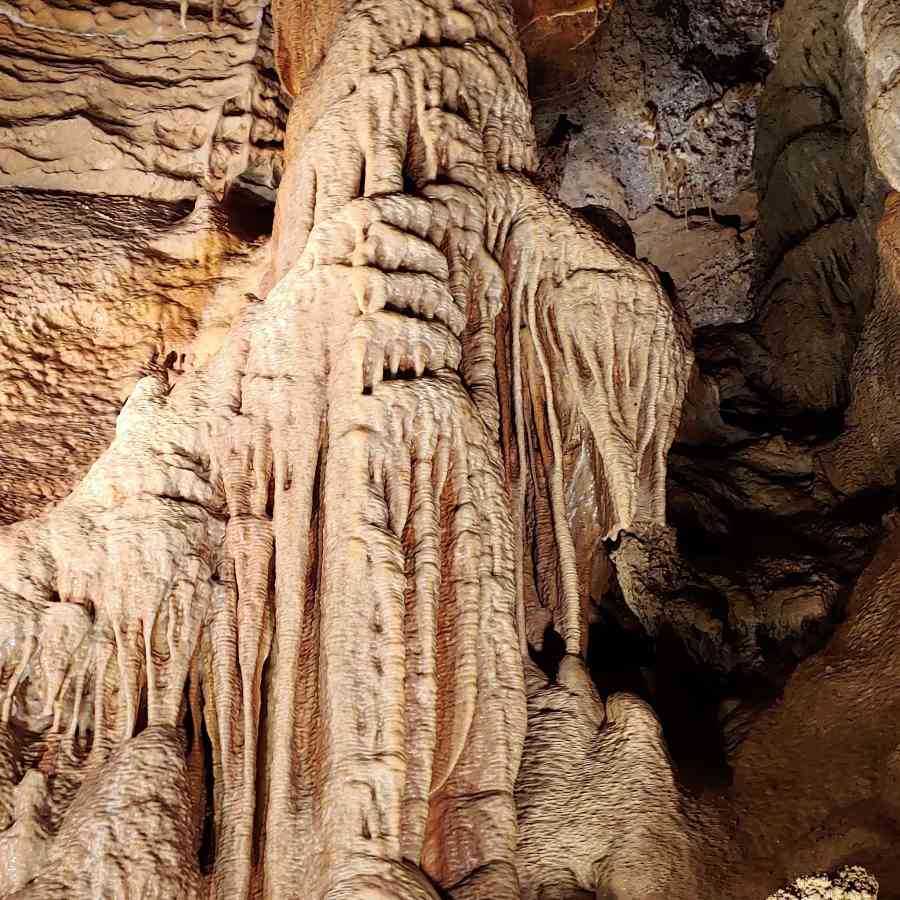 Lincoln Caverns
Lincoln Caverns has been fascinating, educating, and inspiring guests of all ages for over 90 Years! It is a place where science, adventure, and discovery are NATURALLY FUN!

One-hour interpretive tours of two spectacular crystal caverns. Daily spring, summer, and fall. Winter by appointment. The northeast's premiere caves & karst educational facility with programs for schools and youth groups are their specialty.
The cave features badge programs for Girl and Boy Scouts, Ultimate Underground Birthdays, Kids Cave Kamp, Raystown Rocks Gift Shop, gem panning, primitive camping, picnic facilities, and six great annual family events... October Ghosts & Goblins Tours, December Santa in the Cave, February Batfest, Spring Easter Bunny Underground, National Caves & Karst Day with TEN for PENN on June 6, June Discovery Days, plus Black Light Adventures, Family Fun Nights, T-Rex Tuesdays, Baturday Saturdays and Workshop Wednesdays!
Closest Cavern to Raystown Lake. Just 3 miles west of Huntingdon, PA.
For rates relating to Lincoln Caverns Tours click HERE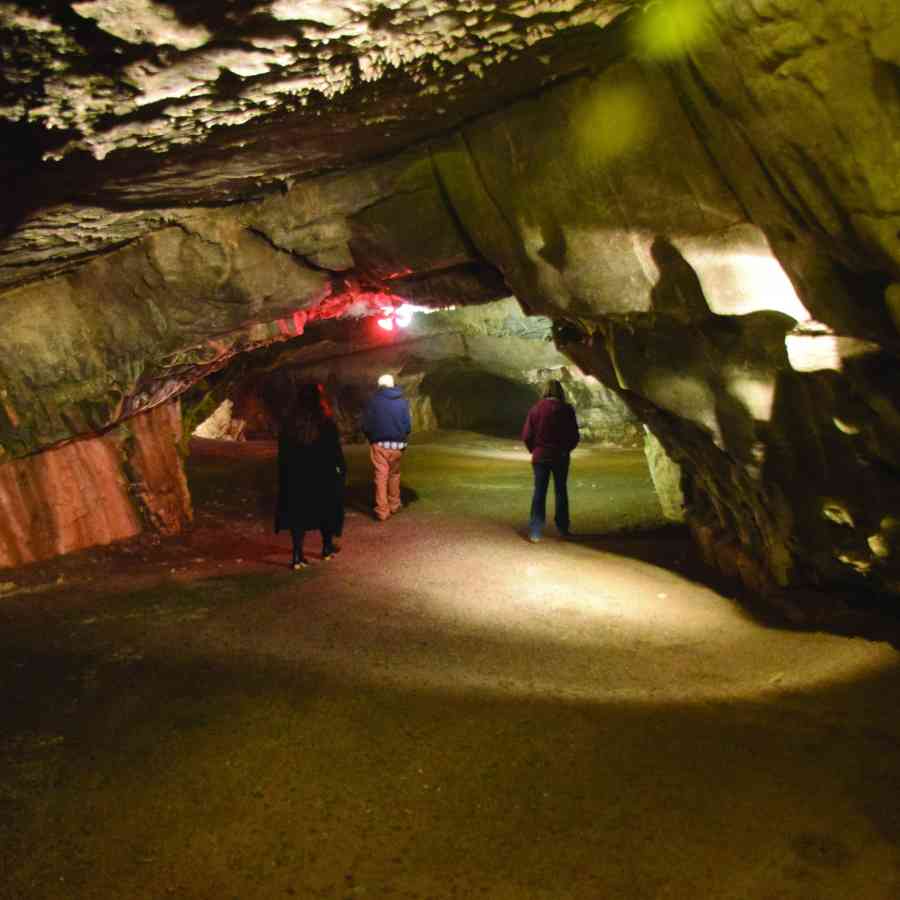 Woodward Cave
Woodward Cave offers 50-minute tours from April through October, with different days and hours depending on the season.

Located in eastern Centre County, Woodward Cave can be reached via Route 45, about 45 minutes from State College.
The cave has seen many uses over the centuries, first from Native Americans (according to local legend and some evidence of campfires), and later for dances, banquets, church services, and weddings. According to the Woodward Cave website, a 120-person was hosted for the Society of Creative Anachronism in 1989 in the "Ballroom" section. It was also in the Ballroom that 30 motorcycles were driven into the cave for photos in 1987.
It's among the largest caverns in the state, earning it the nickname "The Big One." It also features the 14-foot Tower of Babel, the largest known stalagmite in Pennsylvania.
Woodward Cave also maintains a tent and RV campground and cabin rentals, with showers, dumping station, gift shop, recreation hall, snack stand, events and more. All three cabins have electricity, and two are pet friendly.
For rates relating to Woodward Cave's Cavern Tours click HERE.
Find more outdoor adventures at HappyValley.com.