Get your Central Pennsylvania Festival of the Arts poster now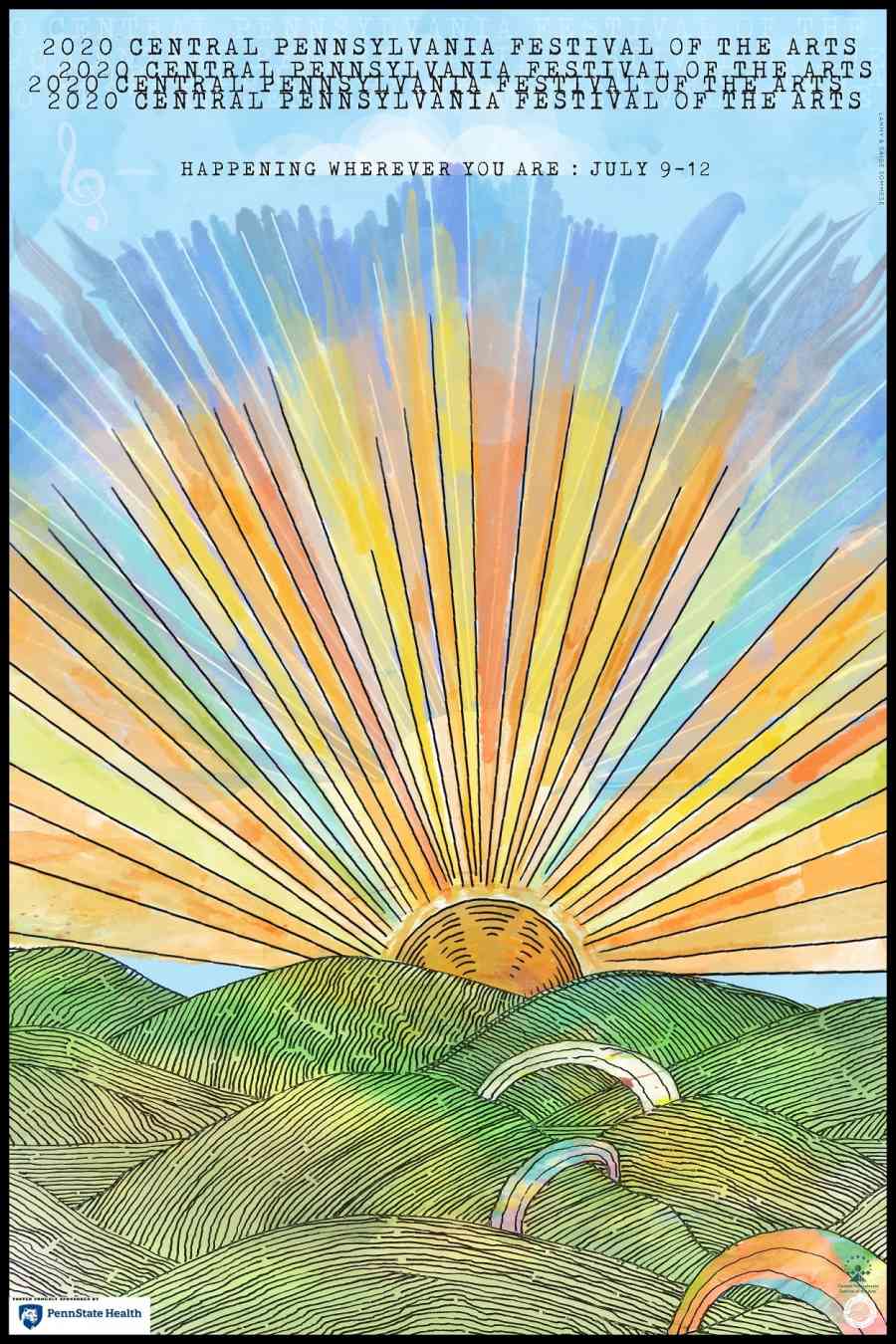 While this summer's Central Pennsylvania Festival of the Arts will be taking place in the "virtual" world due to the COVID-19 pandemic, Festival organizers have kept the tradition of issuing a collectible Festival poster.
The 24" by 36" poster, sponsored by Penn State Health, was designed by longtime Festival poster designer Lanny Sommese and his daughter Saige. In a subtle nod to a summer without a festival, most of the images found in the typical festival poster—the Festival jester, references to art, music, and theatre, are missing. Instead, a simple sunrise, rising over a stylized Happy Valley landscape, symbolizes optimism and hope for better days in the future.
"When we were discussing canceling this summer's Festival, we felt it was important to continue the tradition of the real Festival poster. Instead of referencing downtown State College and the Penn State campus, the poster's text says "happening wherever you are", noted Festival executive director, Rick Bryant.
The poster is free and can be picked up at several local businesses, including:
Central Pennsylvania Festival of the Arts
403 S. Allen Street, Suite 205A, State College
Downtown State College Improvement District
127 S. Fraser Street, State College
State College Framing Company and Gallery
160 Rolling Ridge Drive, State College
The Makery
209 W. Calder Way, State College
Art a la Carte
107 S. Allegheny Street, Bellefonte
The Happy Valley Adventure Bureau
800 East Park Avenue, State College
Juniata River Valley Visitors Bureau
One West Market Street, Lewistown
After July 12, any remaining posters will be available for sale on the Festival's website.
Poster designer Lanny Sommese is emeritus Professor of Graphic Design at Penn State. Saige Sommese is a 2018 graduate of Penn State's graphic design program and is the principal in her own design firm. For over 40 years, the elder Sommese has designed the colorful posters for the Arts Festival. The entire collection is on display in Penn State's HUB-Robeson Center.
The Festival is made possible by grant support from the Happy Valley Adventure Bureau and Centre County Commissioners. The Festival receives state arts funding support through a grant from the Pennsylvania Council on the Arts, a state agency funded by the Commonwealth of Pennsylvania and the National Endowment for the Arts, a federal agency.
The festival will take place from July 9 to July 12 on the Festival's website, arts-festival.com.