Pivots, partnerships and perseverance
Centre County – Happy Valley, as it is affectionately known – has a reputation for being a community that pulls together in times of need. While nothing could have fully prepared anyone for what 2020 would bring, the pandemic naturally brought out the best in the community in many ways. It has also shined a bright light on our economy's vulnerabilities, and created a new-found sense of urgency in positioning Centre County now for the post-COVID-19 future.
The value of hospitality and the visitor economy

It's no secret that tourism and the hospitality industry are huge drivers of Centre County's economy. In 2018 (the most recent data available), visitors to Happy Valley spent $809.1 million on tourism-related expenses such as transportation, lodging, shopping, food and beverage, and recreation. This amount was up from 2017, and placed Centre County in the top quarter of all Pennsylvania counties. In addition, our hospitality industry supported 5,120 jobs and raised $42.4 million in state and local taxes.
Visitor revenue generated by signature spring and summer events – the Blue White Game, Penn State graduation and the Central PA Festival of the Arts, to name a few – along with fall Penn State football home-game weekends, historically provided the reserves many businesses needed to get through the lean winter months. The thought of no visitors was, well, unthinkable.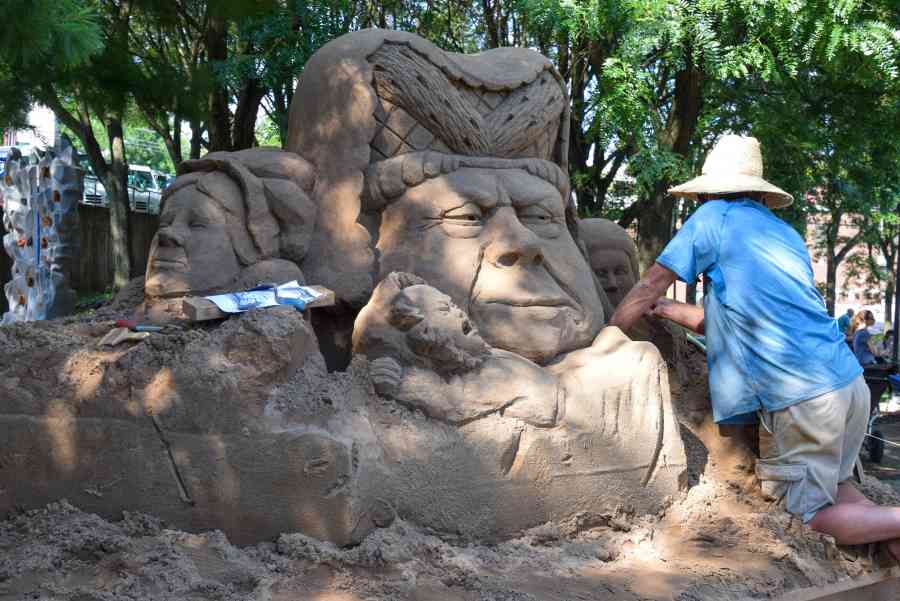 Unchartered waters
The pandemic required the community to navigate unchartered waters. The HVAB, which was set to launch an extensive destination marketing campaign just as the pandemic hit, quickly pivoted. Our mission of driving visitation transitioned to one of being a source and sharer of reliable and timely information in the face of news that changed almost by the hour.
The community responded in overwhelming fashion with a rallying cry of "support local!" Special websites and social media groups sprouted up to encourage takeout, delivery, gift card purchases, online ordering and general support. The HVAB began promoting Happy Valley to those who live here.
"The HVAB's mission of driving visitation transitioned to one of being a source and sharer of reliable and timely information in the face of news that changed almost by the hour."

Fritz Smith, HVAB President and CEO
Prioritizing local tourism, safe travel
As the county reopened, the promotion of local tourism also became a priority. The HVAB developed initiatives and campaigns designed to encourage residents to explore their own backyard, to spend time in Happy Valley's quaint communities, and to shop and dine in new establishments, in addition to old favorites.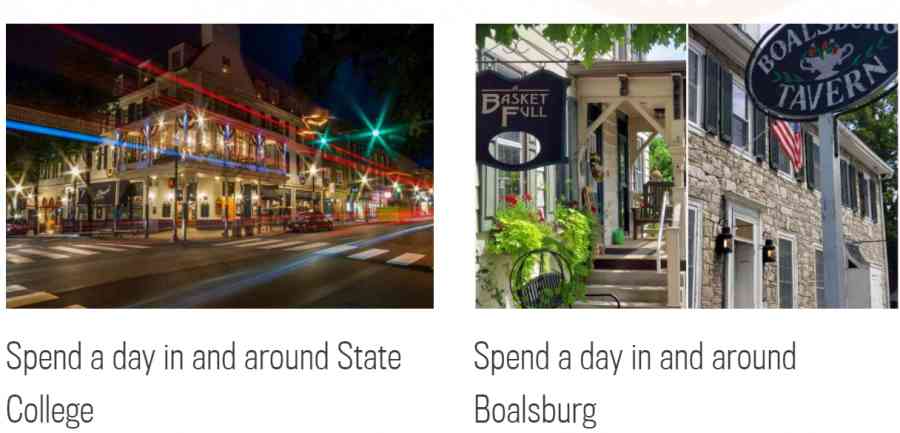 We carefully began promoting visitation, albeit in markedly scaled back manner. Traveler mindset research that we tracked throughout the pandemic indicated that a small percentage of people were willing to safely travel after spending time in isolation. Drive market locations with abundant outdoor recreational opportunities that allowed for social distancing became popular destinations. Safety was always at the forefront. HVAB messaging focused heavily on the protocols being implemented by Centre County businesses to assure visitors and local residents frequenting those establishments would be safe doing so.
Positioning Happy Valley as a 'tournament town'
The summer also offered a glimpse of the promise of non-Penn State athletic tournaments and organized sporting events to Happy Valley. In fact, pursuing this industry segment was a priority for the HVAB prior to COVID-19. The HVAB worked with the American Junior Golf Association to bring two, week-long tournaments to Happy Valley that had been slated for other states. One tournament alone responsibly welcomed 150 of the nation's best junior golfers, generating 250 hotel room nights. Several other tournaments were on the books this fall before further state mitigation efforts went into effect, and a surge in COVID cases forced their cancellation.
August saw the highest hotel occupancy rates (45.3 percent) since the shutdown, a considerable boost from April's dismal rates of just 11.5 percent.
Helping Happy Valley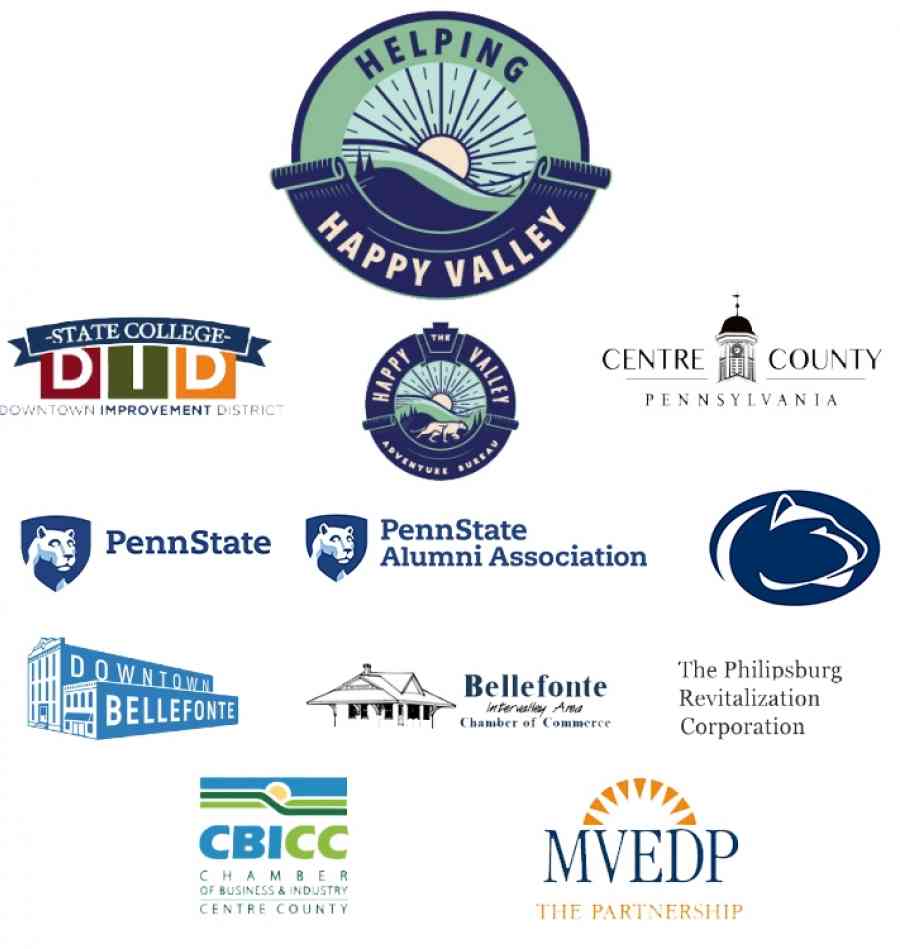 Faced with a fall without football fans in the stands, the HVAB and other community organizations throughout the county joined together to implement Helping Happy Valley, an effort to support the business community during this latest economic hardship.
The HVAB hosted a brainstorming session, out of which the first major initiative emerged – Helping Happy Valley Live. This 6-hour Facebook broadcast aired on Dec. 5 and showcased local businesses, hotels, restaurants and museums, providing gift-giving inspiration just in time for the holidays. Partners including the Penn State Alumni Association, Penn State Intercollegiate Athletics, Chamber of Business & Industry of Centre County, Downtown Bellefonte, Inc., Bellefonte Intervalley Area Chamber of Commerce, Philipsburg Revitalization Corporation and the Moshannon Valley Economic Development Partnership, promoted the event to all those who hold Happy Valley near and dear to their hearts.
HelpingHappyValley.com contains additional support opportunities, including the Wish Book for Happy Valley – a digital shopping guide designed to inspire gift giving from Centre County businesses, and a listing of restaurants, boutiques and other businesses offering gift cards for purchase.
Looking ahead to recovery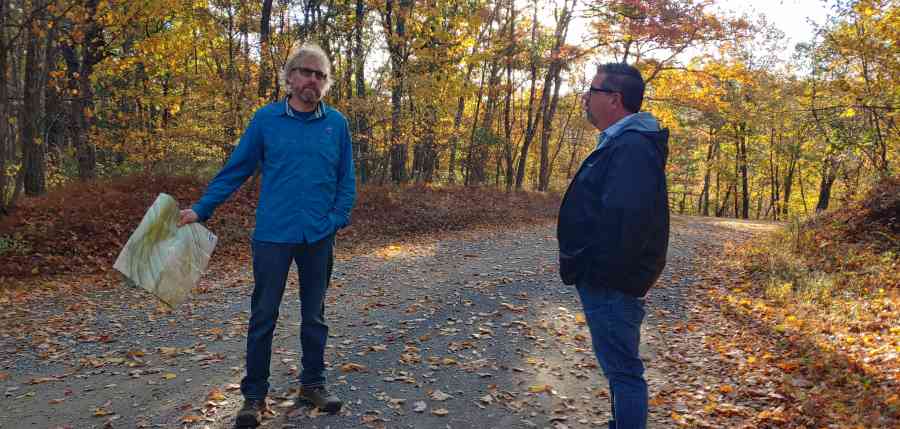 Most recently, the HVAB coordinated with its lodging properties on a "Let's go there later" campaign that allows individuals to book from participating hotels up until Dec. 31, 2020 at special rates, and redeem their voucher in 2021. The program is designed to provide needed revenue to hotels now, while enabling visitors to lock in great rates for a future stay.
Our recovery depends on visitors and students returning to Centre County. To that end, the HVAB is working hard to make sure Happy Valley remains top of mind as a premier Pennsylvania destination even as travel has stalled yet again.
In September, we welcomed to Happy Valley, Erik the Travel Guy, host of the Emmy winning national travel show Beyond Your Backyard. In 2021, Happy Valley will be featured on two separate episodes of the popular, nationally aired PBS program.
We have maintained dialogues with organizers of sporting events that are looking to Happy Valley as a host community next year and beyond. When we are able to do so, we will resume our pursuit of other promising travel segments, namely association and corporate meetings, and the group tour market.
Safety will also continue to be top of mind, both the lengths our businesses have gone through to provide employees and customers with peace of mind, as well as our community's expectations for those who visit. The HVAB is committed to community health and visitor safety.
It would be disingenuous to sugarcoat the crisis facing Centre County's hospitality industry and overall economy. As is true in so many communities, we face some serious challenges. However, in a year in which much has changed and much uncertainty remains, Centre County's resiliency is unwavering. We look forward to a post-COVID future with this resolve in mind.