The 5 Best Trail and Ale Pairings Near State College
Nestled in what is practically the geographic center of Pennsylvania, you'll find a region that abounds in outdoor recreation, education and employment opportunities as well as the arts, entertainment and some of the country's best local eats and drinks.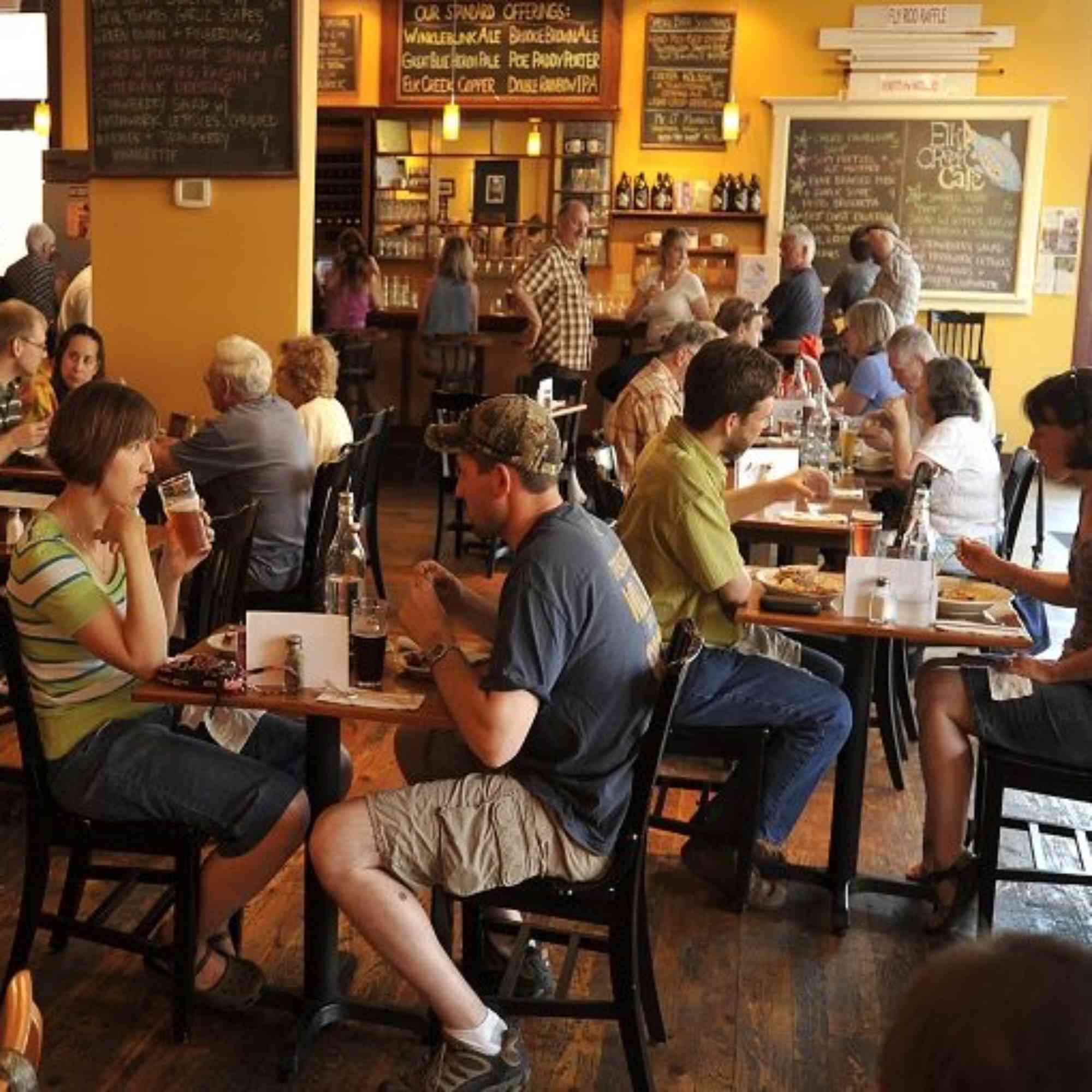 The engine that drives this region is the Pennsylvania State University. Located in downtown State College is the main campus, University Park, which is home to 46,800 graduate and undergraduate students. The area was first referred to as "Happy Valley" back the days of the Great Depression as it remained a viable economic region during those difficult times, largely due to the university and the related industries that supported and benefitted from it.
Happy Valley is also blessed with a number of state parks and recreational areas in the region. Nothing tops off a hard day's work better than a stellar trail run or hours of mountain biking through places like Rothrock State Forest or "Black Mo" (Black Moshannon State Park). And how better to cool down afterwards but a sip of liquid gold at one of the region's five craft breweries and pubs. Enjoy these trail and brewery combos to get the most out of what the region has to offer.
Black Moshannon State Park : Allegheny Front Trail| Otto's Pub & Brewery
"Black Mo" is a 3,500 acre wooded wonderland located approximately 30 miles northwest of State College. The park encircles Black Moshannon Lake and includes a bog habitat home to a wide array of wildlife and plants. The Allegheny Front Trail ("AFT") is a 42-mile circuit trail traversing through a variety of dense forest, open grasslands and streams. Now blazed yellow, this multi-use trail is a favorite among trail runners, backpackers and day hikers, as well as cross country skiing enthusiasts during the winter months. While most folks won't be doing all 42 miles at a clip, there are a variety of trails that offshoot from the AFT where you can create your own adventure. Know that any time of year, trails can be wet so wear the appropriate footwear and always pack water.
When you and your closest trail buddies have wrapped up for the day, head back in town for some incredible food and craft beer selections at Otto's Pub and Brewery on North Atherton Street. This is a favorite among locals and visitors alike that's grown and expanded over the years as a testament of it's success. Parking is ample, but this is a popular place on evenings and weekends, especially if Penn State has a home football game. Outdoor seating is available. The author's favorite brew among so many locally produced at Otto's is the Double D.
Mount Nittany: Mike Lynch Vista | Happy Valley Brewing Company
If you're in Happy Valley, prepare yourself for a whole lotta "Nittany"…Nittany Lion, Mount Nittany, Nittany this and Nittany That… The word Nittany is originally taken from the Algonquian word Nit-A-Nee which means *"single mountain." *Mount Nittany looks prominently over Happy Valley and separates it from nearby Penns Valley. This is a popular day hiking and trail running destination as the trailhead is easily accessible in the nearby hamlet of Lemont.
Two trails that lead to the top, one more direct than the other. Depending on day of the week and time of day, it can get quite busy with a variety of folks with varying levels of athleticism making the trek. The half-mile direct trail is very well maintained as it zigzags its way up the face some 650 feet. Once at the top you can gaze over all of Happy Valley from vistas that have been cut through the dense tree cover. Tie together a number of trails for some single-track trail running that's a bit cooler and out of the sun.
Once down to the trailhead, it's but a mere mile and a half to one of the valley's newest brew pubs, Happy Valley Brewing Company. Housed in a beautifully restored barn that's led many lives since it was originally part of Klinger Farms in the early 1800's, this popular eatery features some really unique dishes, many crafted with ingredients drawn from right there in the valley. Everyone in your crew will be able to find something to eat from the cheese slate sampler, appetizers, sandwiches, burgers and personal pizzas. Depending on the season, they offer a variety of their own brews crafted right there at the building. Everything from stouts and session IPA's, to the author's favorite the LeMonster imperial IPA. Those depleted carbs will have happily reappeared in no time.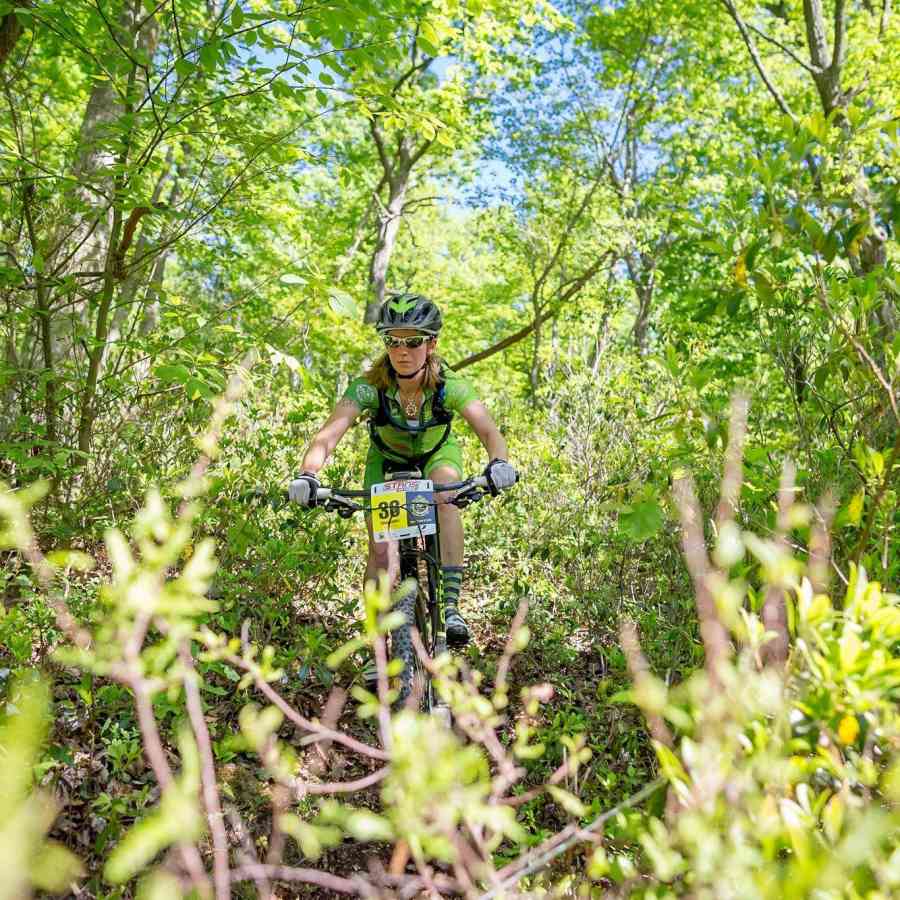 Rothrock State Forest: Tussey Ridge Trail | HomeDPizzeria / Robin Hood Brewing
Rothrock is the playground of Centre County. Miles and miles of beautifully wooded, both steep and rolling hills, easy access to various sections via an extensive network of fire roads. You'll find singletrack galore for trail running and mountain biking. Colyer Lake, partially within the park boundary, and is an awesome destination for kayaking and canoeing. Additionally a new singletrack trail has been constructed around the entire lake for hiking, trail running, and mountain biking. One of many popular trail running routes is to park at the Galbraith Gap lot just beyond Tussey Ski Resort, continue up Bear Meadows Road to Camp Trail and then up to Tussey Ridge. As your running southwest along the ridge with stunning views of the valleys on either side, you'll navigate some of the best rock gardens in the park. Circle back on Lonberger or there are a number of other side trails to shorten the route.
On your way back into town following your stellar adventure, swing by Home D Pizzeria, which features on-site brews from Robin Hood Brewing. Robin Hood's primary brewery is in nearby Bellefonte, but you can enjoy their hard work right in State College while enjoying any number of delicious foods from their extensive menu. A friendly and knowledgeable staff will get you going with both food and companion beer recommendations.
Poe Valley & Poe Paddy State Parks: Mid State Trail (Thorpe Trail Section) | Elk Creek Cafe & Aleworks
Poe Valley State Park is a 620-acre state park surrounded by the 198,000-acre Bald Eagle State Forest. Nearby Poe Paddy State Park is 4 miles to the east. The forests of Poe Valley surround the 25-acre Poe Lake. There are plenty of picnic tables, a large beach area, playground as well as canoe and paddle boat rentals. Additionally, a snack bar and the restroom facilities are available. We recommend leaving the sports car at home as many of the roads into and surrounding these park areas are dirt/gravel roads.
As such, your mode of transportation may not look quite as spiffy once you return home from your fun day in this area. The long-distance Mid State Trail runs along the ridge to the southern border of Poe Valley. Climb the Hunter's Path up to this trail for a good leg workout. The Mid State Trail is particularly rocky so be certain to bring a stiff set of trail runners and watch your step. When you arrive at one or both of these state parks, swing by the ranger station to grab a park map just so you don't miss out on all the trails and places to explore.
After you've thoroughly exhausted yourself for the day, head over to the legendary Elk Creek Cafe & Aleworks in Millheim. Opened in 2007, Elk Creek is a local powerhouse when it comes to featuring musicians from around the corner, around the country and sometimes from the other side of the pond. Its food is authentic with a deep focus on fresh and local. A quaint and friendly atmosphere abounds throughout. You're sure to find the perfect appetizer, salad, and entree to satisfy your hunger, and we're certain you'll be more than impressed with their locally crafted brews. At Elk Creek, try a Hairy John IPA.
Bald Eagle State Park: Lakeside Trail | Good Intent Cider
Located about half an hour northeast of State College, Bald Eagle State Park is known for its 1,730 acre lake that sits below Bald Eagle Mountain. It's a popular spot for camping, boating, fishing, and swimming, but you'll also find about 15 miles of hiking trails to help you explore the 5,900-acre property and see plenty of wildlife. The Lakeside Trail offers 4.4 miles of moderately difficult hiking. Begin at the Bald Eagle Boat Launch, and from there the trail will take you 1.5 miles to the primitive campground. There, the trail branches into a 2.9-mile loop. You'll get good views of the lake below as you walk among the mature hardwood forests, containing mostly oak, maple and hickory trees. Be on the lookout for signs of charcoal hearths, or large earth-covered mound, where timber was once burned to create charcoal in the 1800s to fuel iron furnaces.
Looking for something a little bit different after your hike? Good Intent Cidery, located in Bellefonte, Pennsylvania, features locally made hard cider by the glass, bottle, and growler. Take a sample of their signature Adam's Apple, a semi-dry cider made with freshly pressed juice. For those celebrating, Good Charmât (pronounced "shar-ma") resembles Champaign. It's twice fermented to create a natural effervescence and contains notes of vanilla, red berry, and grape flavors. The Ginger Kid blends cider with fresh ginger root and Belier Farm's maple syrup for a very refreshing—and tasty—drink.
Written by Joshua Brock for RootsRated Media in partnership with Visit Penn State.