YOLO: Take a joyride with Vamos! pedicabs
What do you get when you combine a successful career in meteorology, a love of Happy Valley and a You Only Live Once mindset? If you ask Todd Miner, you get to turn life into a carnival ride. Meet Vamos!, Happy Valley's premier Transportainment experience.
Vamos! Lion Chariots offers bike-powered pedicab tours of Penn State and around downtown State College. They tour through campus, taking visitors on a one-of-a-kind trip through their favorite haunts. The Vamos chariots also make a fun way to celebrate a birthday, special date or anniversary. And it all started when a local weatherman took a trip to Southern California.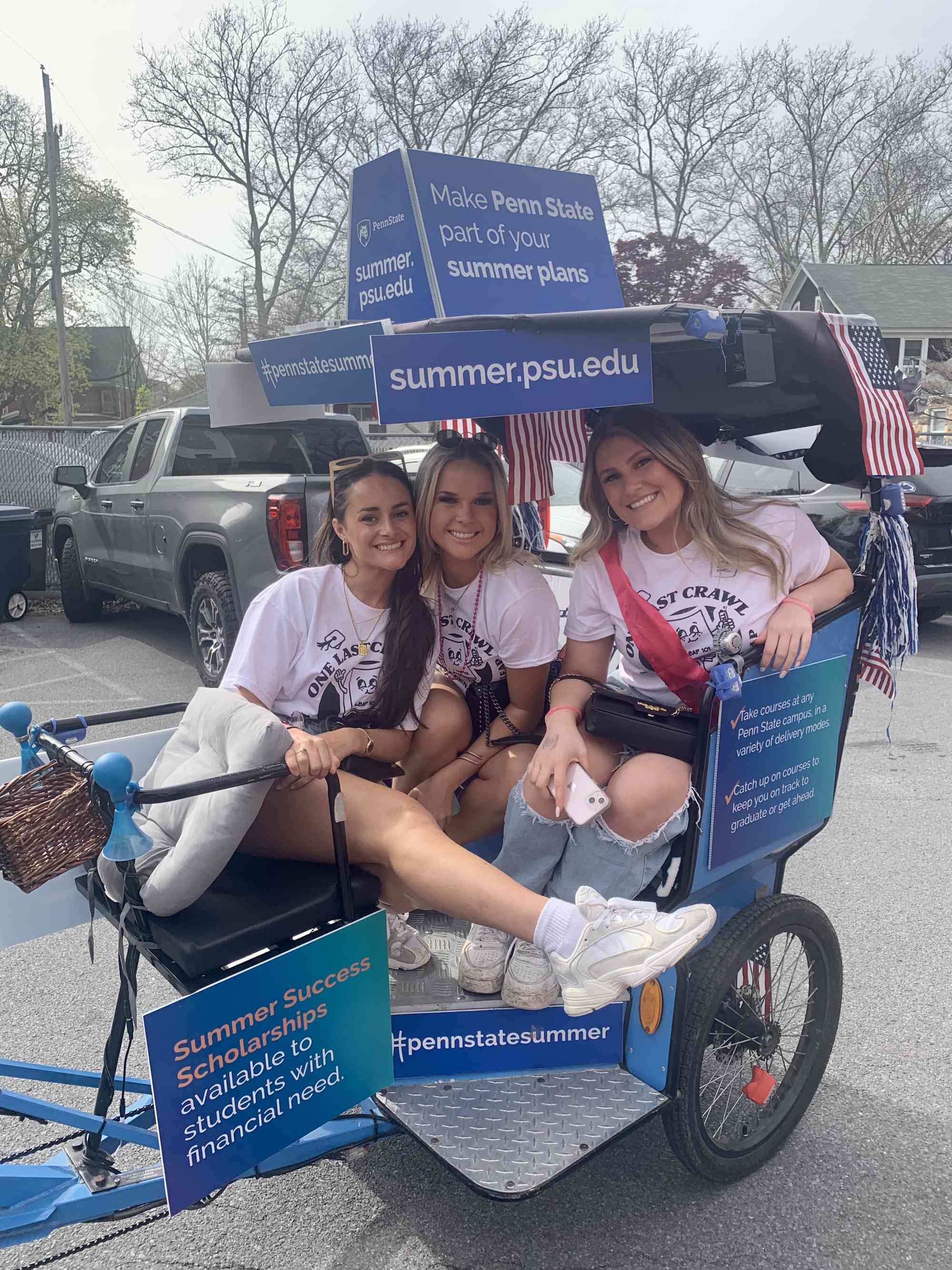 Todd Miner came to Penn State in 1990 to study meteorology and fell in love with the area. Over the next 15 years, he accumulated more degrees, researched, taught, and forecast the weather in TV, radio and newspapers for the university and AccuWeather. "After a while, I started to shift gears — literally," he said. "I started to think of what else I could do. While visiting family in California I saw pedicabs giving people fun rides, and it hit me — that would be so fun to introduce to Happy Valley. So I did my homework, talked to people at Penn State and started working toward starting something."
"Hey," he said. "You only live once, why not give it a whirl"

Instead, "It took off beyond my expectations."

Todd Miner
Instead, he said: "It took off beyond my expectations."
To devote more time to the fledgling business, he downshifted out of meteorology (although he says he's still an avid weather geek/weenie) and now makes his living creating fun experiences for Happy Valley's biggest fans.
"We have these goofy tricycles with horns that riders can honk and buttons that they can push. Really, it's more of a carnival ride than transportation. It's a hybrid — it's transportainment."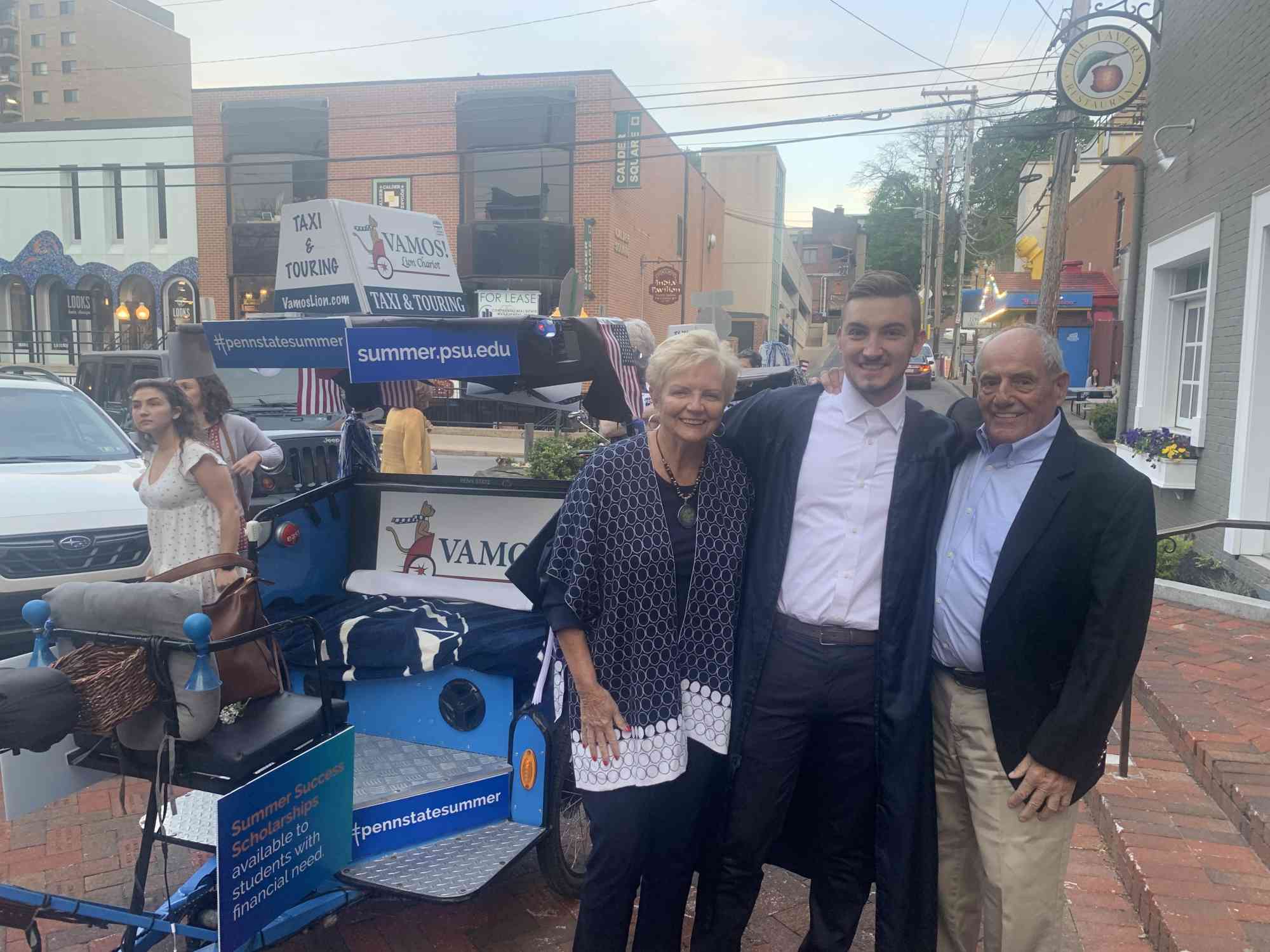 Now 10 years old, Vamos! Lion Chariots is manned by a team who take riders on joy rides and guided tours that combine education with fun in a way that only Todd Miner and his drivers can deliver. It's an experience that many visitors say was the cherry on top of their Happy Valley stay.
"What a great experience!" Shannon G says on TripAdvisor (click here to read so, so many other happy reviews). "We chose the 90 minute tour and we're glad we did. We covered more ground than we could have on foot and learned so much about the campus and Penn State history. We were even able to stop along the way to get pictures and walk inside the HUB. Todd met us at the creamery on schedule, the chariot was clean and comfortable; Todd's enthusiasm for and knowledge of Penn State was a highlight of our State College visit."
Todd says there is so much fun to discover in Happy Valley. "There are so many activities going on. That's why Vamos! has done so well here. We have Memorial Day in Boalsburg, the Arts Fest, and football games. It's unique, small-scale tourism with some really amazing events. You don't have to travel miles to enjoy it all."
Happy Valley's geography isn't the only thing that's small-scale. His pedicabs have an agile footprint, making them a perfect mode of transportation from tailgates to the stadium. "We can go places where traditional vehicles can't go, so we are a great choice for quick transportation to and from tailgates on game day," he said.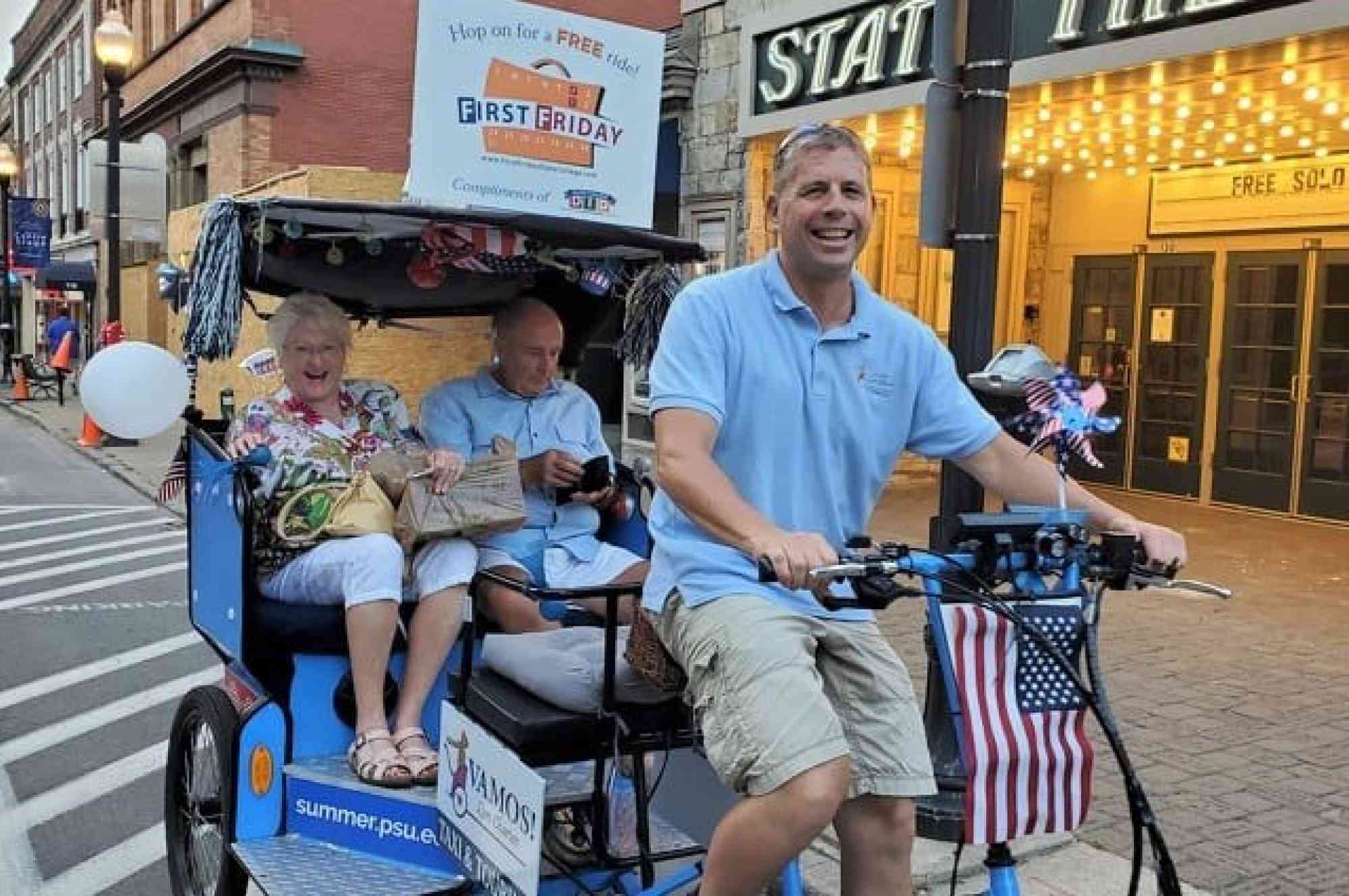 And while he's transporting visitors, he says that he tells them what else needs to be on their Happy Valley bucket list. "Go to Berkey Creamery, Beaver Stadium, the Shrine and then go downtown," he said. "There are so many nice restaurants where you can soak up the atmosphere — The Corner Room, The Tavern. These are some really special places to sit with family and friends and take in the ** Happy Valley vibe. Also, the Arboretum is a must see, particularly when all the plants are in bloom."
So the next time you are in town, and looking for a unique way to experience your favorite destination, add a little transportainment to your schedule. "You might as well have fun getting from point A to point B," Miner said. "Take a Happy Valley joyride with Vamos!"
To learn more, go to www.vamoslion.com or call (814) 404 - 2782.