A Fundraiser for the Pennsylvania Innocence Project Reading of James Weldon Johnson's collected sermons with choral musicPlace and time: Church of The Good Shepherd, 867 Gray's Woods Blvd, Port Matilda, PA.
Friday, February 25, 2022, 7pm
Sponsors: Racial Unity Network (RUN): Charima Young; Essence 2, director: Anthony Leach; LAF Theatre Company: Charles Dumas
GODS TROMBONES is a collection of sermons in the African-American tradition. It was written and compiled by James Weldon Johnson in 1927. There have been many notable performances since then including in the film, FIVE in 1951. It was first performed at Penn State University by the Fred Warring and The Pennsylvanians in 1952 on his weekly television program. In 1995 the School of Theatre, Essence of Joy Gospel Choir, and the Paul Robeson Center produced the piece which featured Carlton Currington, Charles Dumas, Carla Hargrove, Cynthia Henderson, Keegan- Michael Key, Alessandra Paloschi, and Greg Thomas.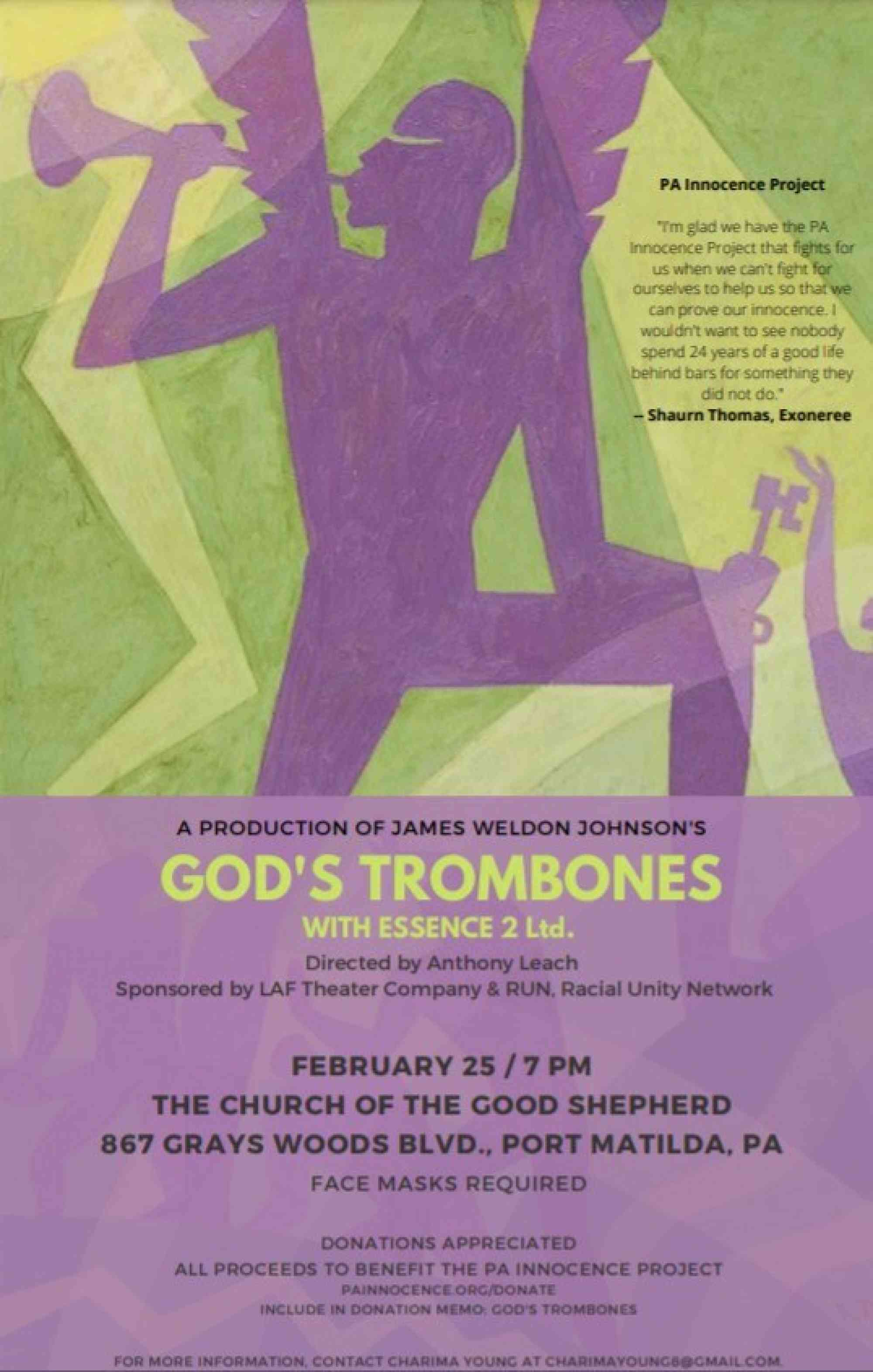 GOD's TROMBONES' readers: Pastor Bonnie Smeltz, Deacon Charles Dumas, Rev. Prof. Anne Marie Mingo, Pastor Harold McKenzie, Sherren McKenzie, Tierra Williams, Rev. Jason Lamar Yates, Pastor Paul McReynolds
The Racial Unity Network's mission is to bring about racial justice and reconciliation, within the church first, and then for our community. It supports the PA Innocence Project as a form of outreach toward racial justice. Many exonerees are disproportionately Black and Brown and are unjustly incarcerated. There are several Innocence Projects across the country. The state of Pennsylvania has one that is located in Philadelphia and Pittsburgh.
Essence 2 was founded in 1999 by artistic director, Dr. Anthony Leach. This community based ensemble performs sacred and secular choral music from the African and African American idioms. Repertoire for God's Trombones will involve music by Rev. Donald Vails, Stan Spottswood, Moses Hogan, Jester Hairston, Raymond Wise and Anthony Leach.
LAF Theatre Company is a local professional company which emphasizes productions of a meaningful and spiritual nature. The award winning company was founded 35 years ago.