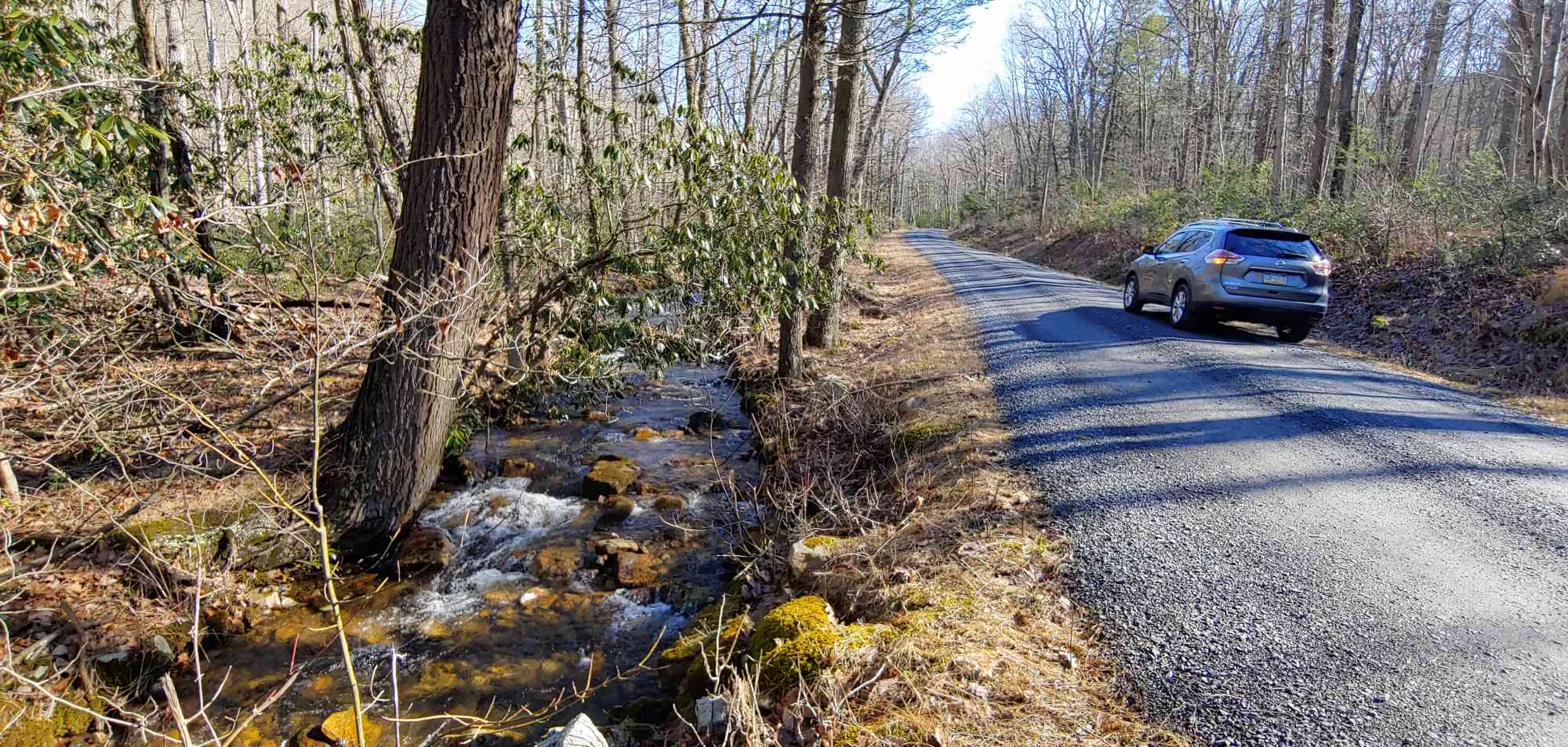 Take the Scenic Route
Happy Valley is full of breath-taking views, picturesque places and adventures waiting to be discovered. Why not combine them all into one scenic drive? Well that's just what we did! Pick a nice sunny day or an evening where the sunset is glowing across the horizon and hop in your car, roll down the windows and take a drive through the scenic Raystown Lake Region and Happy Valley.
Need to relax after work? Take the scenic ride. Looking for a date night activity? Pick a few stops on the route. Want a stay-cation that is still adventure-packed? The scenic route is the stay-cation for you.
The entire route takes about three hours to drive straight through, but there are plenty of stops to explore along the way. All you need is a full tank of gas, a camera and some hiking shoes! From the Raystown Lake Region to Happy Valley.
Here is the route we suggest. You can start at the beginning or in the middle, wherever the adventure is calling your name.
Start at Rainbow Falls at Trough Creek State Park
in the Raystown Lake Region.
Take Route 994 past Lake Raystown Resort
Raystown Lake Visitors Center deck
Hawns Overlook
Take Route 22 to Lincoln Caverns
Back to Route 26 to Shaver's Creek
Lunch at Doan's Bones Barbeque
Whipple Dam State Park
Laurel Run Road into Rothrock State Forest
Stop by Bear Meadows Natural Area and Alan Seeger Natural Area while on Laurel Run Road
Tussey Mountain
Take Business Route 322 into Boalsburg
Turn left to South Atherton Street to Meyer's Dairy
End at Nittany Lion Shrine
What you can explore on your drive:
The drive starts in our neighbor the Raystown Lake Region at Trough Creek State Park. Just one of the many hiking opportunities available on this drive, Trough Creek State Park is a scenic gorge with various level hiking trails. Take the quarter-mile hike on Balanced Rock Trail to discover wonders like Rainbow Falls and Balanced Rock.
As you take Route 994, you'll drive past Lake Raystown Resort. For a true weekend getaway, choose one of the five different lodging options at the resort including villas & bungalows, the lodge, RV & tents, and more. Follow along Route 994 to the Raystown Lake Visitor Center which has one of the best views of beautiful Raystown Lake. This lake is eye-pleasing no matter the season. Raystown has even more iconic views if you head over to the Hawns Overlook. This overlook gives you the expansive view of Raystown's northern lake area.
Take a few-mile side trip on Route 22 to Lincoln Caverns. Explore winding passageways through the crystal caves. After exploring the underground, head back to Route 26 South and learn about the birds that rule the Central Pennsylvania skies at Shaver's Creek Environmental Center. The Raptor Center at Shaver's Creek is home to a variety of hawks, owls, eagles, vultures and falcons.
After you've spent the morning hiking and explore breath-taking views, stop for a bite to eat at Doan's Bones Barbeque for some melt-in-your-mouth award-winning ribs. The family-owned and operated restaurant and catering business in Central Pennsylvania is known for top quality and great service. Doan's Bones Barbecue has competed in Kansas City Barbecue Society (KCBS) sanctioned events all over the region. THE PIT is where all of the magic happens on 4 smokers; doing it the real deal low-and-slow way. Doan's Bones is "Q-ing" in all seasons, in any weather, sometimes cooking night and day for big events. On an empty stomach, you'll polish off a full rack and a slide of coleslaw and be a happy camper for the rest of your drive.
After your belly is full of delicious ribs, continue your drive right down the road to Whipple Dam State Park. Whipple Dam is the perfect place to have a picnic, go for a hike, and once renovations are complete, take a dip in the lake or go fishing. (In February 2020, the lake was drained for maintenance to remove sediment that has collected over the last four decades.) While the lake is drawn down, other projects will be completed at the park including a wheelchair-accessible ramp into the swimming area; a new wheelchair-accessible fishing pier; roadway repairs and dam structure improvements. Check back to the Whipple Dam State Park page on the Pennsylvania Department of Conservation & Natural Resources (DCNR) website for further information about the park's improvements.
From Whipple Dam, Follow the 10-mile drive on Laurel Run Road in Rothrock State Forest - appropriately named for all the Mountain Laurel shrubs lining the road. The road follows Laurel Run creek which feeds back into Whipple Dam Lake. The drive on Laurel Run Road has so many options to get out and explore. I literally couldn't get through without stopping several times...and that was without everything in bloom! There are lots of hiking and gravel biking trails off of Laurel Run road as well as spots for tent camping if you want to stay a night or two.
Along the way, there are great spots to take a little jaunt including Little Flat Tower Road, Bear Meadows Natural Area and Alan Seeger Natural Area. At the top of Little Flat Tower Road, there is a small cabin and a fire tower. It is a perfect spot for a picnic, stargazing or camping. A little further down the road and worth the side trip is Bear Meadows Natural Area. This area contains fern wetlands with large areas of blueberry bushes, perfect for an afternoon snack. It is a great drive but be aware they are rebuilding some of the bridges near the natural area so be sure to bring your boots for a little extra hiking. Alan Seeger Natural Area includes a 118-acre area of virgin timber, largely eastern hemlocks, white and red oaks and white pines. It is one of the last stands of virgin timber in the forests on the east coast.
Laurel Run Road connects with Bear Meadows Road which drops you off right at Tussey Mountain. With year-round activities, Tussey Mountain is great in the snow and in the sun. The mountain has 7 trails for ski and snowboarders as well as tubing. They also have a snowmaking system for season-long skiing and snowboarding which you can watch live at https://happyvalley.com/play/live-cam/. In the warmer times of the year, Tussey Mountain offers go-karts, mini-golf, a driving range, par 3 golf, a skate park, and batting cages at their 'Fun Centre.'
If you don't want to camp in a tent, other great options for lodging along this route are Aikens Cabins or The Lodge at Tussey Mountain. Or if you are looking for a hotel stay, check out Wyndham Garden just five minutes from Tussey Mountain.
For the last leg of the scenic route, take Business Route 322 into Boalsburg, the birthplace of Memorial Day. In Boalsburg, you have your choice of quaint shops including the Seven Mountains Winery Tasting Room and A Basket Full. Food options include the historic Duffy's Boalsburg Tavern and Kelly's Steak and Seafood with the iconic larger-than-life bull on the roof. For a change in pace, check out some of the indoor adventures offered in Boalsburg at the Columbus Chapel & Boal Mansion Museum as well as the Pennsylvania Military Museum.
Finally, turn left on South Atherton Street to head to Meyer Dairy for an afternoon snack (or evening depending on how long your drive took). If you're looking for something sweet, try Meyer Dairy's farm-fresh ice cream. Or if something savory is calling your name, order a Mexi-Hot hot dog with chili-powder-laced sauce, ballpark mustard and diced onion - a true signature food of State College.
To complete your scenic drive of Happy Valley, the trip ends at the iconic Nittany Lion Shrine on Penn State University's campus. Snap a few pictures here to finish off your trip. Whatever adventure you took, we hope you enjoyed your drive through the scenic Happy Valley, Pennsylvania.