The Pennsylvania Chamber Orchestra presents their season finale in the Together Again! season.
Join the Pennsylvania Chamber Orchestra for a mighty season finale and "Celebrate Together" on Sunday, May 8th at 3pm. Celebrate Mother's Day, celebrate graduation, and celebrate an incredible season of programming with this all-Beethoven program. Three very special soloists join the PCO to perform Beethoven's "Triple" Concerto for Violin, Cello, and Piano in addition to the beloved Symphony 7. A livestream of the performance is also available.
3pm, Sunday, May 8, 2022
Penn State Recital Hall, Music Building 1
Allen Road, University Park, PA 16802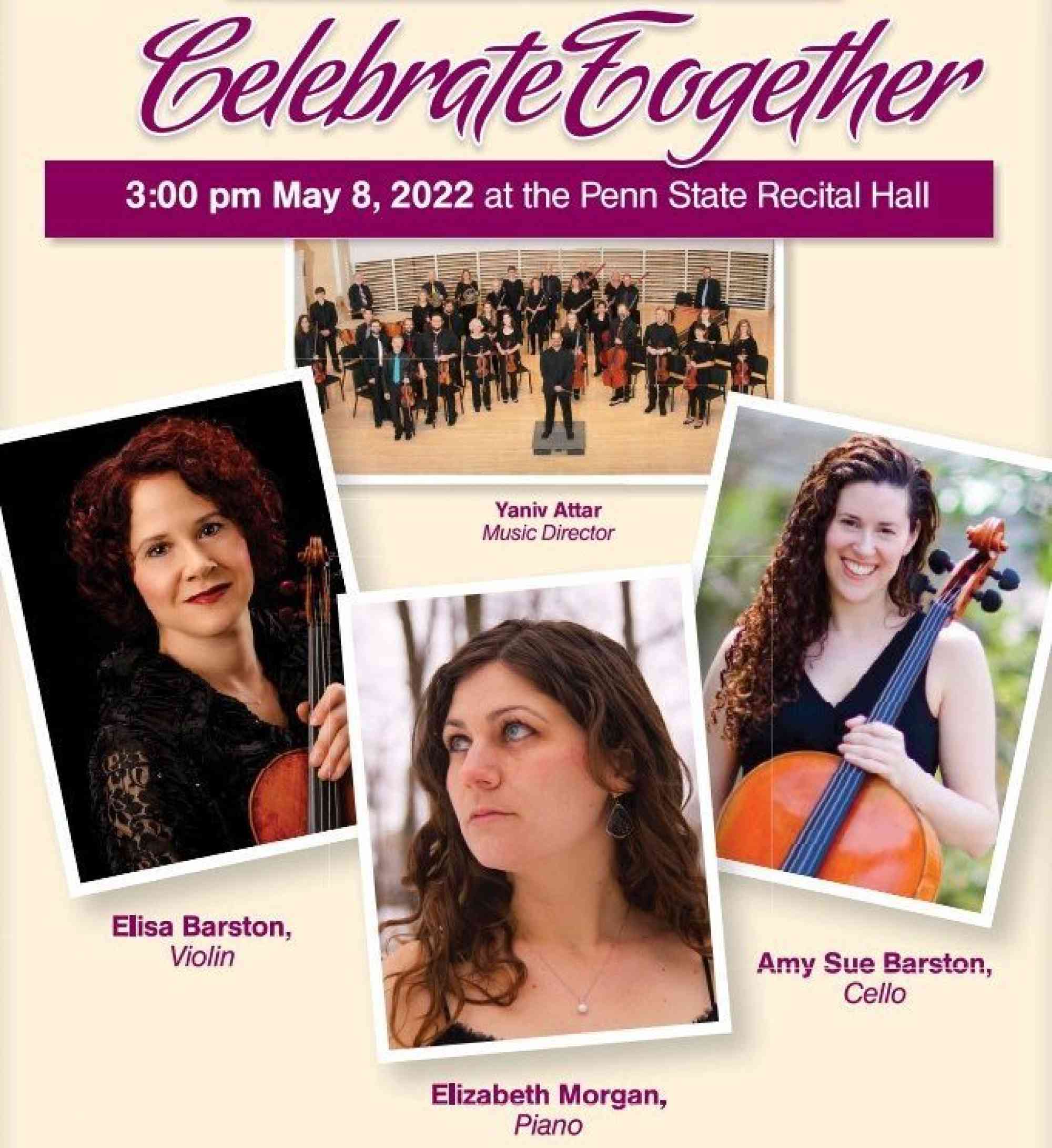 Tickets range from $10-$30 and can be purchased in advance or at the door.
Full ticket and livestream information can be found at PAChamberOrchestra.org..

THE PENNSYLVANIA CHAMBER ORCHESTRA (PCO) is Central Pennsylvania's all-professional chamber orchestra. For the past 30 years the PCO has performed both rare and well-known music by the greatest composers from the Baroque period to the present day. Their season features world-class soloists and includes a series of three orchestral concerts, an annual holiday concert, a family concert, and several chamber music concerts under the direction of music director, Maestro Yaniv Attar. More information may be found at pachamberorchestra.org.

Elisa Barston, violin
Praised for her "glowing sound" and "technical aplomb" (The Strad), violinist Elisa Barston has served as the Associate Concertmaster of the Saint Louis Symphony Orchestra for nine seasons, and was a first violin section member of the Cleveland Orchestra. She is currently the Principal Second Violinist of the Seattle Symphony Orchestra.
Ms. Barston's principal violin teachers include Josef Gingold, Robert Lipsett, Almita and Roland Vamos, Elaine Skorodin Fohrman, and Betty Haag. She graduated from the University of Southern California with a Bachelor of Music Cum Laude. At Indiana University, where she earned a Master of Music degree, Ms. Barston was awarded the prestigious Performer's Certificate, the Jascha Heifetz Scholarship, and the Starling Foundation Grant.

Among her awards, Ms. Barston has garnered top prizes at the Yehudi Menuhin International Competition including The Audience Prize, First Prize at the Julius Stulberg Auditions, Grand Prize at the International Kingsville Young Performers' Competition, and First Prize in the Seventeen Magazine-General Motors National Music Competition.
As a soloist, Ms. Barston has performed extensively throughout the United States, Europe, and Asia, with the major symphony orchestras of Chicago, Los Angeles, Saint Louis, Seattle, and Taipei, among numerous others. In 1986, she made her European debut with the English Chamber Orchestra at the request of Sir Yehudi Menuhin. Recent notable performances include the U.S. premieres of two previously unpublished violin concerti by Antonio Vivaldi, Philip Glass's Violin Concerto No. 1, Sergei Prokofiev's Violin Concerto No. 1, and Astor Piazzolla's "Four Seasons of Buenos Aires" with the Seattle Symphony.
Amy Sue Barston, cello
Praised as "passionate and elegant" by The New York Times, cellist Amy Barston has performed as a soloist and chamber musician on stages all over the world, including Carnegie Hall, Alice Tully Hall, Ravinia, Caramoor, Haan Hall (Jerusalem), The Banff Centre, Prussia Cove (Englad), The Power House (Australia), and Chicago's Symphony Center. At seventeen, she was soloist with the Chicago Symphony on live television, won Grand Prize in the Society of American Musicians' Competition, and won First Place and the Audience Prize in the Fischoff International Chamber Music Competition. Amy earned her Masters at Juilliard with Joel Krosnick.
She also worked with Yo Yo Ma. She has performed as soloist with dozens of orchestras all over the world, and made her first solo appearance with orchestra in Guelph, Canada when she was twelve. Amy is a devoted teacher at the Juilliard School Pre-College Division. Her students commute for lessons from hundreds of miles away, some as far as Alaska and Japan. She is visiting cello professor at Xiamen University, artistic director of the Canandaigua LakeMusic Festival, and cellist of The Corigliano Quartet, which has been hailed by Strad Magazine as having "abundant commitment and mastery," and whose Naxos CD was named recording of the year by both the New Yorker and Gramophone. Amy's recent recital performances include Bali, Australia, Taiwan, New Zealand, Canada, New York, Los Angeles, Salt Lake City, Baltimore, Rochester, Seattle, Chicago, and China.
Elizabeth Morgan, piano
Praised by the Baltimore Sun for her "achingly sweet touch at the keyboard," American pianist Elizabeth Morgan has performed throughout the United States and abroad. She has appeared as soloist in Alice Tully Hall, Merkin Hall, and Society Hall in New York, Herbst Theatre in San Francisco, and with orchestras on both coasts. Ms. Morgan has performed with the Mark Morris and Rosie Herrera dance companies and on PBS, National German Radio, and local radio stations throughout the US. Festivals at which she has appeared include Tanglewood, Amelia Island, Festival of the Hamptons, Pianofest, Aspen Music Festival, and Bowdoin International Music Festival.
Ms. Morgan frequently gives conversational recitals, where she introduces musical works with commentary from the keyboard, often crafting programs around a single theme or idea. She is best known for a conversational recital program of musical works related to Jane Austen, which she has performed throughout the United States and at venues around England, including the Jane Austen Memorial Archive and the Cobbe Collection. She has been invited to give conversational and lecture recitals at countless American universities.
Ms. Morgan studied at the Juilliard School (B.M. and M.M.) where her principal teachers were Robert McDonald and Yoheved Kaplinsky. She then obtained a Ph.D. in musicology from UCLA, as well as a D.M.A. in piano performance, where she worked with musicologist Susan McClary and pianist Walter Ponce. She currently serves as Associate Professor of Music at Saint Joseph's University in Philadelphia and lives outside the city with her husband and their two sons, Thomas and Graham.