The Pennsylvania Chamber Orchestra presents their second concert in the Together Again! season.
The Pennsylvania Chamber Orchestra's second season concert "Dance Together" takes place on Sunday, January 30th at 3pm. Penn State faculty member, Anthony Costa, joins the PCO as soloist for Copland's Clarinet Concerto.
Also highlighted is local harpist, Anne Sullivan, for Debussy's Sacred and Profane Dances. Finally, experience Louise Farrenc's Symphony No. 3 as the PCO performs this incredible symphony by a composer underappreciated in her own time. A livestream of the performance is also available.
3pm, Sunday, January 30, 2022
Penn State Recital Hall, Music Building 1
Allen Road, University Park, PA 16802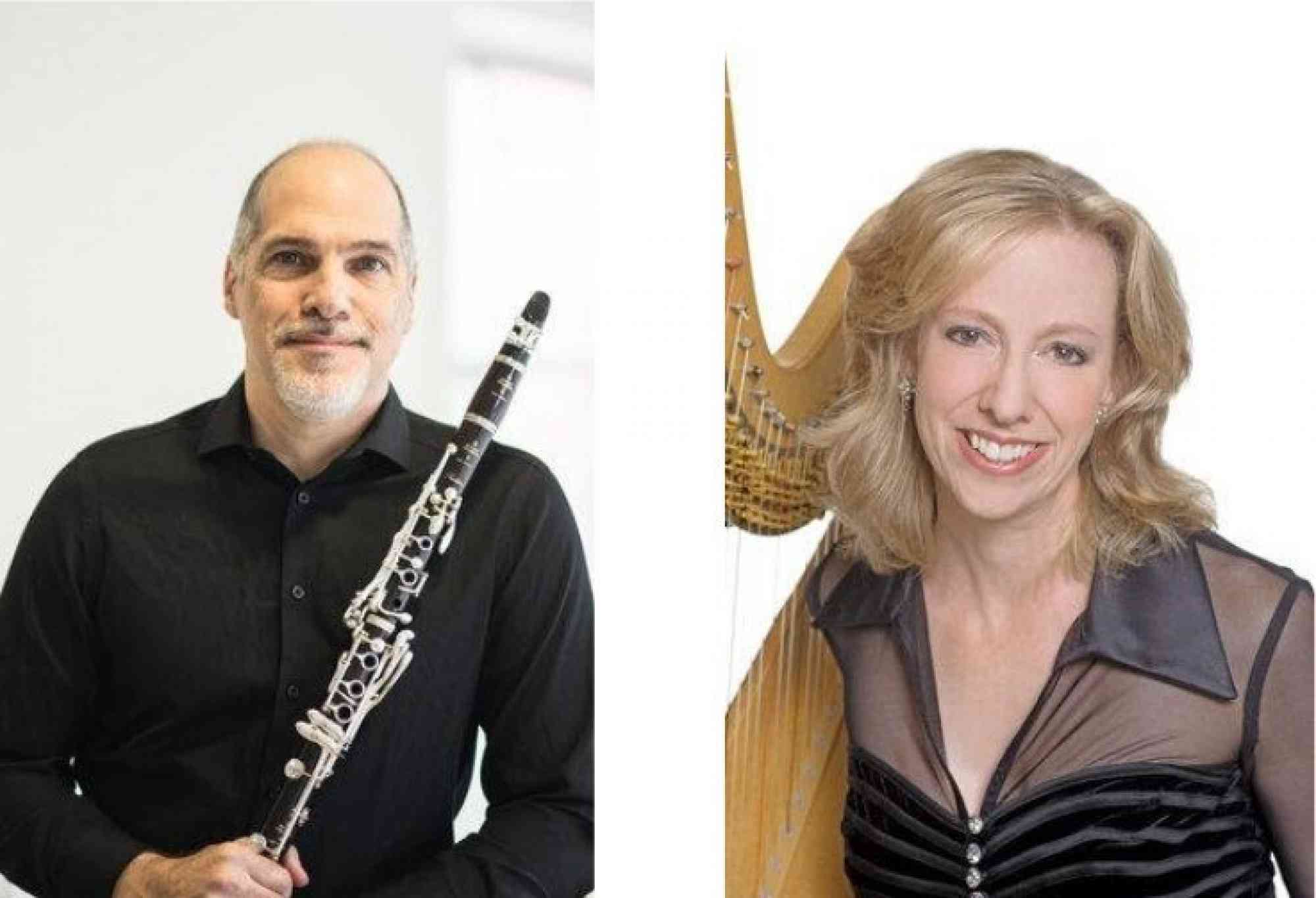 Tickets range from $10-$30 and can be purchased in advance or at the door.
Full ticket and livestream information can be found at PAChamberOrchestra.org.
THE PENNSYLVANIA CHAMBER ORCHESTRA (PCO)
Is Central Pennsylvania's all-professional chamber orchestra. For the past 30 years the PCO has performed both rare and well-known music by the greatest composers from the Baroque period to the present day. Their season features world-class soloists and includes a series of three orchestral concerts, an annual holiday concert, a family concert, and several chamber music concerts under the direction of music director, Maestro Yaniv Attar. More information may be found at pachamberorchestra.org.
119 S Fraser St. Suite D info@pachamberorchstra.org
State College, PA 16801 pachamberorchestra.org
814-234-8313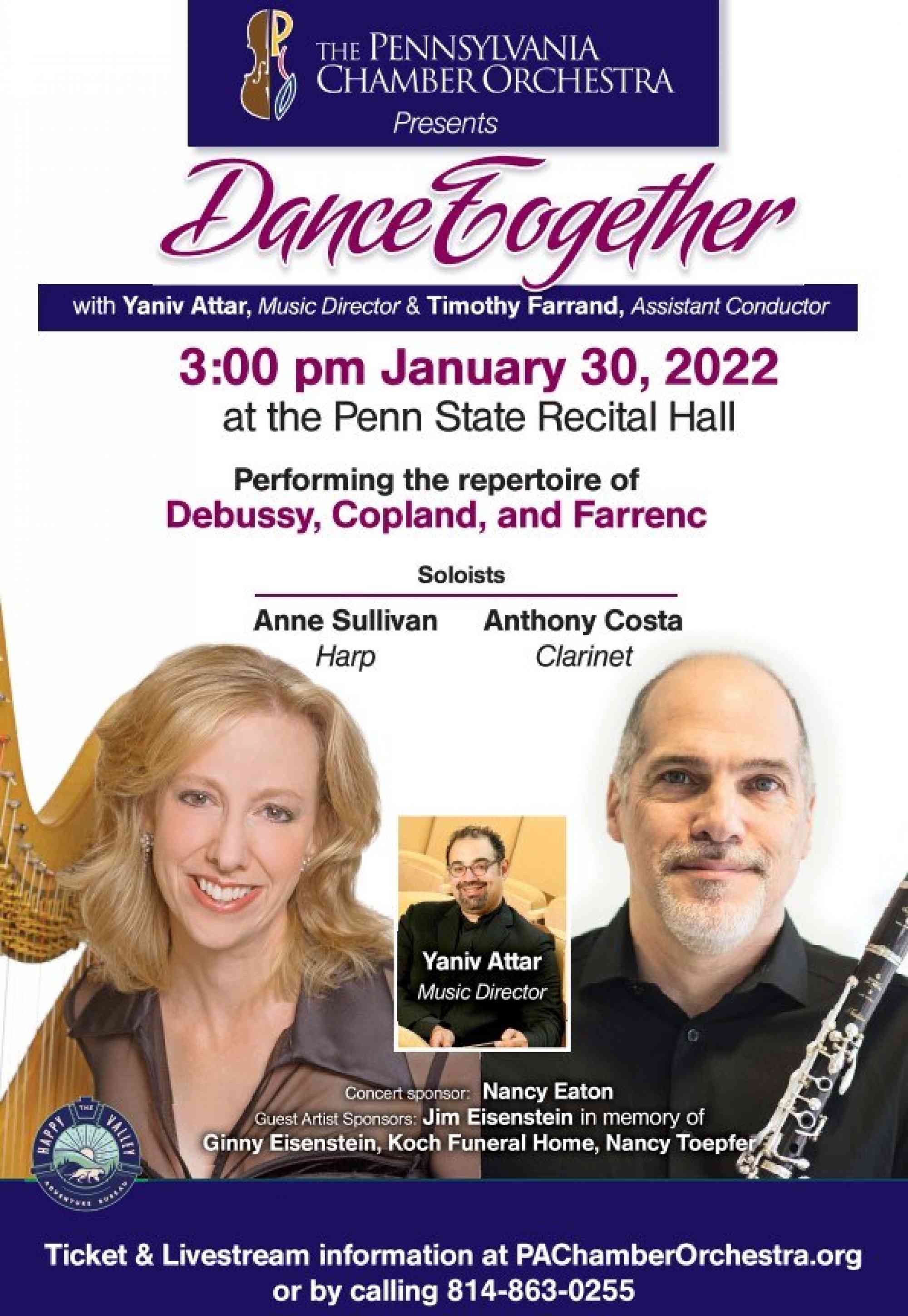 Anthony Costa, clarinet
Anthony J. Costa is Associate Professor of Clarinet at Penn State and clarinetist with the Pennsylvania Quintet and Prestige Clarinet Quartet. He currently serves as principal clarinet with the Pennsylvania Chamber Orchestra, Altoona Symphony, and Music at Penn's Woods Festival Orchestra. He served as clarinetist/bass clarinetist with the Dayton Philharmonic (OH) from 1999-2011 and has been a featured performer at the International Clarinet Association's ClarinetFest, International Double Reed Society's conference, and the Oklahoma Clarinet Symposium. Costa has collaborated with composers Paul Chihara, John Corigliano, Gunther Schuller, John Harbison, Osvaldo Golijov, Eric Mandat, Rick Sowash, and Andrea Clearfield. Recent solo performances include: Wolfgang Amadeus Mozart's Concerto for Clarinet with the Penn State Chamber Orchestra, Carter Pann's Double Concerto (world premiere) with PSU's Symphonic Wind Ensemble; and C. M. von Weber's Concerto No. 1 with the Nittany Valley Symphony (PA). In 2010, Costa presented a recital with the Chihara Trio (Timothy Deighton, viola; Enrico Elisi, piano) at Carnegie Hall's Weill Recital Hall. He is an artist-clinician for the Buffet-Crampon Corp.
Anne Sullivan, harp
Anne Sullivan began her career as a concert harpist at age 12 when she twice appeared as a soloist with the Philadelphia Orchestra. A graduate of the Curtis Institute of Music, she was a member of the music theory faculty there from 1982-2002. Currently she is the harp instructor at the University of Delaware and at Swarthmore College in Pennsylvania. Ms. Sullivan is the author and arranger of more than two-dozen works for harp and has published a series of ear training books specifically for the harp student. She has made many of her works widely available on her website, harpmusicdownloads.com. Her dedication to the development of complete musicianship skills in her students has brought her acclaim as both a teacher and a lecturer. She recently presented her lecture "Solfège: Learning Music from the Inside Out" at the Mid-Atlantic Harp Festival in Alexandria, Va. Since 2009, she has been a Galaxy, the Arts in Education artist, presenting school programs in central Pennsylvania.
A native of the Philadelphia area, Ms. Sullivan is in demand as a recitalist, chamber musician and symphonic soloist throughout the region. Her orchestral appearances have included engagements with the Baltimore Symphony Orchestra; the Delaware Symphony Orchestra, where she was principal harpist; the Pennsylvania Ballet Orchestra; and the Chamber Orchestra of Philadelphia. She has accompanied many classical and popular artists including Luciano Pavarotti, Johnny Mathis, Frank Sinatra and Roger Daltrey of The Who. She has been listed in Who's Who Among Rising Young Americans and 2000 Notable American Women.
In 1986 she cofounded the flute and harp duo SPARX with flutist Joan Sparks. The duo has appeared in concert across the country and received numerous national awards, including awards from Chamber Music America and the National Flute Association. SPARX was featured in 2009 the National Flute Association national convention in New York City, performing the Sonata for Flute and Harp that they commissioned from composer Lowell Leibermann. The duo has released three CD recordings: Reflections, The Power of Two and Christmas Echoes.
Recent accomplishments include the release of her debut solo CD, Romantische, and a live concert recording Duo Parisienne with Nancy Bean, former assistant concertmaster with the Philadelphia Orchestra. She also founded the Shade Mountain Winery Chamber Music Series in Middleburg, Pa., which presents three concerts each year, and the Harp in the Mountains Summer Festival, a summer music camp for student harpists.